Pharrell, Beyoncé, and More Get Political at Grammys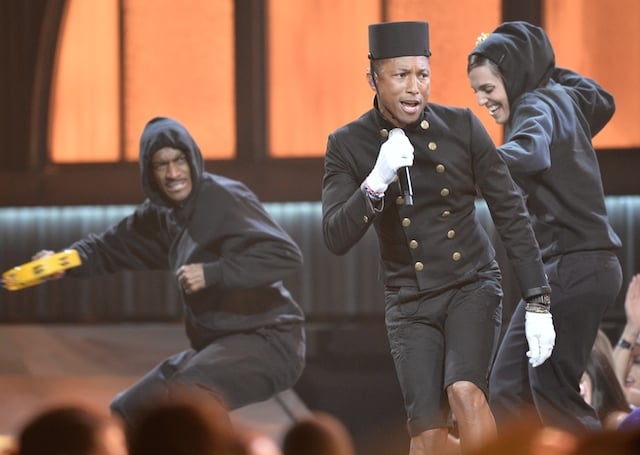 Music's biggest night got political Sunday evening, with performances from various artists across genres going for strong social and political messages over the more typical bombastic bits of self-promotion that typically grace the Grammy stage.
The issue of police brutality and the events that unfolded in Ferguson, Mo., over the past months were on the minds of several performers. Pharrell Williams won Best Pop Solo Performance for his inescapable summer hit "Happy," which took on a bizarrely dark tone with his Grammy performance. The dancers wore hoodies meant to call to mind Trayvon Martin and held up their hands in the "hands up, don't shoot" gesture of the Black Lives Matter movement that was started by the shooting of the unarmed teenager Michael Brown in Ferguson and has continued in response to other instances of police brutality against African Americans. The song went from a catchy bit of pop meant to accompany a kid's movie and cause ear worms for weeks to a jarring juxtaposition between the words and the performance's imagery.
Beyoncé suffered the evening's biggest snub when she lost the Album of the Year trophy she was widely expected to take home, but her performance of the classic gospel song "Precious Lord Take My Hand" has been widely praised. Rather than performing one of the sexy modern R&B pop songs from her self-titled fifth record, Beyoncé chose to use her performance to draw attention to the same issues that Pharrell did, with her all-male choir also acting out the "hands up, don't shoot" gesture. Her performance faded into Common and and John Legend singing their track "Glory" from the Martin Luther King, Jr. biopic Selma.
Even country singer Eric Church took a stance on the matter during his quite subdued performance of his ballad "Give Me Back My Hometown." On the surface the song is about a man who can't stand the sight of his hometown because it reminds him of his ex-lover. But with a backdrop of images of police brutality, the song was changed into a poignant call for those in Ferguson and elsewhere experiencing oppression to reclaim their homes.
Pop legend Prince didn't perform at the ceremony, but he also referenced the issues brought up by Ferguson when he took the stage to give the award for Album of the Year. "Albums — remember those? Albums still matter. Albums, like books and black lives, still matter," Prince told the audience before presenting the award to Beck for Morning Phase, per The Hollywood Reporter.
The Black Lives Matter movement wasn't the only thing on the political agenda at the Grammys on Sunday. Katy Perry just came off an over-the-top performance at the Super Bowl, but decided to tone it down and speak out on an issue close to her heart at last night's ceremony. Her performance of "By the Grace of God" was prefaced by a video introduction from President Obama calling for an end to "violence against women and girls" as a way to "change our culture for the better." Then performance artist and activist Brooke Axtell took the stage to give a spoken-word performance on her own experience with domestic violence before Perry performed the song.
The most-talked-about quasi-political moment of the show was of course Kanye's almost-repeat of his interruption of Taylor Swift's speech at the VMA's in 2009. Again, Kanye wasn't very happy that Beyoncé lost out to someone, this time Beck, and acted like he was going to walk on stage and interrupt Beck's acceptance speech. He didn't go through with it, but he did ream out Beck and Grammy voters on the red carpet afterwards. Kanye clearly takes issue with the politics behind awards show voting when whoever he favors doesn't win.
"I just know that, the Grammys, if they want real artists to keep coming back, they need to stop playing with us. We aren't going to play with them no more. 'Flawless.' Beyoncé's video. And Beck needs to respect artistry, he should have given his award to Beyoncé. At this point, we tired of it. What happens is, when you keep on diminishing art, and not respecting the craft, and smacking people in the face after they deliver monumental feats of music, you're disrespectful to inspiration," West said on the red carpet after the show, per Variety.
The biggest winner of the evening was blue-eyed soul singer Sam Smith, who took home four trophies, and alternative troubadour Beck was the dark horse winner for Album of the Year over much more popular artists including Smith, Beyoncé, and Ed Sheeran. But it was politics and violence, not music and self-promotion, that seemed to be at the front of the artists' minds.
Follow Jacqueline on Twitter @Jacqui_WSCS
More from Entertainment Cheat Sheet:
Want more great content like this? Sign up here to receive the best of Cheat Sheet delivered daily. No spam; just tailored content straight to your inbox.