This Photo of the Kardashian Sisters Is Seriously Freaking Fans Out
After 18 seasons of Keeping Up with the Kardashians, not much shocks fans of the KarJenner's anymore. Kim Kardashian West and her sisters Kourtney Kardashian, Khloé Kardashian, Kendall Jenner, and billionaire Kylie Jenner are constantly in the news for success or for scandals. As their every move is documented, fans are treated to a near-constant stream of news about their everyday lives. But, every so often, the KarJenner sisters manage to do something that completely shocks their fans.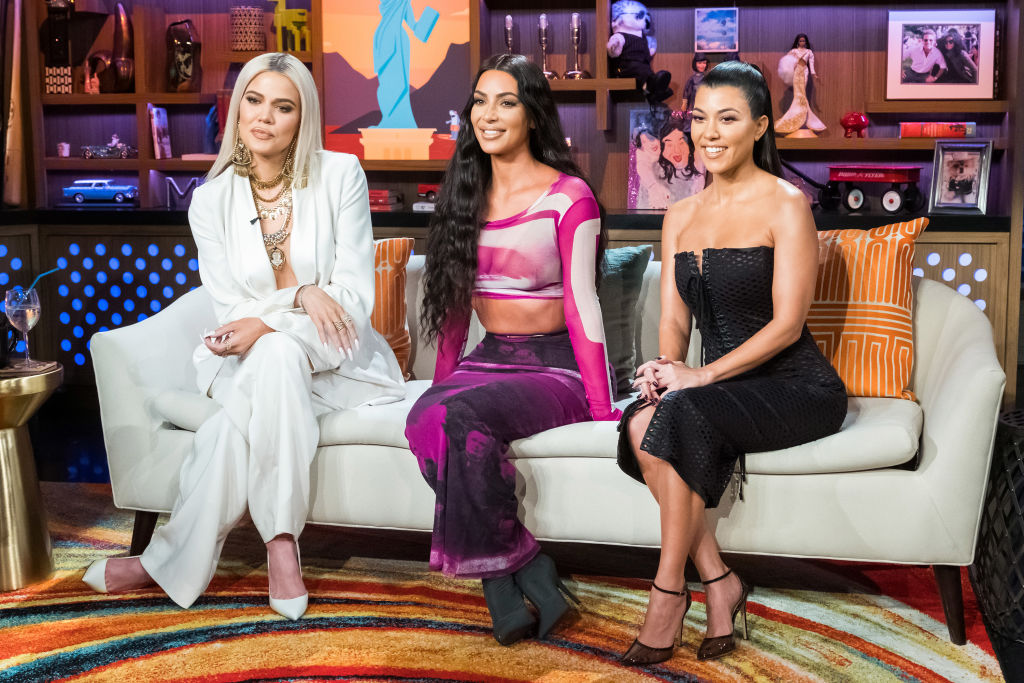 KKW Fragrance Diamonds Collection
On November 8, 2019, Kim Kardashian West officially launched her latest products for her company, KKW Fragrance. In collaboration with her sisters, Kourtney and Khloé Kardashian, she launched the diamond fragrance collection that features three unique scents, each one representative of one of the sisters. "My @kkwfragrance diamonds collection with my sisters @kourtneykardash @khloekardashian is now live! (Link in bio) We had so much fun working together for this collaboration and cannot wait for you to experience it! Comment and let me know which one you bought," commented on a photo of the three of them.
A photo is causing confusion on Instagram
Since the launch, all three sisters have been promoting the collaboration on their respective Instagram pages. They even created a video of them using the products ahead of attending the People's Choice Awards on November 10, 2019. But, a recent photo of the trio posted by Kardashian West has fans utterly confused. The picture features Kourtney Kardashian, Khloé Kardashian, and Kim Kardashian West lined up in a row. What's weird about the photo is that the sisters don't look like themselves, particularly Khloé Kardashian.
Even diehard KarJenner fans admit that Khloé doesn't look at all like herself in the photo. "Lool what happened to Khloé?" one fan questioned. "Woah Khloé is unrecognizable," another person chimed in. "Who's that in the middle?" another Instagram user questioned. "Doesn't even look like Khloé anymore at this point," another person added.
A striking resemblance to her KarJenner sisters
Other fans didn't think that Khloé Kardashian was unrecognizable, they just felt like she looked more like her sisters. Some felt that she looked like her younger Jenner siblings. "I thought Khloé was Kendall," one person said. "Khloé looking like Kylie," another chimed in. But, the bulk of the people felt that she looked more like her eldest sister, Kourtney Kardashian, than herself. "Khloé and Kourtney are literally identical in these pictures. It's freaking me out," one fan commented. "Lmao I thought it was: Kourtney, tall Kourtney, and Kim," another person cosigned. "I think she looks like Kourtney. I was confused for a second I was like Kourtney… taller Kourtney??" someone else chimed in.
Photoshop fail?
In fact, fans believed that Kourtney and Khloé Kardashian look so much alike, they're convinced that photoshop was used. "I think you photoshopped Kourtney's face onto Khloé's, one fan wrote. "Thanks, I'm not the only one seeing that…photoshop," another person agreed. Other people pointed out other strange things about the photo. "Why does everyone not look like themselves? Even Kim K's famous booty has wandered off," one fan noted. "I think they all have the same face now. No individuality," another Instagram user commented.
Some fans think Khloé Kardashian looks like Sofia Richie
As if things weren't strange enough, a large number of fans also though Khloé bared a resemblance to Scott Disick's girlfriend and Kylie Jenner's best friend, Sofia Richie. "Looks like Khloé couldn't make it so they used Sofia," one person wrote. "Why does Khloé kinda look like Sophia richie here," another questioned. "Literally thought Khloé was Sophia Richie!" one diehard fan exclaimed. "Me too I was checking the comments because I was for sure I couldn't be the only ones me who saw Sofia," another co-signed. Despite who the Kardashian sisters look like (or don't) in this photo, we doubt it will affect their ability to sell their latest collab.