'The Pioneer Woman': Ree Drummond Shows Off How Grown Up Her Youngest Children Are
Ree Drummond's children have essentially grown up on her hit Food Network show The Pioneer Woman. Drummond often involves her children in the episodes, and her recipes highlight real life around her massive Oklahoma ranch. The celebrity chef recently posted a photo of her youngest children at her side, and we couldn't believe how grown up they look.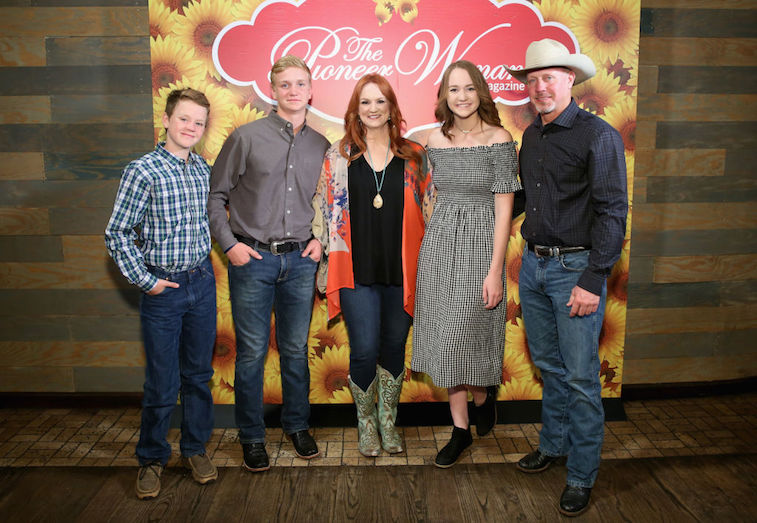 Drummond's youngest kids weren't even teenagers yet when her show started
Drummond didn't set out to become a celebrity chef. She actually was planning to attend law school before she met her husband, Ladd Drummond, in a bar. It made her rethink her entire life plan, and instead of moving to Chicago for school, she decided to stay home. The two eventually married, and in 2006, she started a blog called "The Pioneer Woman" about life as a stay-at-home mother on a ranch in Oklahoma. The blog blew up, and Drummond eventually signed a deal with Food Network for her own television show. The Pioneer Woman first aired back in 2011, and Drummond's youngest kids, Bryce and Todd, weren't even teenagers yet.
Her children have proved they're normal young adults
Drummond's older children have already gone off to college, and her oldest daughter, Alex, has already graduated. Though her kids grew up in the spotlight (and some might argue that, because of that, they are held to higher societal standards), they have proved time and time again that they are ordinary kids, just like everyone else. They play sports, they hang out with friends, and when Drummond's younger daughter, Paige, got caught drinking in public, they only proved that they are human, too. While some thought it was distasteful, many others stood behind Drummond and her family, suggesting that Paige was only doing what every other child does at that age. (I mean, really, hasn't everyone been there?)
Drummond's recent photo shows how grown up her youngest kids look
Drummond loves to feature her children both on her show and on social media. Plenty of episodes of The Pioneer Woman center around her children and their after-school activities, including sports. She's brought breakfast sandwiches to her sons' football practices and driven her daughters to soccer with snacks on the go. And she recently shared a photo on social media showing her youngest children, Bryce and Todd, all grown up. Though they were so little when the show started, Bryce is now 17 and Todd is now 15. "I'm now the sixth tallest person in my family (of six)," part of the caption read.
"I just can't believe how manly they are now!" one user wrote. "Look at those MEN you are raising," another person commented. "What happen [sic] to those boys that were on your show? Surely, they are not them," another user joked.
'The Pioneer Woman' is far more than just a stay-at-home mom 
Drummond has made her children a major focus of her show. But she's also proved that she's far more than just a stay-at-home mom. She's a business woman who can cook — between her cookbooks, her hotel, her store, and all of her other opportunities, she has built a name of herself far outside someone who simply cooks on a ranch. She is one to be emulated for her ability to capitalize on trends and, arguably, her ability to build an empire from what started as a fun way to share recipes with the world.