Revealed: Pippa Middleton's 'Saving Grace' While Raising Her Son
Pippa Middleton, the Duchess of Cambridge's younger sister, is in excellent shape, even while raising her son, Arthur. Pippa, who is now writing a fitness column for Waitrose Weekend, recently shared some helpful information about having Arthur attend a baby gym. She's getting him started young with healthy habits, something that has clearly helped her keep her flawless figure.
Pippa's 'saving grace' for Arthur
Pippa was striving to find new activities for Arthur that will keep him entertained and having fun while also giving him practice engaging with other babies. She says the baby gym even has mini trampolines, and that's something we can all get behind.
"Now that Arthur is 11 months old and more mobile, I have been trying to come up with different activities to do with him," writes Pippa. "I needed to find something more than just park walks in the pram. Our local baby gym has been a saving grace. It's a big space full of fun, soft objects, play mats, stairs, balls, swings, mini trampolines and more to stimulate and physically engage babies and toddlers."
Arthur enjoys his time at the baby gym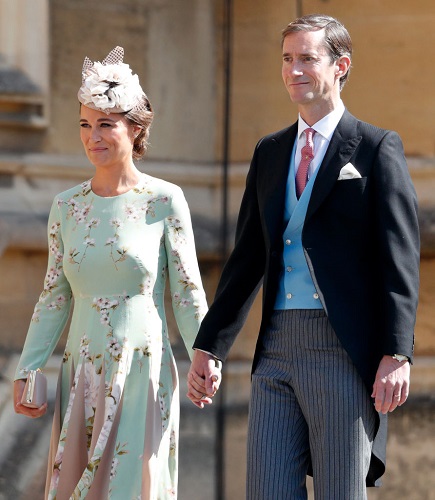 Her son is apparently quite the active baby. He's building his confidence up while getting out energy. "Arthur burns lots of energy in this safe environment and learns many physical skills," Pippa writes. "I have also noticed him building his confidence with each visit."
This isn't the first time Pippa has shared about baby Arthur in her column. She's also revealed that Arthur really enjoys swimming. "Swimming is one of our favorite activities. The exercise helps guarantee sound daytimes sleeps, and the movement has improved his digestion," she wrote.
Pippa really enjoys getting in the water and interacting with her son. "Water activity is a great form of exercise you can do with your baby," Pippa said.
Royal fans will remember that Pippa gave birth to baby Arthur at London's Lindo Wing. After an announcement of the happy delivery, Kensington Palace even issued a statement of well wishes: "The Duke and Duchess of Cambridge are thrilled for Pippa and James."
What's Pippa Middleton's secret to bouncing back so quickly post-baby?
Pippa didn't have a hard time getting her body back almost right away after having her baby. She revealed in another column for Waitrose that she didn't take it easy during her pregnancy and continued to work out, including with sports and activities.
Pippa says she was, "able to carry as normal and continue my sports." She also had no morning sickness to speak of. "I worked out for 45 minutes, 3-4 times a week, depending on my energy levels but ensured that the routines I did were lighter than usual," Pippa wrote.
Pippa stays active and enjoys walking
Pippa really enjoys physical activity including running, swimming, and tennis. She's also a big advocate for walking. "Walking gives you time to yourself and to really feel the health benefits, regular power walks at a moderate-to-high intensity will give you those wonderful endorphins – invaluable to staying positive and crunching calories," wrote Pippa in the publication.
We all strive to look as good as Pippa. It isn't just good genes, but lifestyle changes that really drive results. She's getting Arthur started early with healthy habits that will last a lifetime.