The Pixies: 10 Best Songs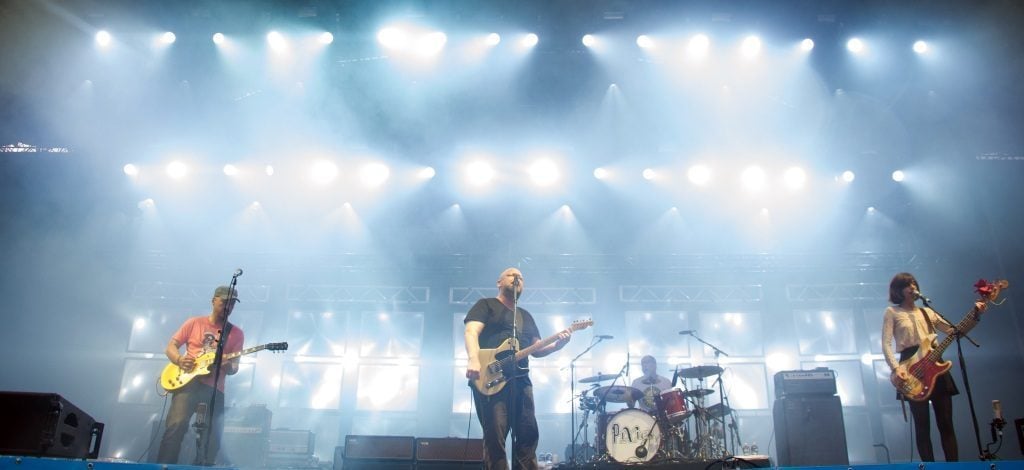 The Pixies were the kind of band that seemed destined for sustained greatness. Formed in 1986 in Boston, Massachusetts, The Pixies exploded onto the scene in 1987 with the eight song mini-LP Come On Pilgrim and followed it up with four revered outings before disbanding in 1993. While The Pixies have recently come back together for the 2014 album Indie Candy and upcoming Head Carrier, the new outfit is notably missing original co-founder Kim Deal (bass and backing vocals) and the group simply isn't the same.
The fact that their run only lasted six years is a shame because in that time they were able to string together an impressive amount of classic albums while hugely influencing bands that would come after them including Nirvana and Weezer. Originally composed of Black Francis (lead singer and rhythm guitar), Joey Santiago (lead guitar), Kim Deal (bass and backing vocals), and David Lovering (drums), The Pixies' sound over the years has managed to stay relevant even finding itself a piece of pop culture with the renaissance of their song "Where Is My Mind?"
So in order to celebrate one of the great, influential bands in recent memory, let's take a look at the ten best songs by The Pixies in no particular order. And as you'll see, the list leans very heavily towards the front end of their discography when they were definitely at the height of their power.
1. "Dig for Fire" – Bossanova (1990)

Bossanova was the first Pixies album to not feature Lead in any songwriting capacity (she had formed Breeders to showcase her own work) and the cracks in this album begin to display her enormous influence on the band's greatest songs and albums. That being said, Bossanova shows flourishes of the Pixies' best work even if it doesn't begin to match up and "Dig for Fire" is the best of the bunch. Francis has described the song as a bad attempt at imitating Talking Heads, but he's definitely selling the song short with it's slow build to a chorus that roars out of the gate.
2. "Here Comes Your Man" – Doolittle (1989)

Just because "Here Comes Your Man" is one of the most popular and accessible songs by The Pixies doesn't mean it also isn't great — even if Francis is said to have been embarrassed about the song he wrote as a teenager. A song about transients traveling via trains and their death in a California earthquake, it also features an infectious melody and bass-line that shot the song to the top of the music charts.
3. "I've Been Tired" – Come On Pilgrim (1987)

Like most of the songs off the mini-LP Come On Pilgrims, "I've Been Tired" feels less like a prelude to their main studio work and more like the full-fledged starting point for the band. The song features many of the hallmarks of later, more well-known songs by The Pixies including hilarious verses which explode into hard-hitting choruses and a satisfying bass-line propping it all up. It's not only the best song from Come On Pilgrim, but it might be among the best songs The Pixies have ever written.
4. "The Holiday Song" – Come On Pilgrim (1987)

"The Holiday Song" weaves a story of religion, sexuality, and guilt, and in typical Pixies fashion wraps it all in an accessible, melodic vehicle to bounce your head to. The song also leans much more towards their early punk influences so it's interesting to see how their sound evolved into their later work.
5. "Gigantic" – Surfer Rosa (1988)

Written by Deal and Francis, "Gigantic" is buoyed by Deal's contagious, but simple bass line and her lead vocals. The song was chiefly inspired by the film Crimes of the Heart, in which a white, married woman falls in with a black teenager.
6. "Hey" – Doolittle (1989)

"Hey" is a song that stands out from most of The Pixies' catalogue due to it's tight construction in contrast to most Pixies song that can feel loose. The slow, brooding ballad describes the struggles to keep the person you love despite infidelity and mistakes. The song slowly builds with a series of guitar riffs and Lead's always-steady bass-line until everything comes together in a chorus carried by Francis' heartbreaking falsetto.
7. "Gouge Away" – Doolittle (1989)

"Gouge Away" has its roots as a retelling of Samson and Delilah according to Francis, but what radiates from the song is a searing depiction of the lows of a relationship. As always, Lead's bass gives the song a stable footing as guitars rage in and out for a song that is perfect for those moments when you're looking to let some anger out, specifically when it comes to a relationship.
8. "Wave of Mutilation" (UK Surf) – Here Comes Your Man Single (1989)

It's hard to pick the "UK Surf" version of "Wave of Mutilation" over the album version from Dolittle, but there's just something about how the song translates to a slower, softer rhythm that somehow brings out elements of the song you can easily miss from the faster-paced studio version. And what makes it so great is that it feels so different from the studio version that you can choose your version of "Wave of Mutilation" based on mood.
9. "Debaser" – Doolittle (1989)

Starting with a groovy bass line and followed with a screechy, melodic guitar, "Debaser" then brings it all together to form one of the greatest harmonies in the Pixies' catalogue — all in the first ten seconds. Inspired by the famous surrealist film Un Chien Andalou by Luis Buñuel and Salvador Dalí, the song communicates Francis' desire to follow in their footsteps as a "debaser" of beauty.
10. "Where Is My Mind" – Surfer Rosa (1988)

"Where Is My Mind" has had enormous staying power over the years, from experiencing a resurgence when it was featured in the film Fight Club to the cover by Maxence Cyrin in recent TV show Mr. Robot. With an iconic guitar riff and Francis' trademark idiosyncratic lyrics inspired by a scuba diving experience, "Where Is My Mind" feels the most modern of all their songs even if it isn't necessarily their best.
Check out Entertainment Cheat Sheet on Facebook!       
More from Entertainment Cheat Sheet: