'Poldark' Season 5, Episode 2 Recap: Ross Gets Caught in a Conspiracy
Has Ross Poldark finally met his match? Our high-minded hero has spent the past four seasons thumbing his nose at authority and getting into various scrapes with the powers that be in his perpetual quest for justice. Now, it seems that his well-intentioned support for his old friend Ned Despard could be his undoing. 
Ross gets dragged into a conspiracy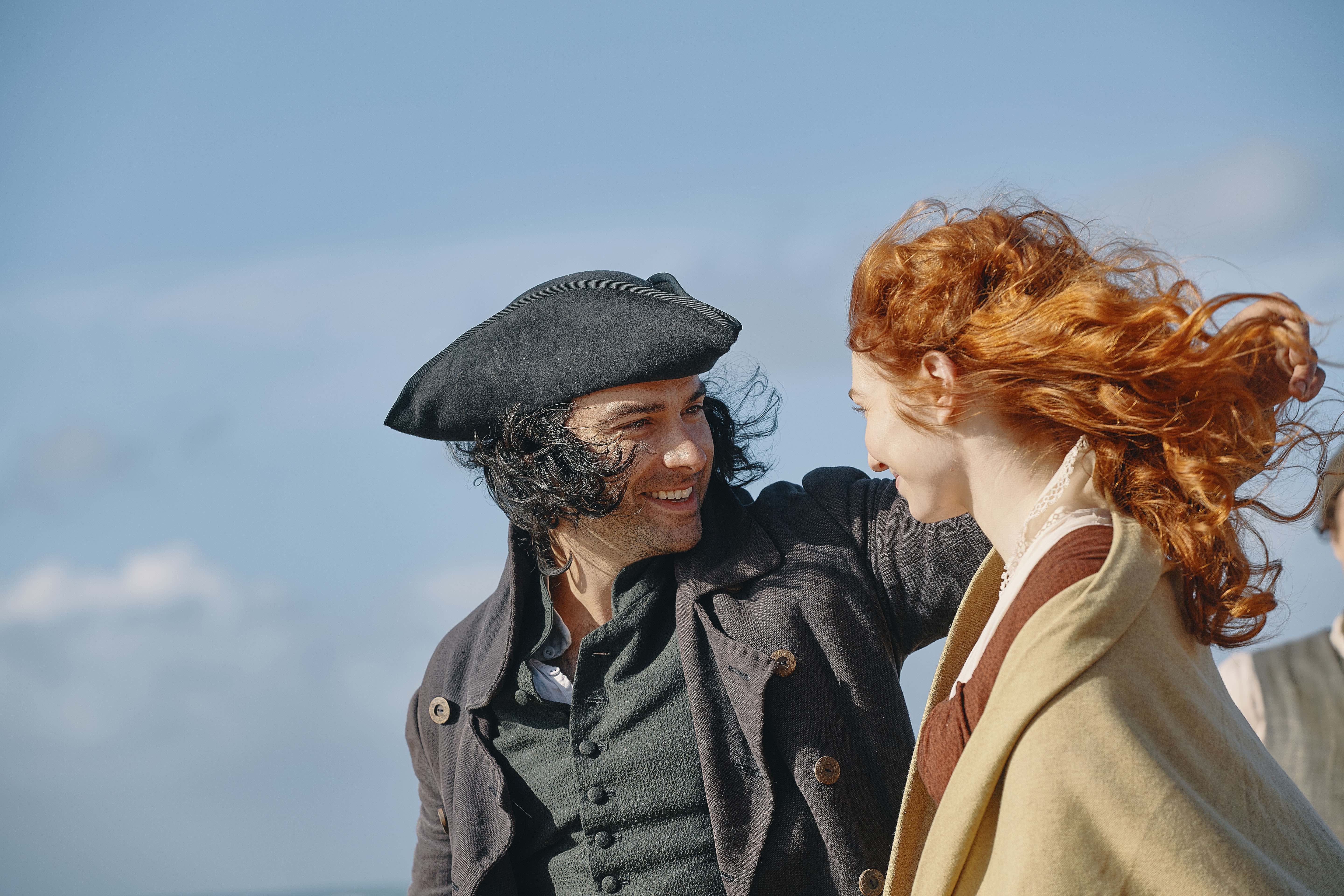 Ross and his family are in London, where the Cornish mine owner is trying to track down Ned's former secretary Ballantine, whom he believes can shed light on who spread the lies that landed his friend in prison. The plot thickens quickly, as it becomes clear that Despard rubbed some very powerful people the wrong way with his opposition to slavery (and his marriage to a former slave). In fact, he was the "worst nightmare" of the slave owners and planters in Honduras, Ballantine explains to Ross during a clandestine meeting in a shadowy pub. 
As Ross begins to realize the extent of the forces at work against Ned, Dr. Dwight Enys is attracting attention with his anachronistically woke ideas about mental health. Real-life lawyer Thomas Erskine enlists him to testify on behalf of attempted royal assassin James Hadfield (another historical figure). Dwight's testimony saves Hadfield from the noose but ends up condemning the man to Bedlam, which is perhaps a worse fate than death. And the doctor's perceived sympathy for the would-be killer has some calling him a Jacobin — not an idle insult considering the English elite's fear that revolution could spread to their shores. 
Meanwhile, Ballantine has put his account of what happened to Despard down in writing. Ross prints it up as a pamphlet to share with a few sympathetic people in Parliament. Only Demelza takes it upon herself to hand out some copies in Hyde Park, which is basically the 19th century equivalent of blasting it all over social media. Despard's case garners public attention, and that's not necessarily good news. 
George Warleggan's new slave-owning associate Ralph Hanson, who is implicated in the pamphlet, has a plan to discredit Ross: guilt by association. Not only is Ross a supporter of the radical Despard, he was present at the attempted assassination of the monarch, and is a friend of the man defending the killer. Unfortunately, Ross's past advocacy for the poor and his progressive politics will only help his enemies paint him as a dangerous revolutionary. 
George is still seeing things 
George's weak grip on reality has deteriorated since last week's episode. His uncle has to hustle him out of a meeting with Hanson after he starts talking to his dead wife (though it seems that this might have saved him from a bad investment, as Hanson is suspiciously eager to get him to sign on the dotted line). He's even told his neglected son Valentine that he'll be bringing his dead mother home. On the plus side for George, he did get knighted by the king and is now officially Sir George Warleggan. But that fancy title likely won't do him a lot of good if he ends up in the madhouse. If only uncle Cary Warleggan would give Dr. Enys a call.  
George, in one of his lucid moments, does confront Ross about Elizabeth's death. "Between your inability to let her go and my unfounded suspicions, we hounded her to an early grave. I take my share of the blame. Take yours." George, nasty as he is, has a point, and Ross's stunned expression reveals he may not have considered how his actions contributed to Elizabeth's demise. 
A clandestine romance 
As the grown-ups around them deal in political intrigue, Hanson's daughter Cecily and Geoffrey Charles are busy falling in love, even though he is broke and her father obviously intends to marry her off to a wealthy man. "It will not end well, I fear," says the perceptive Demelza.
Meanwhile, back in Cornwall, Ross and Demelza's new servant Tess is making herself at home at Nampara. She paws through her mistress's dresses and is clearly plotting to push Demelza aside and become the new lady of the house. The odds of this plan succeeding seem slim. 
Drake and Morwenna still haven't consummated their marriage, which makes Drake sad and Morwenna feel guilty. But they've progressed to holding hands, and it almost looked like they might share a kiss by the fire. Perhaps there is hope for this couple? 
Who is the man with the falcon?
At the episode's end, everyone leaves London and travels back to Cornwall. Ross has been ordered to spy on Ned, which he doesn't intend to do, and seems to think fleeing the capital will be enough to extricate himself from the mess he's found himself in. Not likely. Unfortunately, Hanson has also traveled to Truro in order to complete his business with George, leading to a tense confrontation with Ned at a pub. 
The episode ends on an ominous note. Ballantine's body is fished out of the Thames, presumably killed on the order of the unseen man with a falcon who pops up in a few of the episode's scenes. "All's right in the world," Demelza says as she strolls on the beach with her husband. "London cannot touch us." We have a feeling she couldn't be more wrong.