Popular Celebrities Who Are Nearly Unrecognizable in Their Mug Shots
Celebrities don't want to get arrested and have their mug shots shared with millions of people — especially when the photos aren't very flattering. Sometimes, they're so bad that we barely recognize the famous faces in the shots and other times, the stars can only hope we don't recognize them.
Click through to see these celebs at their worst, including the shocking photos of one gorgeous actress (page 8) and '80s heartthrob (page 12).
1. Nick Nolte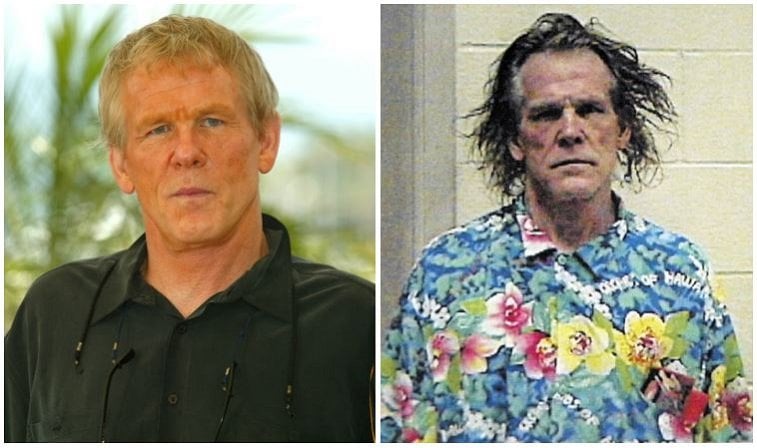 Of course, we couldn't create a list of celebrity mug shots without including one of the most infamous of all time. Nick Nolte's 2002 photo from his arrest on suspicion of drunk driving was so shocking, it still gets people talking today.
The Golden Globe winner later said of the shot that he looked "like an asylum inmate out for a lark … People magazine had named me the Sexiest Man Alive, and now … I looked to all the world like a madman."
Next: Did you know this TV actress has multiple arrests?
2. Heather Locklear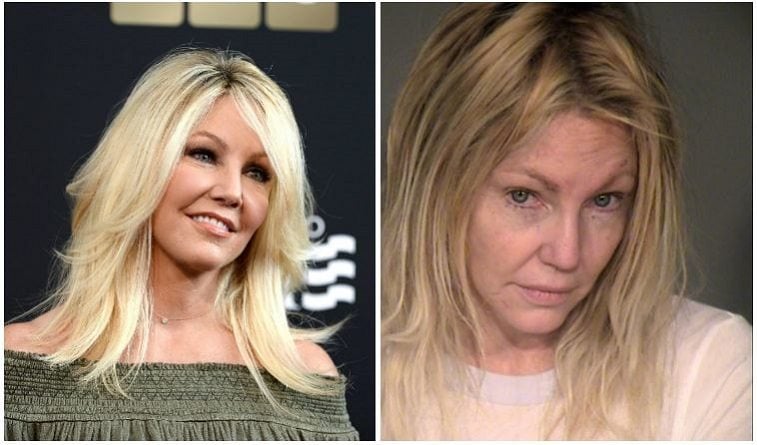 Arrested in 2008 and 2018
Melrose Place alum Heather Locklear was arrested more than once, and each time the blonde bombshell produced some not-so-glamorous mug shots.
Locklear was arrested in for DUI in 2008. However, the charges were later dropped and she was sentenced to three years informal probation after pleading no contest to reckless driving. She was arrested again in 2018 for a suspected domestic violence incident.
Next: Did you expect to see this star athlete on this list?
3. Tiger Woods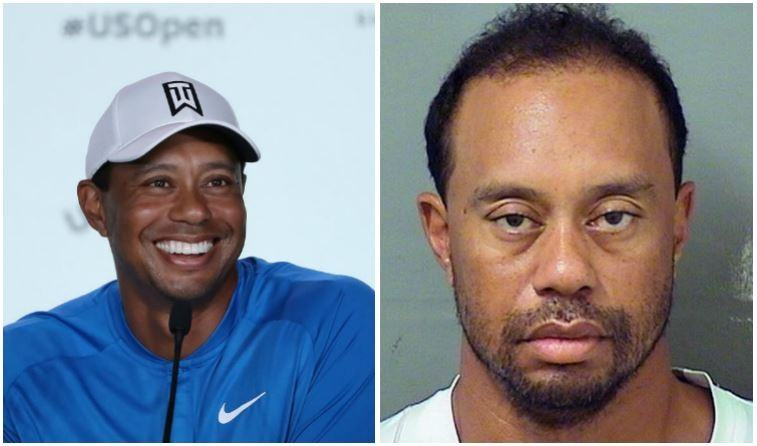 Pro golfer Tiger Woods was in rare form and looked totally out of it in his mug shot from 2017.
The golfing great was arrested after officers found him asleep behind the wheel of a running vehicle. He was arrested on suspicion of DUI. A toxicology report later revealed that he has five drugs in his system at the time of his arrest.
Next: Do you recognize her as a brunette?
4. Reese Witherspoon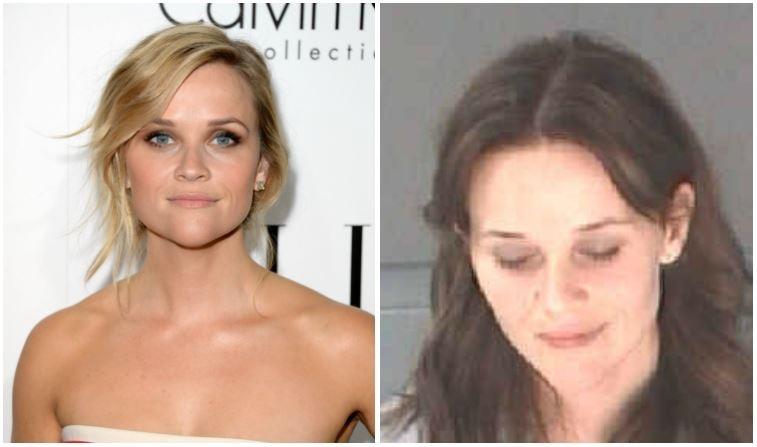 In 2013, people couldn't believe that it was Hollywood's good girl Reese Witherspoon in a mug shot that had circulated on every news cycle.
The Big Little Lies star was arrested for disorderly conduct after she pulled the do-you-know-who-I-am card. It wasn't easy to tell who she was in the photo though since she was sporting a new hair color and did not look into the camera.
Next: Why does he look so angry?
5. Charlie Sheen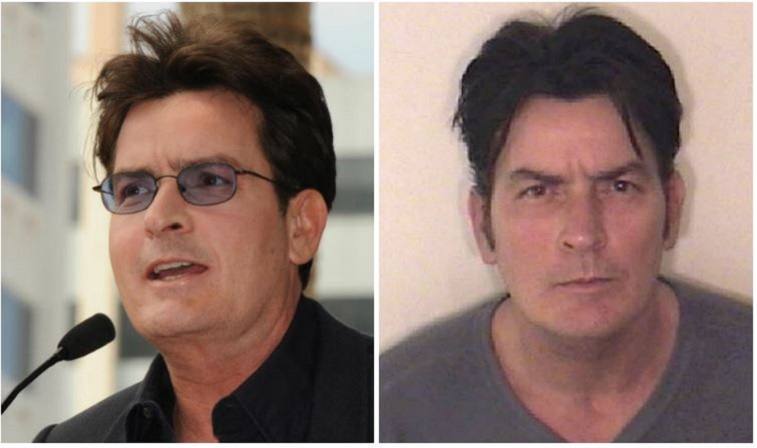 You probably recognize this celeb but Charlie Sheen's angry Christmas mug shot in which he looks like he's ready to punch the camera had to make our list.
In 2009, the Two and a Half Men actor was arrested in Aspen, Colorado, on a domestic violence charge. Sheen pleaded guilty to misdemeanor assault and was sentenced to 30 days in a rehabilitation center, 30 days of probation, and 36 hours of anger management counseling.
Next: Do you recognize this famous sitcom star? 
6. Joyce Dewitt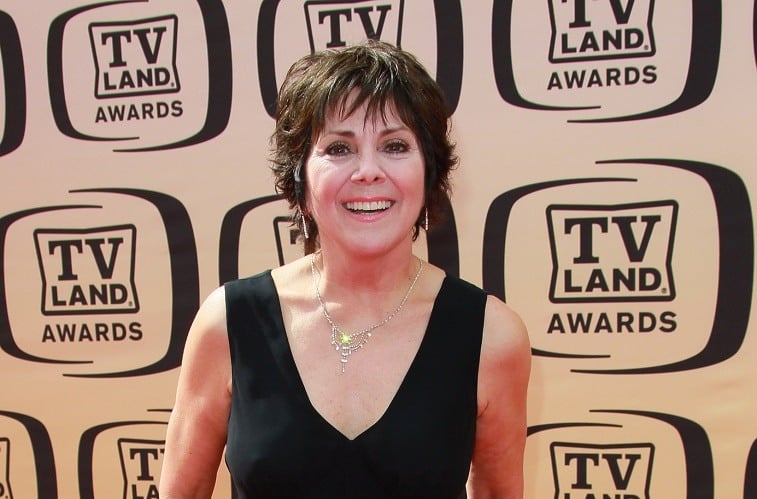 In 2009, Joyce Dewitt allegedly drove through a barricade as she was leaving a Fourth of July fireworks show. Officers arrested her for DUI after failing several field sobriety tests.
Following the arrest, police released her mug shot, which showed the actress looking quite different from her Three's Company days.
Next: This actor sure looks embarrassed, huh?
7. Hugh Grant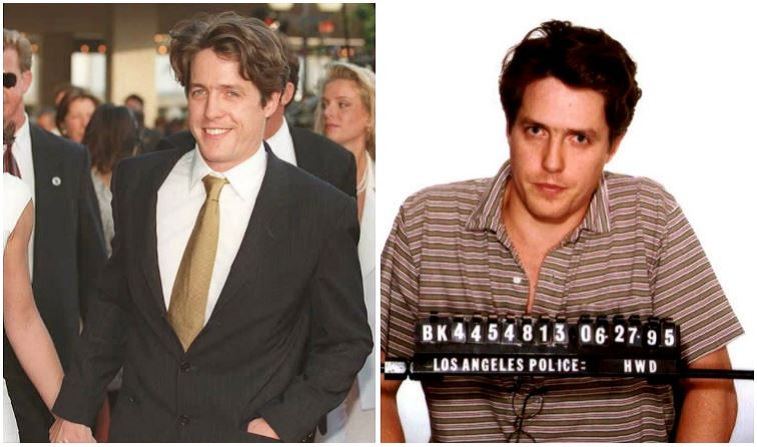 You may remember when police busted Nine Months actor Hugh Grant soliciting a prostitute in 1995. This occurred while he was dating Elizabeth Hurley and caused quite an embarrassment for her as well as himself, which explains his look in this mugshot.
Next: Can you guess which Baywatch beauty this is?
8. Yasmine Bleeth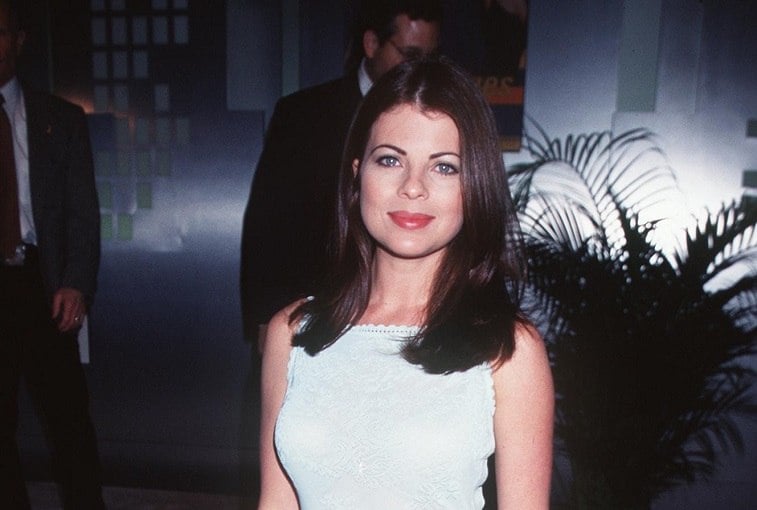 It may be hard to believe but this is the mug shot of Baywatch actress Yasmine Bleeth. In 2001, she was busted for drug possession after losing control of her car. Following her arrest, came this shocking mug shot in which the actress is completely unrecognizable.
She later admitted that she had a cocaine addiction and entered rehab.
Next: Do you remember when this famous star got arrested?
9. Matthew McConaughey
Some people forget that Academy Award winner Matthew McConaughey was arrested at his Texas home in 1999 after a neighbor called about a noise complaint. When police showed up they found the star playing bongos in the buff and arrested him for marijuana possession and resisting transportation.
McConaughey's booking photo certainly isn't the best picture we've ever seen of him but he still looked happy given the situation at the time.
Next: Would you have ever guessed that this actor sold drugs?
10. Tim Allen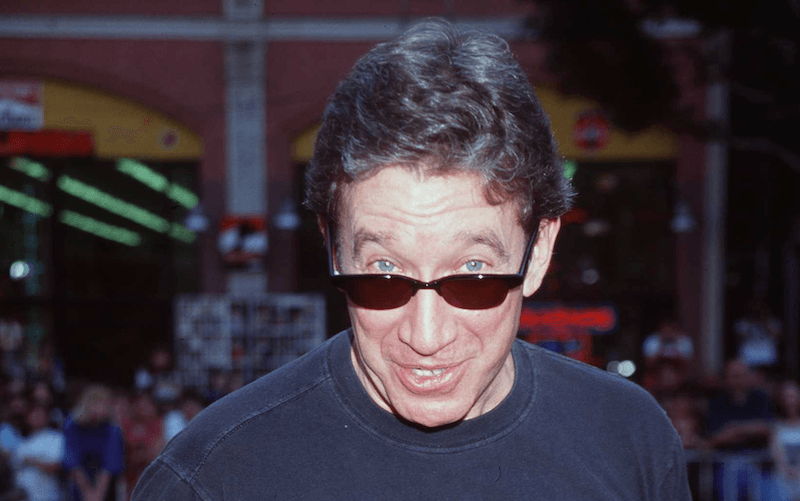 Before he got into acting Tim Allen was in another profession that landed him in jail back in 1978. He was busted for trying to sell an undercover officer a large amount of cocaine at Michigan's Kalamazoo-Battle Creek International Airport.
His arrest photo had us do a double take but yes, that's the Home Improvement star hiding behind that facial hair.
Next: Did you know this actor had couple run-ins with the law?
11. Vince Vaughn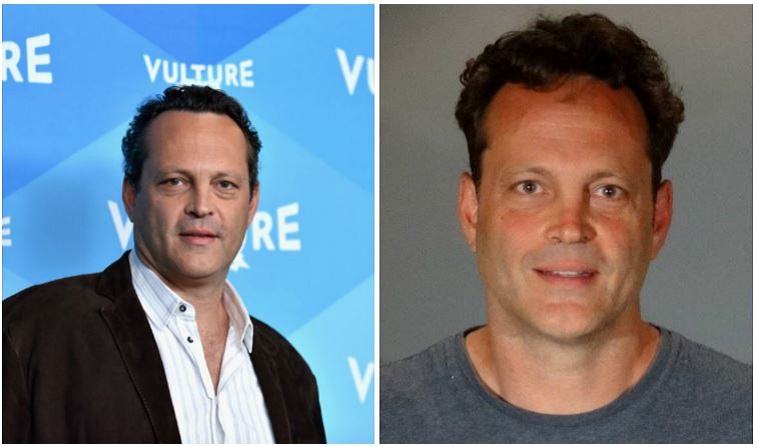 Arrested in 2001 and 2018
News surfaced in 2018 that Vince Vaughn had been arrested for driving under the influence after entering a DUI checkpoint in Manhattan Beach, California. He looked to be smiling in this mug shot but it's an earlier photo that looks less like him.
That mug shot is from 2001 when he was arrested for assault after getting into a bar fight while filming Domestic Disturbance in North Carolina. In the photo, the actor's eyes were puffy as if he had been crying and he looked very confused.
Next: Can you figure out which '80s heartthrob this is?
12. Rick Springfield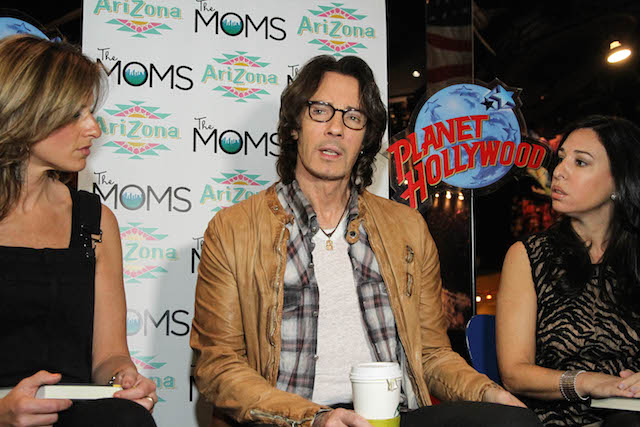 In 2013, the man who had everyone singing "Jesse's Girl" was arrested on suspicion of DUI after he was pulled over for speeding.
Rick Springfield's teary-eyed mug shot certainly wasn't the best photo of the former General Hospital hunk and one we'd rather forget.
Next: Recognize this child star?
13. Edward Furlong
Arrested  in 2004 and 2013
Terminator 2 star Edward Furlong found himself on the wrong side of the law on quite a few occasions and he always looks like a different person in his mug shots.
In 2004, the longtime PETA supporter and some of his friends decided to free several lobsters from a large tank and when the cops showed up he taken into custody for public intoxication. Then in 2013, he was arrested multiple times on domestic violence charges.
Next: Do you know who this actress looking disheveled is? 
14. Michelle Rodriguez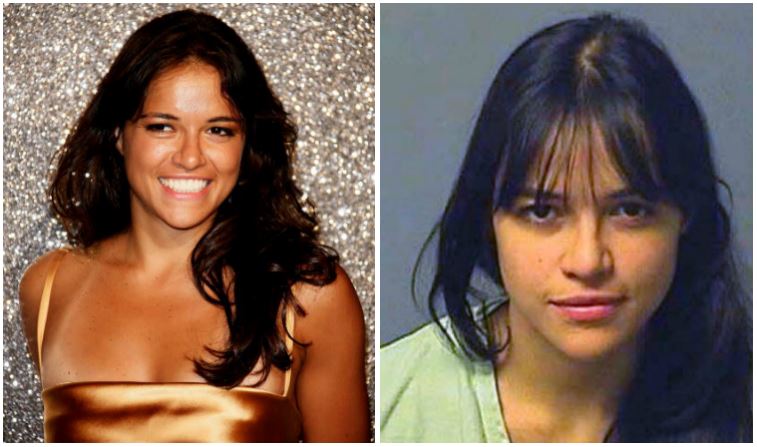 Arrested in 2005 and 2007
Lost actress Michelle Rodriguez was in trouble with the law a lot early in her career including in 2005 when she was arrested and charged with drunk driving in Honolulu. Rodriguez looked extremely hammered and was nearly unrecognizable in her mug shot.
The Fast and Furious star was arrested again in 2007 for a probation violation but looked a little more put together in that photo.
Next: Any idea who this is?
15. Paul Reubens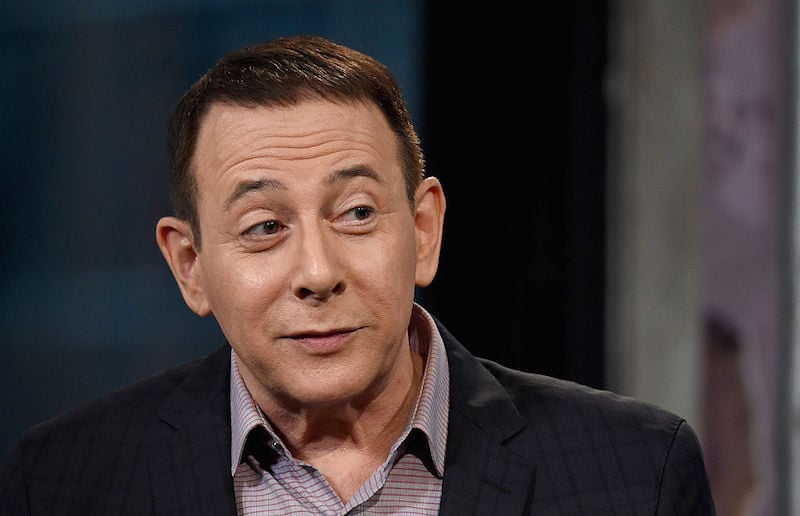 Arrested in 1991, 2002, and 2004
An arrest that gained so much attention in 1991 was when Paul Reubens, who played Pee Wee Herman on the children's program titled Pee Wee's Playhouse, was booked on an indecent exposure charge. He was busted inside an adult movie theater in Sarasota, Florida, and his mug shot, which looked nothing like the bow-tie wearing TV personality, made the rounds.
Reubens' show was immediately canceled, and his toys were pulled from the shelves. He was arrested again in 2002 and 2004.
Read more: Hollywood Celebrities Who Killed Other People
Follow The Cheat Sheet on Facebook!