We Already Miss These Popular TV Shows That Ended for Good
All TV series must come to an end, no matter how hard it is to say goodbye. Unfortunately, several notable shows aired their final seasons recently. Here are the canceled TV shows we miss, including a popular crime drama with a messy ending (page 10).
1. Fixer Upper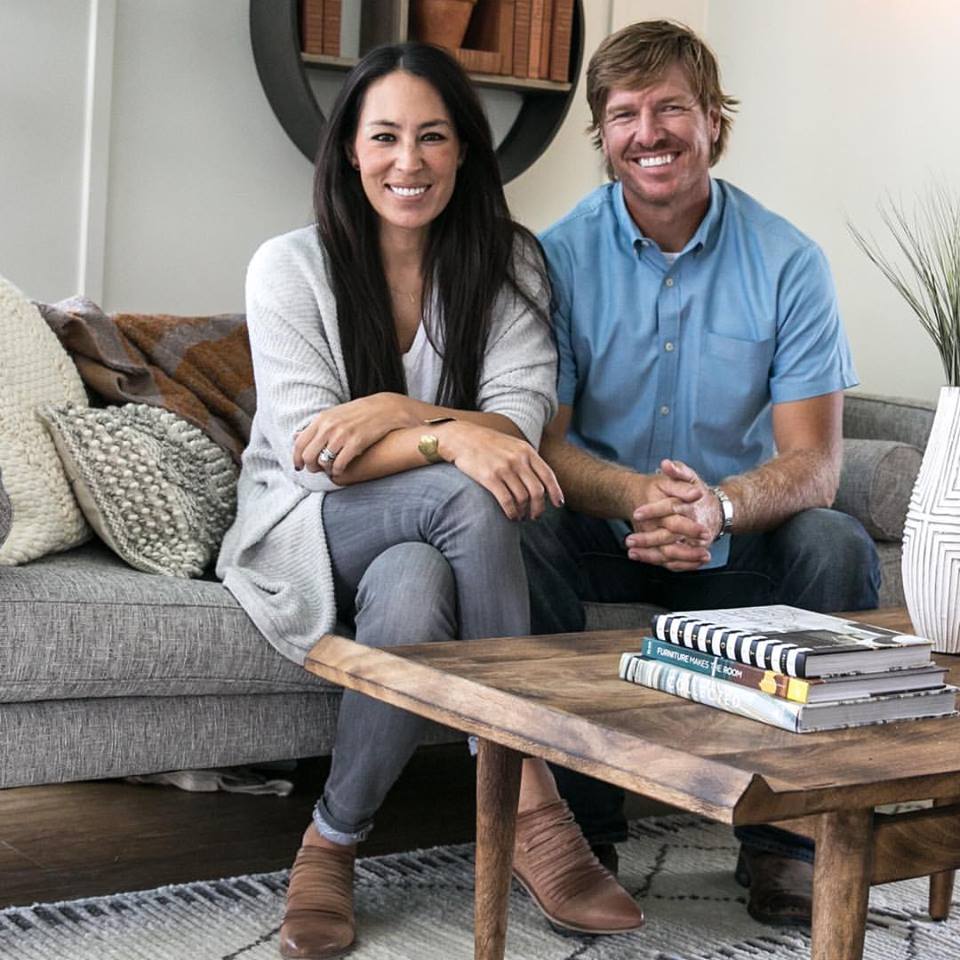 Final episode: April 3, 2018
Watch next: Property Brothers

Chip, Joanna added a fifth family member in 2018, with baby boy Crew. The birth, along with their HGTV show Fixer Upper, ended a special time for the farmhouse family. In 2017, the couple stated the fifth season was the last, saying, "How bittersweet to say goodbye to the very thing that introduced us all in the first place."
Next: These co-stars had a baby during the show's run.
2. The Americans
Final episode: May 30, 2018
Watch next: Designated Survivor
FX's Russian spy drama took a bow in 2018 with its last 10 "action-packed" episodes. The Americans' co-creator Joe Fields said he's "known how it was going to wrap for several years." Although the show ended, its co-stars/real-life couple, Keri Russell and Matthew Rhys, have a souvenir: their baby boy.
Next: AMC ended this popular drama.
3. Halt and Catch Fire
Final episode: October 14, 2017
Watch next: Silicon Valley
AMC's Halt and Catch Fire officially came to a — wait for it — halt with its fourth and final season. The show's final run consisted of 10 episodes, designed to "write the series focused on the dawn of the computer industry in the 1980s in Texas and California to conclusion."
Next: This ABC favorite quietly ended in 2018
4. The Middle
Final episode: May 22, 2018
Watch next: Schooled
This ABC show about a middle-class American family quietly garnered high ratings throughout its nine seasons. Although The Middle flew under the radar, it was a consistent success for ABC, which announced the series' end in 2018, with its 200th episode taking place during that time.
Next: The final season continued its creepy theme.
5. Bates Motel
Final episode: April 24, 2017
Watch next: Hemlock Grove
A&E's Bates Motel closed after Season 5. The move didn't come as a surprise, as executive producers always envisioned a five-season run. Luckily, the 10-episode final season was memorable, with Rihanna making a surprise guest appearance.
Next: This beloved show's lead character had to surrender her white hat.
6. Scandal
Final episode: April 19, 2018
Watch next: Madam Secretary
Since 2012, fans adored this political thriller about Olivia Pope's crisis management firm. Grey's Anatomy producer Shonda Rimes always knew it was a seven-season show. Scandal received the Peabody Award for Excellence in Television, and Washington was nominated for an Emmy Award, Golden Globe, and SAG Award. President Fitzgerald Grant and Pope's love affair will go down in history.
Next: A beloved TV duo with loyal fans
7. Rizzoli & Isles
Watch instead: Seven Seconds
TNT's long-running drama Rizzoli & Isles ended after its seventh season. Turner Entertainment chief creative officer Kevin Reilly confirmed the cancellation in January 2016 at a Television Critics Association panel, saying, "It felt like it was time." The 13-episode finale season aired from June to September 2016.
Next: This TV show is no longer the comeback kid.
8. Episodes
Final episode: October 8, 2017
Watch next: Curb Your Enthusiasm
After a lengthy hiatus, the Showtime comedy starring Matt LeBlanc aired its fifth and final season in 2017. Though LeBlanc earned four well-deserved Emmy nods, the show never earned big ratings, leading Showtime to ultimately pull the plug.
Next: This show was "orphaned" by BBC America.
9. Orphan Black
Final episode: August 12, 2017
Watch next: United States of Tara
BBC America's cult series earned critical acclaim and a loyal fanbase, but it ended in 2017. Tatiana Maslany starred in Orphan Black, which aired 10 last episodes for an "epic conclusion to the tale of Sarah and her clone sisters," as explained by creators John Fawcett and Graeme Manson.
Next: This across-the-border show pushed boundaries with viewers.
10. Criminal Minds: Beyond Borders
Final episode: May 17, 2017
Watch instead: Mindhunter
The spinoff series was canceled after two seasons of low ratings. The Hollywood Reporter explained, "While the 7.3 million-strong average would look good elsewhere, it was not much to write home about for a CBS drama." Luckily, the original Criminal Minds show was renewed for a 13th season.
Next: This procedural crime drama finally came to an end.
11. Bones
Final episode: March 28, 2017
Watch next: Elementary
After 11 years on air, Fox wrapped its long-running drama after low ratings. The 12th and final season not only concluded the storyline of Brennan (Emily Deschanel), Booth (David Boreanaz), and the FBI team, it also brought back favorite guest stars and included a wedding.
Next: This "castle" came crumbling down.
12. Castle
Final episode: May 16, 2016
Watch instead: Jessica Jones
In 2016, ABC pulled the plug on this procedural drama after eight seasons. The decision came months after the show let go female lead Stana Katic, reportedly to cut costs. There was initial talk of a final abbreviated season, but the network ultimately axed the show altogether.
Next: Show expenses were too much for Netflix to handle.
13. Bloodline
Final season: May 26, 2017
Watch next: Ozark
Netflix's thriller drama, following a Florida family with dark secrets, ended in 2017. The streamer pulled the plug due to production costs and Season 2's somewhat lackluster reviews. One of a few cancellations Netflix has ever made, this marked the start of its tougher approach to its lineup.
Next: This show seemed way too good to end.
14. The Good Wife
Final episode: May 8, 2016
Watch instead: Doubt
The CBS drama was a critical darling, but its seventh season earned only a 1.2 rating when it premiered in 2014. It drew in 9.25 million viewers, but those numbers are so-so for CBS. As ratings kept falling, the show was ready for its curtain call. CBS made the cancellation official in February 2016.
Next: NBC chose not to resuscitate this medical drama.

15. The Night Shift
Final episode: August 31, 2017
Watch instead: Chicago Med
With a quiet launch in 2014, The Night Shift had a loyal following during its four seasons. In 2017, NBC pulled the plug on the army vet medical series. With Chicago Med and New Amsterdam, NBC can only air so many medical dramas at once.
Next: NBC went overboard with Chicago-based shows.
16. Chicago Justice
Watch instead: Any of the Chicago series
Were there enough Chicago-focused TV shows airing before the creation of Chicago Justice? Probably. After one season, the fourth series in Dick Wolf's Chicago franchise got the boot. But it made sense to give the legal drama a one-season try. The original Chicago Fire is NBC's second-highest rated drama (behind This Is Us). The other two, Chicago Med and Chicago P.D., do well enough. It looks like three's a charm for the Windy City.
Next: Producing a show was too much for this couple.
17. The Jim Gaffigan Show
With quite a low viewership, family comedy The Jim Gaffigan Show said goodbye to its TV Land fans. Produced by Gaffigan and his wife Jeannie, the show received praise from critics but ultimately did not extend beyond two seasons. According to USA Today, Jim and Jeannie released a statement thanking TV Land for the opportunity to create a show inspired by their lives. They explained that The Jim Gaffigan Show took too much time away from their real family of five children.
However, the cancellation was a mutual agreement among the couple, production, and media company, so it seems like there's more going on than meets the eye.
18. The Leftovers
Final episode: June 4, 2017
Watch next: Stranger Things
After over a year off the air, the HBO drama returned for its third and final season. Season 3 had eight episodes and relocated the action to Australia and picking up days before the seventh anniversary of the Sudden Departure.
Next: This series may live on.
19. Black Sails
Final episode: April 2, 2017
Watch next: Vikings
The Emmy-winning Starz prequel to Treasure Island ended after four seasons on the high seas. Season 4 marked Black Sails' final run. Though this iteration is over, showrunners Jonathan E. Steinberg and Robert Levine hinted that a spinoff could be in the works.