'Power' Season 6 Premiere Revealed Angela Valdes and Terry Silver's Fate
Power Season 5 ended with James (Omari Hardwick) meeting up with Angela (Lela Loren), as he believed she would testify against him, and Tommy (Joseph Sikora) followed them and shot her. His disgruntled best friend meant to hit James because he thinks James tricked him into killing his father.
James told Tommy his dad was snitching on him when it was James the father planned on turning over. Additionally, Terry Silver (Brandon Dixon) and Tasha (Naturi Naughton) met up in a parking garage, where James watched from behind a pole.
In the premiere for Power Season 6, Angela and Terry's fate is revealed, and Tasha asked James for a divorce. What else happened? Keep reading to find out.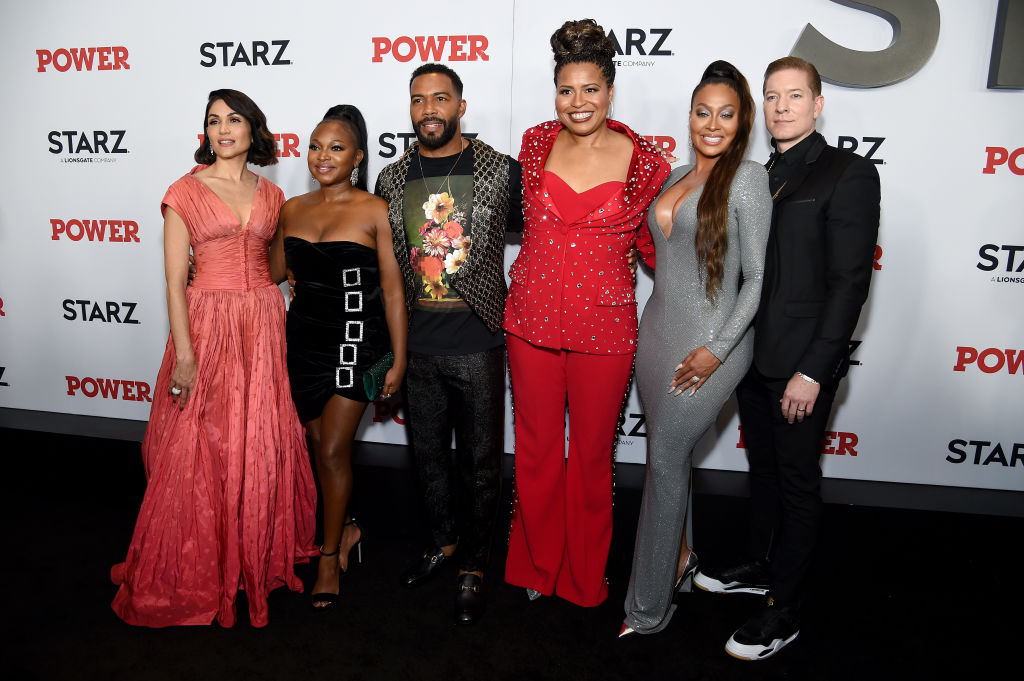 What happened to Angela Valdes and Terry Silver?
James snuck up behind Silver after Tasha left and strangled the lawyer. While viewers did see Tasha's husband commit the act, it is unclear where he hid the body as no one can find him. Believing Angela was the female witness testifying against him, James met up with his love.
However, his best friend, Tommy, followed him and attempted to shoot him from the top of the stairs. Angela saw it about the happen and pushed James out of the way, taking a bullet for her high school sweetheart. James rushed Angela to the hospital, where she would undergo surgery.
After waiting in the hospital emergency room lobby, her sister Paz (Elizabeth Rodriguez), ran out to him calling him a murderer. She died from a gunshot wound to the chest, and James set out to find the triggerman.
In the 'Power' Season 6 Premiere, Tommy wants to take out Ghost
Immediately after shooting the district attorney, Tommy met up with Tasha and asked for an alibi. He admitted to killing Angela even though the intended target was James. Tasha, mother of James' two children, doesn't want them not to have her father.
Therefore, she said she wouldn't help him unless he fixed the problem between him and James. He then asked his girlfriend, Lakeisha (La La Anthony), to dump the gun he used to kill Angela in a lake. She obliged, however, her bare hands were all over the weapon when she threw it, which will be a problem if the police find it.
Once he returned home, James was waiting for him in his apartment, and they began fighting. Tariq (Michael Rainey, Jr.), James' oldest child, came inside and broke up the fight, asking if his Uncle Tommy will help him with something. The two end their quarrel, but instead of assisting Tariq right away, he had to meet with his drug connect, Jason (Mike Dopud).
The connect doesn't think his problem with James is over and asked to meet later that night when he would give Tommy his supply. However, Poncho (Franky G), a drug dealer in Tommy's crew, wasn't happy to hear they will have to wait longer.
He tried to stand up to his boss, but Tommy shot him in the head to set an example for the rest of his crew. The drug lord finally went back to his place, where Tariq wanted to honor the deceased Kanan (50 Cent).
Tommy sprinkled some of his ashes into his blunt, and his "nephew" dumped the ashes over the side of the New York building. Then, Tommy told Tariq he would always be there for him if something happened to his dad.
James tries to kill Tommy in the 'Power' Season 6 Premiere
To make matters worse, after Tommy shot Angela, James' lawyer, Joe Proctor (Jerry Ferrera), told him that Angela was not the witness. Because Agent Cooper Saxe (Shane Johnson) is the one who leaked the information to Proctor, the office fired the boss and hired a new one, Jacob Warner (Evan Handler).
Saxe went to the new U.S. Attorney and admitted to being the leak, but wanted to get Joe to testify against James. He paid a visit to the lawyer while he was at school with his daughter, and tried to scare him into turning on his client.
Joe, never one to break, calmly reiterated that James did not kill Angela. Meanwhile, James followed Tommy to where he met up with his connect. Once he saw Tommy's signature blue muscle car pull out of the parking lot, he ran out and fired several shots at the vehicle.
Then, Tommy and Jason walked over to the car, and his connect said he knew James would follow him. Tommy then went to Lakeisha's house to celebrate with a glass of wine and James sat in the car, believing he just killed his best friend. To see what happens, watch Power Sundays at 8 p.m. EST on Starz.