Predicting Morgan Stark's Future From 'Avengers: Endgame' Deleted Scene
With the launch of Disney+ and the commencement of widespread Marvel content binging, fans quickly discovered a deleted scene from Avengers: Endgame. You know: the one with Katherine Langford that everyone was curious about after IMDb listed her as a castmember and then she never appeared in the film. Well, that moment has come to fans at last. 
In the deleted scene, Tony finds himself in the soul world standing across from his daughter Morgan, yet she's all grown up. Tony confronts doubts — wondering if he made the right decision, as confusion and sadness take over his expression. His daughter is there to console him, not the reverse.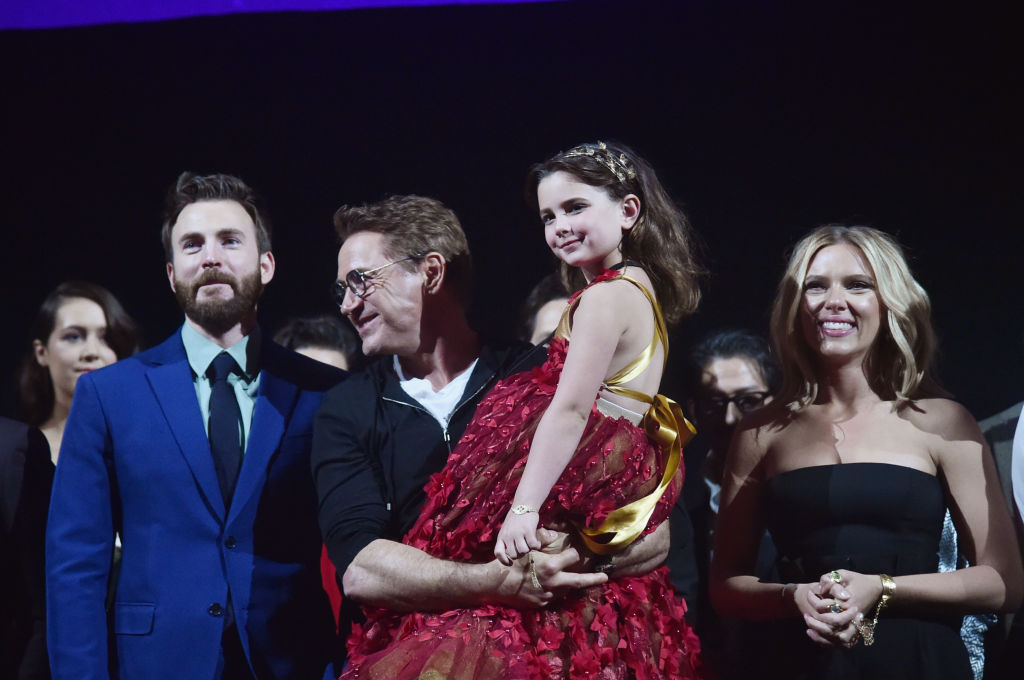 Morgan Stark explains that she understands why he did what he did; someone had to take that fateful action so the rest of humankind could persist. She says she is "proud" of him and "sad," but she's "strong like mom." She goes on to explain that she is happy they had the time they did and that her father was present until "he couldn't be."
Morgan Stark tells her father that she loves him, and Tony whispers "I love you 3000" in her ear, before the scene comes to a heartwrenching close. While this may not seem like a lot to work with, we can make a few predictions about her character's future identity based on how she handled the situation in Avengers: Endgame. 
Morgan Stark will not be broken 
If Marvel chooses to retain the characterization granted to Morgan Stark in the soul world, she will proceed through the MCU as a resilient and determined character. Her father's death clearly has not broken her. The experience has shaped her, but she is not bitter. She is accepting. 
Morgan Stark, at a young age, is understanding of true heroism, understanding of selflessness, unbridled altruism, and the bravery it takes to put others before yourself. On the other hand, Tony Stark's narrative arc was characterized by a transition from selfish egotist to the selfless savior. It seems that Morgan is already someone who views the world from a position beyond and greater than herself. Will she come to confront Stark's narrative journey in reverse? Talk about poetic justice.
How Morgan Stark's journey will directly oppose her father's arc following 'Avengers: Endgame'
Morgan Stark may have to learn when it is best to put herself first, as constant sacrifice can bear negative consequences just as much as selfishness can. If she becomes a hero, she may struggle with fulfilling personal goals alongside savior responsibilities.
In the comics, Morgan Stark is Iron Man's male cousin, constantly trying to take him down; however, this doesn't seem like a plausible turn of events given the MCU's plot trajectory thus far. Rather, it's quite possible that Hawkeye's daughter and Tony's daughter will come to be heroes, developing a bond all their own. Hawkeye's daughter lost Aunt Natasha and Morgan lost her father — both are the products of great sacrifice (in one way or another), which could lead to a dynamic character relationship between the two. 
Marvel rarely signs major actors for a single movie, and fans should assume that the 13 Reasons Why and Knives Out star isn't done with the MCU just yet. And, if she's bound to take up the hero's journey, following in her father's footsteps, you can be sure that her character arc will likely proceed in the opposite direction of her father's.