Pretty Little Outliers: Could More OG 'PLL' Members Be Reprising Their Roles In 'The Perfectionists'?
Almost two years have passed since we said our final farewell to Rosewood and all the sinister drama the small, fictional, Pennsylvanian town held. But, the lies are just getting started. Enter Pretty Little Liars: The Perfectionists, your new weekly obsession.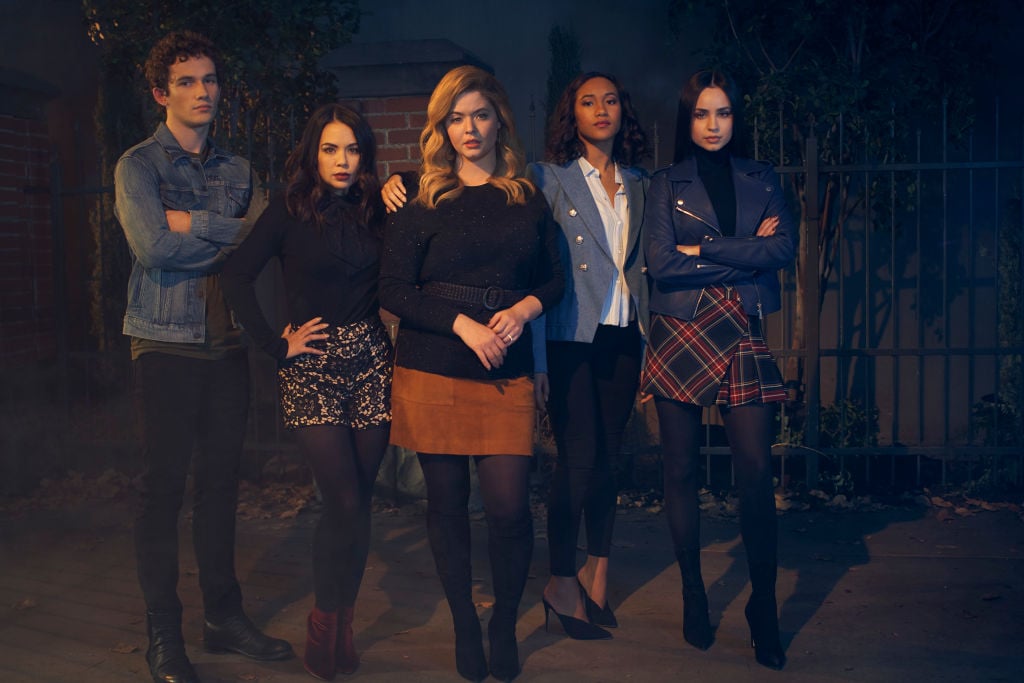 Where Pretty Little Liars left off
"Stop trying to make spin-offs happen!" might have been something you shouted when showrunner Marlene King announced that she was making yet another spin-off to the beloved series Pretty Little Liars. But just five minutes into the pilot of The Perfectionists will have you wondering why you ever uttered such heinous things. If there's one thing the bone-chillingly sinister series premiere taught us, it's that you're not in Rosewood anymore, Ali.
While the new show is shaping up to be brilliant in its own right, superfans are always hoping for more nods to the original show. If recent episodes are to be believed, there are plenty more to come. Though some of the original characters were briefly mentioned in the pilot, recent episodes have viewers positive that we haven't seen the last of a few of our old faves. Let's take a look at the characters most likely to make a comeback.

Emison calls it quits
When we last saw Emily, she was engaged to Alison and helping to raise their adorable twin daughters. Emison fans across the world wept with joy, as the couple had always been slated as endgame material.
Though we get breadcrumbs of their relationship deteriorating through the series premiere of The Perfectionists and subsequent episodes following, the final nail in the coffin comes in Episode 4 as Alison reluctantly signs divorce papers. However, it's hard to believe that with all the history Alison and Emily share, Emily wouldn't make a guest appearance at some point in the new series, especially since the pair shares children. Which begs the question, is it just a matter of time until we see Emily again?
Though Shay Mitchell has a lot on her plate, she remains super supportive of the spinoff. On premiere night of PLL: The Perfectionists, Shay took to her Instagram stating: "Happy PREMIERE DAY to my favorite people, who seems to have made it out of Rosewood, PA!!! I can't wait to watch tonight! Congrats to my #PLL family and to all the new additions!" One can only hope that this level of enthusiasm means she'd be open to reprising her role as Emily Fields somewhere down the line.
The original "A"
And what about the character we love to hate, the original "A"?
Mona won the game and our hearts as she not only uncovered the truth about Alex Drake but also ensnared both Alex and Mary Drake (played by Troian Bellisario and Andrea Parker respectively) into her personal dollhouse in a chic, Parisian basement. Knowing Mona, we're practically salivating for a chance to see what kind of personal hell she cooked up for Alex and Mary during her Paris stint. During the series premiere of The Perfectionists, Mona gave a cryptic reply about her time spent abroad stating that it was "Fun for a while…but eventually, the reasons I was there escaped me."
Naturally, this had fans across the globe cooking up their favorite conspiracy theories about how Alex and Mary could fit into this new universe. However as episodes passed, and juicier and more sinister plots emerged, those theories fell by the wayside in favor of a new storyline. That all changed in episode 5 when Mona was asked if she was worried that Alex and Mary may try to find her. Could this mean that Mary & Alex are making a comeback?
We can only hope Troian will reprise her role. She had quite a hand in making the OG show a success, playing two characters (Alex Drake & Spencer Hastings) as well as directing several episodes. She's mentioned that she'd love to direct some episodes of The Perfectionists, so we can only hope she'll be involved in shaping the spin-off.
Only time will tell
While nothing has been confirmed, role reprisals are not at all off the table according to showrunner Marlene King.
"It's not something you're going to see right away, but as we get to breathe a little bit more and slow down the story, I'd love to see that be its own standalone episode," she recently told TV Line.
In the meantime, we'll be getting to know and love the new liars and be pleasantly surprised if old favorites come back to shake things up.