'Pride and Prejudice and Zombies': Delivers All 3 (and More)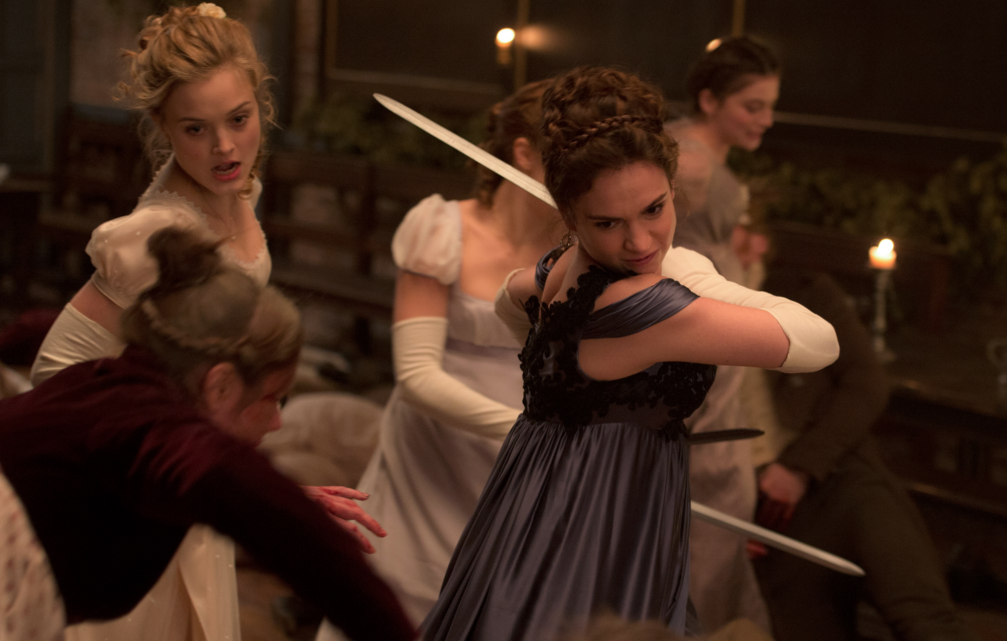 No one would blame you for harboring a fair share of skepticism for Pride and Prejudice and Zombies. Its spiritual predecessor, Abraham Lincoln: Vampire Hunter was an unmitigated flop, clocking in at a disappointing 35% on Rotten Tomatoes, and making just $37 million at the domestic box office. But Hollywood is never slow to adjust accordingly, and with PPZ, it has changed course in all the right ways. First and foremost, we have a movie that understands what it's supposed to be and, because of this, never takes itself too seriously.
A movie that injects the undead into Jane Austen's Pride and Prejudice is never going to be easy to make, even with solid source material from author Seth Grahame-Smith. The saga of getting it into theaters was an unsurprisingly long and arduous one. Originally, David O. Russell was signed on as the director, while Natalie Portman was tagged for the role of Elizabeth Bennet (as well as one of the producers). Budgetary concerns and scheduling conflicts though led to both stars leaving the project, replaced by Burr Steers (17 Again) and Lily James (Cinderella), respectively.
The end result is a film that still manages to entertain in every facet, albeit with some weaker, unexplained story elements. The plot itself falls virtually in lockstep with Austen's original novel, featuring all the marriage shenanigans and Regency Period sensibilities that have come to define the Pride and Prejudice story. The twist to all this of course is the inclusion of a zombie virus, brought over from the New World and ravaging its way through the English Isles. In this world, a bloody war has raged for years now, with the British citizenry arming themselves through the study of Chinese and Japanese martial arts.
It's a premise that's ridiculous on the surface, and PPZ understands that from the very beginning. The movie opens with an expository storybook sequence, narrated by the incomparable Charles Dance (Game of Thrones). From there, Dance is established as none other than the patriarch of the Bennet family, having had all of his daughters trained in every manner of self-defense and swordplay. In many ways, the self-assurance of the Bennet daughters is a sly subversion of the classic Regency ideals that valued women only as properties to be married off. More than that though, in a time when Mad Max: Fury Road can enter into the Oscar conversation, suddenly an ensemble cast of warrior women is less a notable exception, and more an indicator of Hollywood turning a corner.
It's important for any film establishing its female lead as the hero to follow a certain set of guidelines. The issue many movies have run into in the past has been showing us a self-assured heroine, only to contradict its own message by having the male lead swoop in to save her in the third act. The question of "who's saving whom?" is one where many seemingly progressive narratives have fallen apart. That trend has subsequently been broken and shattered though, first by Fury Road, then emphasized by Star Wars: The Force Awakens, and now normalized by Pride and Prejudice and Zombies. The message here is loud and clear, telling us that an established female hero can be just that: the hero. PPZ marks this trend becoming the norm rather than the exception, and Hollywood is far better off for it.
Outside of the feminist narrative, there's no shortage of entertaining moments throughout the main story. Matt Smith absolutely steals every scene he's in as Parson Collins, there are moments of genuine comedy mixed in with the campy zombie killing, and in the end, it delivers on everything the title promises. Where it slips can be seen in some of the more unclear rules of the universe: Some zombies possess the ability to speak and think like normal humans, it's not entirely obvious how the undead manages to launch an organized military campaign, and there's an odd series of biblical "four horsemen" references that are never entirely fleshed out.
In all though, Pride and Prejudice and Zombies is an exercise in setting the bar in a realistic place. When the bar for revisionist sci-fi history is Abraham Lincoln: Vampire Hunter, you begin to see a film head and shoulders above its predecessors. When you factor in its role as a feminist signpost in Hollywood, you begin to see a clear picture of something that's more than worth your time and money. Pride and Prejudice and Zombies delivers on all three of its primary promises, and if for no other reason than that, it's everything you could want it to be.
Pride Prejudice and Zombies releases nationwide on February 5, 2016.
Follow Nick on Twitter @NickNorthwest
More from Entertainment Cheat Sheet: