Prince Charles Cheating on Princess Diana Made Her Despise 1 Letter of the Alphabet
There's a common misconception that Princess Diana refused to wear Chanel after her explosive break up with Prince Charles. There is truth to this belief — but it wasn't the designer themselves Diana hated. It was one specific letter of the alphabet.
The Prince of Wales did a number on Diana's heart and left her feeling bitter about love. Like everyone else, she knew Charles was in love with Camilla even on his wedding day. His betrayal cut Diana deeply and made her unable to forgive her ex and his lover up until the day she died.
RELATED: Princess Diana Most Likely Knew Prince Charles Was Going to Cheat On Her — But She Married Him Anyway
Princess Diana had no idea what she was getting into when she married Prince Charles
Charles fell in love with Camilla first and probably would have married her if his family hadn't discouraged it. Instead, Camilla was deemed "unsuitable" to become the future queen because she wasn't a virgin. Eventually, the Prince of Wales went away to serve the military while Camilla married Andrew Parker Bowles.
Princess Diana barely knew Charles on their wedding day. The world watched as the beautiful, naive Diana walked down the aisle to become a princess — and eventually, to disaster. Even as she entered the church on that exhilarating day, she saw Camilla sitting in the pews and felt a sense of dread.
She stopped wearing Chanel logos after separating from Prince Charles
Diana blamed Camilla for the dissolution of her relationship with Charles. "Well, there were three of us in this marriage, so it was a bit crowded," the Princess of Wales famously told Martin Bashir during an interview.
And that's precisely why Diana had to stop wearing Chanel, a designer whose logo is comprised of interlocking letter Cs. It's not a stretch to envision Charles and Camilla linked together with a logo like that. Ever since the separation, Diana showed a strong aversion to the third letter of the alphabet.
Diana said she wouldn't wear the letter C, but she still wore Chanel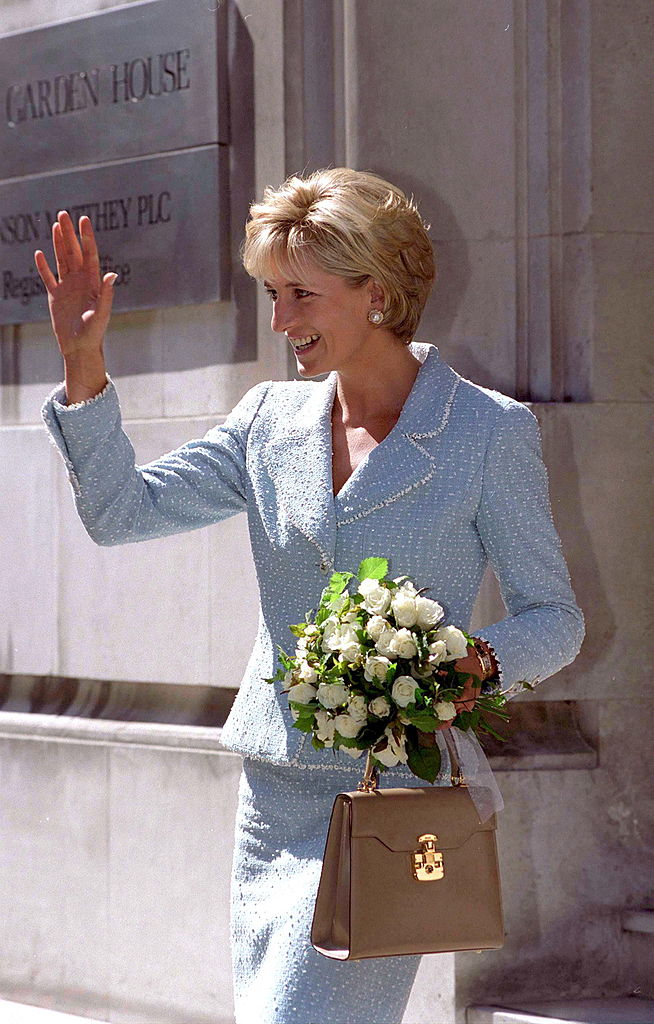 Princess Diana had no interest in paying homage to Charles and Camilla's secret romance through her clothing choices. Australian designer Jayson Brunsdon said he once suggested a classic pair of Chanel shoes to complete Diana's outfit and she said, "No, I can't wear linked C's, the double C."
But she couldn't completely abandon one of her favorite designers either. Even after her divorce in 1996, Diana was spotted looking so chic in a mint green tailored Chanel suit. But the key to her outfit was it didn't have the logo anywhere on it. Only true fashion insiders realized it was Chanel.
The same goes for the blue Chanel suit the Princess of Wales wore to Prince William's confirmation in 1997, In Style reported. These are two examples of many that prove Diana didn't give up Chanel — she just gave up the letter C.
Would Princess Diana have forgiven Charles and Camilla?
Diana tragically died long before Charles and Camilla ever took their relationship public and married in 2005. But would she have forgiven her husband and his former mistress and forged a sort of friendship with them?
It seems unlikely. However, if she had found love herself and felt more secure, it's reasonable to imagine she might have come to a truce and possibly even experimented with Chanel logos again, at the very least.