15 of Prince George's Most Adorable Moments in Honor of His 6th Birthday
Prince George of Cambridge turns six years old today.
In honor of his sixth birthday, we're looking back at the most adorable moments Prince George has given us since his birth on July 22, 2013. We're the first to admit the third in the line of succession has so many adorable moments — frankly, nearly everything he does is cute — it's difficult to narrow them all down. But as they say, someone has to do it. Without further ado, here are Prince George's most adorable moments in no particular order.
1. Prince George plays with a stuffed animal.
Nearly a year old, Prince George joined his parents, Prince William and Kate Middleton, the Duke and Duchess of Cambridge, on a three-week tour of Australia and New Zealand in April of 2014.
Below the young royal may be seen playing with a toy bilby while visiting the Taronga Zoo in Sydney, Australia.
2. Prince George at the christening of his sister, Princess Charlotte of Cambridge
Prince George, now a big brother, looked at his sister, Princess Charlotte of Cambridge, at her christening on July 5, 2015. The outfit Prince George wore has a special meaning: It's the same outfit Prince William wore to meet his younger brother, Prince Harry, Duke of Sussex, for the first time, according to Grazia.
Learn why Prince George is almost always seen wearing shorts, here.
3. Prince George meets former President and First Lady Barack and Michelle Obama in a bathrobe
Who else can meet a president and first lady in a robe and pajamas? Prince George met former President Barack Obama and First Lady Michelle Obama at Kensington Palace with his parents.
4. Prince George and the family dog
Celebrating his third birthday, Kensington Palace released a picture of Prince George with the family's dog. While the image sparked controversy around the young boy feeding the dog ice cream — the dessert isn't good for dogs — no one can argue Prince George didn't look adorable.
5. Prince George plays at a party in Canada
On a tour of Canada, Prince George attended a children's party where he marveled at bubbles.
6. A Candy cane on Christmas Day for Prince George
Later in 2016, Prince George enjoyed a candy cane after a service at St. Mark's Church on Christmas Day.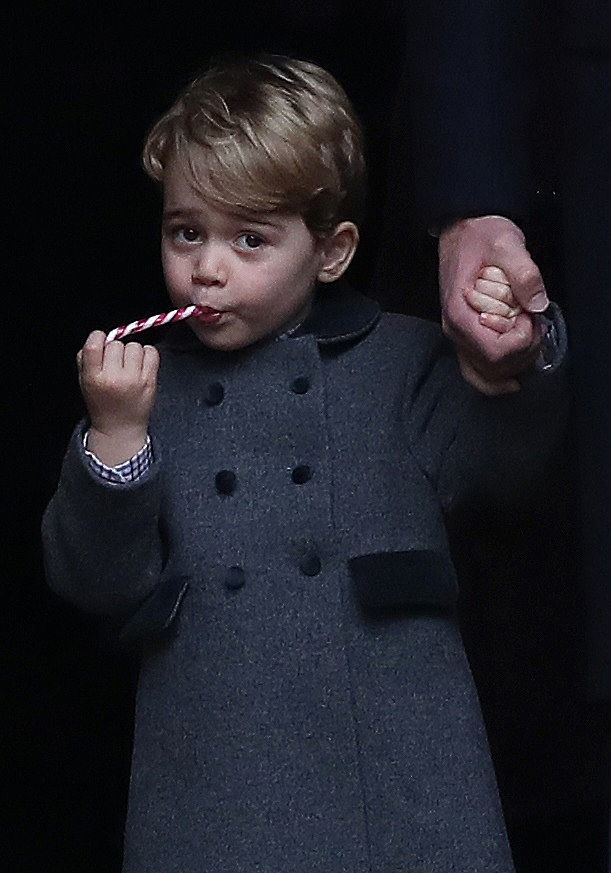 7. He gives a thumbs up
While attending the Royal International Air Tattoo at RAF Fairford on July 8, 2016, in Fairford, England, Prince George looked adorable wearing protective ear covers while flashing a thumbs up.
8. Family vacation portrait
The Cambridge family took a vacation in March 2016 when they went skiing in the French Alps. Prince George's red hat and the rest of the family's winter garb makes this so adorable.
9. Prince George's first day of school
On his first day of school, Kensington Palace released a snapshot of Prince William and Prince George. Prince George looks so cute in his school uniform, that of Thomas's Battersea. What makes this image even sweeter is that Prince George is seen holding his father's hand and they both have one hand in their pocket.
10. Prince George explores a helicopter
At the end of their official visit to Poland, Prince George checked out a helicopter in July of 2017.
11. Princess Charlotte and Prince George have fun at a polo match
Watching them grow before our eyes, the public saw Prince George and Princess Charlotte run together at a charity polo match on June 10, 2018. Again, what makes this adorable is the similar poses both children have in the photograph. They both appear to have their tongues sticking out while running.
12. Prince George at Princess Eugenie of York's October 2018 wedding
As a page boy in the wedding of Princess Eugenie and Jack Brooksbank, Prince George stood with bridesmaids and others in the wedding party. We don't know what he did or heard to cover his mouth but we know it's adorable.
13. Sixth birthday portraits
A day ahead of Prince George's sixth birthday, Kensington Palace released three pictures putting us at 15 adorable photographs of the young royal.
All three photographs were taken by his mother, the Duchess of Cambridge, at home and on vacation.
We can't wait to see what adorable photographs Prince George gives us in his sixth year.