Prince Harry Accused Prince William Of Trying To 'Destroy' His Relationship With Meghan Markle
Rumors of a feud between Kate Middleton and Meghan Markle swirled for months, but insiders are now saying that the real royal rift was actually between Prince William and Prince Harry. The brothers had a falling out over a number of different issues, but the biggest was Harry's relationship with Markle.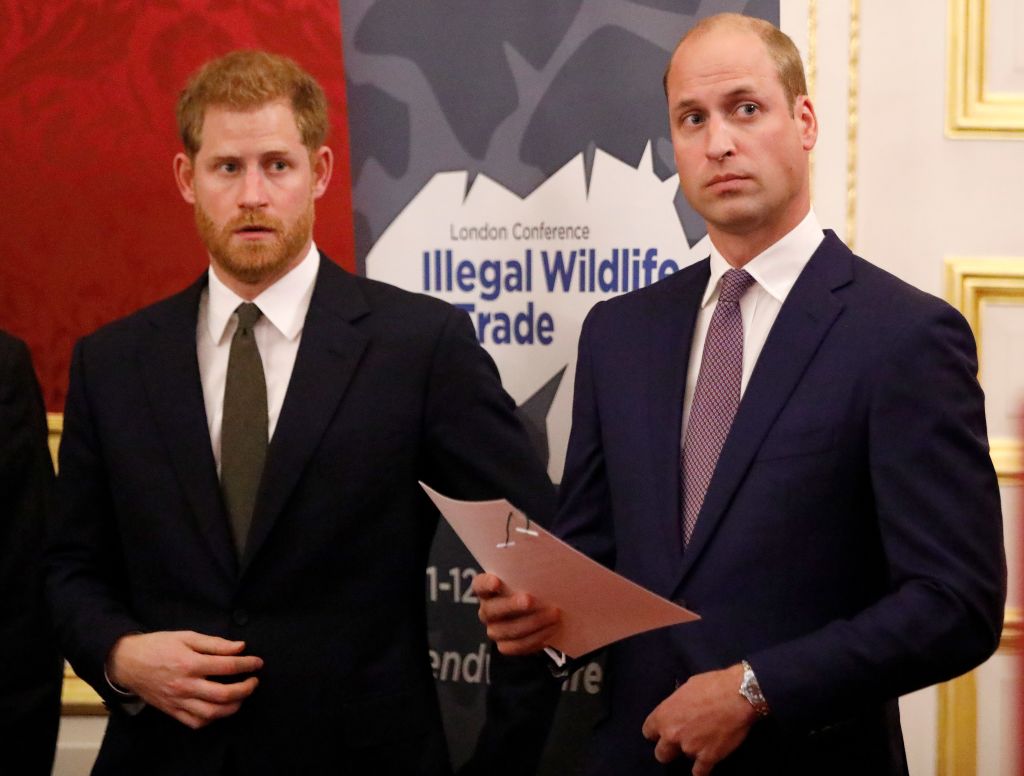 Prince William thought Prince Harry and Meghan Markle moved too fast
Royal correspondent Emily Andrews says that despite the talk of trouble between Meghan and Kate, "it was the boys" who were feuding over everything from money to status. But it was Harry getting serious with Meghan so quickly that led to a confrontation.
"Harry does wear his heart on his sleeve, and got very defensive of Meghan and took it completely the wrong way," Andrews told Yahoo's The Royal Box. "He said to William something along the lines of 'You are trying to destroy this relationship before it has even started.'"
Meghan Markle tried to make peace
Andrews also claims that after Prince Harry and Meghan tied the knot in May 2018, the newlyweds didn't see William or Kate personally for six months, even though they all lived at Kensington Palace. The royal expert added that it was actually the Duchess of Sussex who tried to get William and Harry to work things out.
"Somebody told me it was actually Meghan who had tried to make peace between Harry and William," says Andrews.
Now that Prince Harry and Meghan have celebrated their first anniversary and welcomed their first child, Archie Harrison, it appears that the royal siblings may have worked out some of their issues. However, the media continues to scrutinize every public appearance and interaction they have for signs of their relationship status.
The separation continues
As fans know by now, Prince Harry and Meghan Markle moved out of the palace and into Frogmore Cottage at Windsor Castle to raise baby Archie in private, and Meghan Markle has laid low since becoming a mother.
It's not clear how long she intends to take maternity leave, but it will most likely be at least three months. She is expected to attend the Trooping the Colour celebrations with the rest of the royal family, but both her and Harry are continuing to break away and do their own thing.
Earlier this year they started their own Instagram page – @sussexroyal – leaving William and Kate with @kensingtonroyal all to themselves. Prince Harry and Meghan are also reportedly leaving the Royal Foundation so they can focus on their own philanthropic efforts.
"The couples have been given two options," says an insider. "The first is to leave things as they are, and the second [one] is a complete split. Nothing has been formally ratified, but all the mood music is suggesting the Sussexes will break away."
Charitable, yet extravagant
While Meghan Markle and Prince Harry weren't in any hurry to make any changes to their charity work, the source says that William and Kate wanted the split in the Royal Foundation to happen quickly.
It was actually Prince William and Prince Harry who started the charitable organization in 2009 before they were both husbands and fathers. After they started their respective families, Kate and Meghan joined the Royal Foundation that funds a variety of projects like The Invictus Games and Meghan's cookbook Together.
While Meghan has done a lot of charity and humanitarian work since marrying Prince Harry, she still receives criticism because of her extravagant lifestyle.
"I think Meghan on occasion has been extravagant, which has not gone down well," says royal biographer Angela Levin. "The Queen is known to be frugal, and some members of the British public have balked at a proportion of their tax going towards what they consider to be frivolity."
What really irked some British taxpayers is the dress Meghan wore for her engagement photos, which reportedly cost £56,000. And, her £300,000 New York baby shower didn't help, either. Levin says that is an excessive amount for someone like Markle, who calls herself a humanitarian.