Prince Harry and Meghan Markle Are Honoring Princess Diana in More Than One Way on Their Tour of Africa
Meghan Markle and Prince Harry have officially started their first royal tour as a family of three! The couple, along with their 5-month-old son, Archie, flew to Cape Town, South Africa, this week to start their 10-day stay in the region. The Duke and Duchess of Sussex have several stops planned along the way, and they have been honoring Princess Diana's memory in more ways than one. Here's a look at all of the ways Harry and Markle have paid tribute to Diana so far.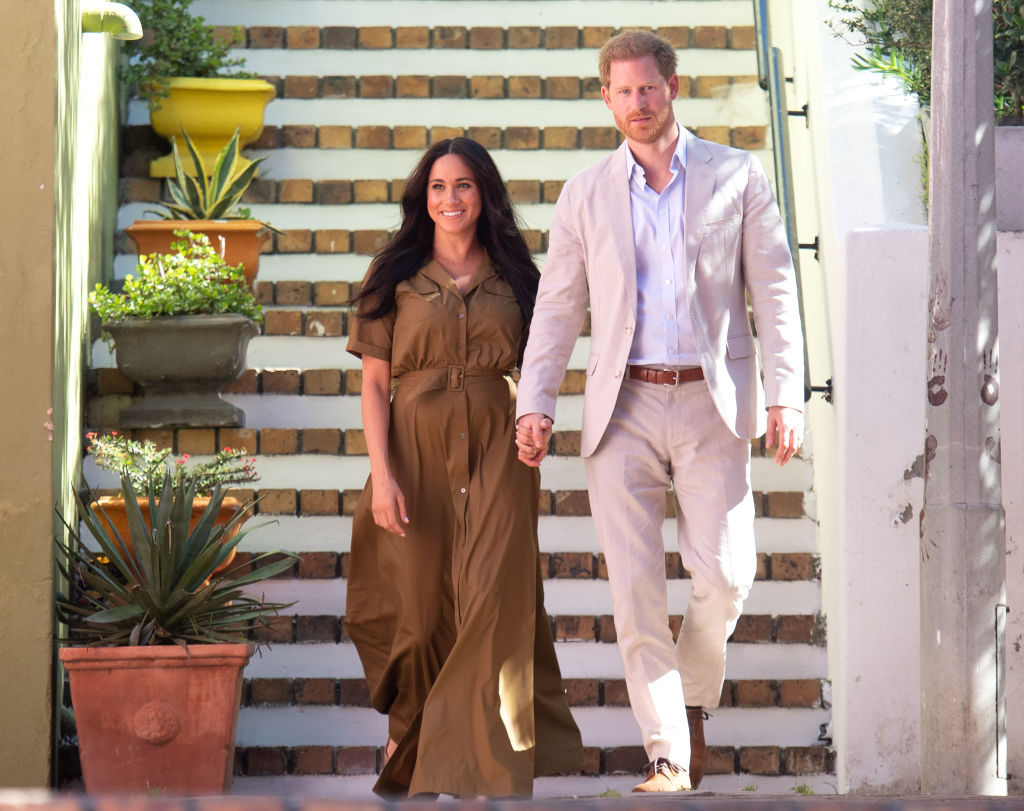 Markle and Harry start their South Africa tour
Prince Harry and Meghan Markle arrived at Cape Town on Monday morning. Markle was spotted leaving the plane carrying an exhausted Archie, who was dressed in honor of Diana.
Archie rocked a white knit cap for the outing, complete with a pom-pom. This is very close to what Harry wore during his first trip with Diana and Prince Charles back in 1985, making it a sweet tribute to Diana's memory.
After arriving in Cape Town, Harry and Markle left Archie with a nanny as they headed for the Nyanga Township. An inside source told People that the Sussexes plan on including Archie in the tour but have yet to figure out something that works with his schedule.
"The couple hopes to be able to include Archie at some point in the program, but it is difficult to schedule because he is 5 months old," the insider shared.
While Archie was left behind, his parents were clearly thinking about him during their first stop. When fans inquired about Archie, Prince Harry revealed that he was sleeping and was completely exhausted by the plane ride.
Once they are done with Cape Town, the family of three is scheduled to visit several locations in South Africa, including Malawi, Angola, and Botswana.
Prince Harry keeps Diana's legacy alive
In addition to Archie's outfit, Harry is doing everything in his power to keep his mother's memory alive. This includes naming a hospital in her honor.
Harry and Markle are scheduled to visit Angola's Huambo Orthopedic Centre during their stay in South Africa. As royal watchers may recall, Diana also paid a visit to the hospital in 1997, shortly before her tragic death.
Diana's visit to Huambo helped inform the public about the dangers of active land mines in the area. The Princess of Wales famously ventured into a land mine that was in the process of being deactivated by a local charity.
De-mining has continued in the two decades since Diana's visit, and Prince Harry hopes to continue that work for the safety of future generations.
The hospital, meanwhile, was recently remodeled and Harry will be on hand to open it under its new name in honor of Diana.
Apart from honoring Diana's legacy, Prince Harry and Meghan Markle no doubt hope that their visit to Angola will help repair their public damage, which has taken some hits over the summer.
There is no telling if the couple will be able to escape any further controversies during their stay in South Africa, but it is definitely putting them in a positive light for a change.
Inside Prince Harry and Meghan Markle's love for South Africa
Harry has never been shy about his love for Africa. The Duke of Sussex visited the region when he was only 13 years old and has made frequent trips over the years.
Queen Elizabeth has also named Harry the Commonwealth Youth Ambassador, which gives him the necessary platform to reach children in Africa.
Markle also has close ties to Africa. The Duchess of Sussex has several patronages in the region, though this is her first official trip to South Africa. It will be interesting to see what Harry and Markle do throughout their tour, but it sounds like they are off to an amazing start.
Last year, the pair enjoyed a royal tour in Australia. Dubbed the Down Under tour, the two visited charities in New Zealand, Australia, and Fiji.
They also issued a pregnancy announcement during their stay in Sydney, something fans are hoping they will replicate on their current tour. Fingers crossed.
Prince Harry and Meghan Markle have not commented on the reports surrounding their tributes to Princess Diana, though we expect there will be plenty more to come.