Prince Harry Broke Royal Protocol to Re-enact Chimp Greeting with Jane Goodall
Prince Harry wasn't following royal protocol when he attended Dr. Jane Goodall's Roots & Shoots global leadership event at St George's House at Windsor Castle. The two shared a warm greeting, re-enacting a "chimp greeting" that Goodall had taught him when they first met. Judging by Harry's expression, he didn't seem too bothered to be ditching the usual royal formalities.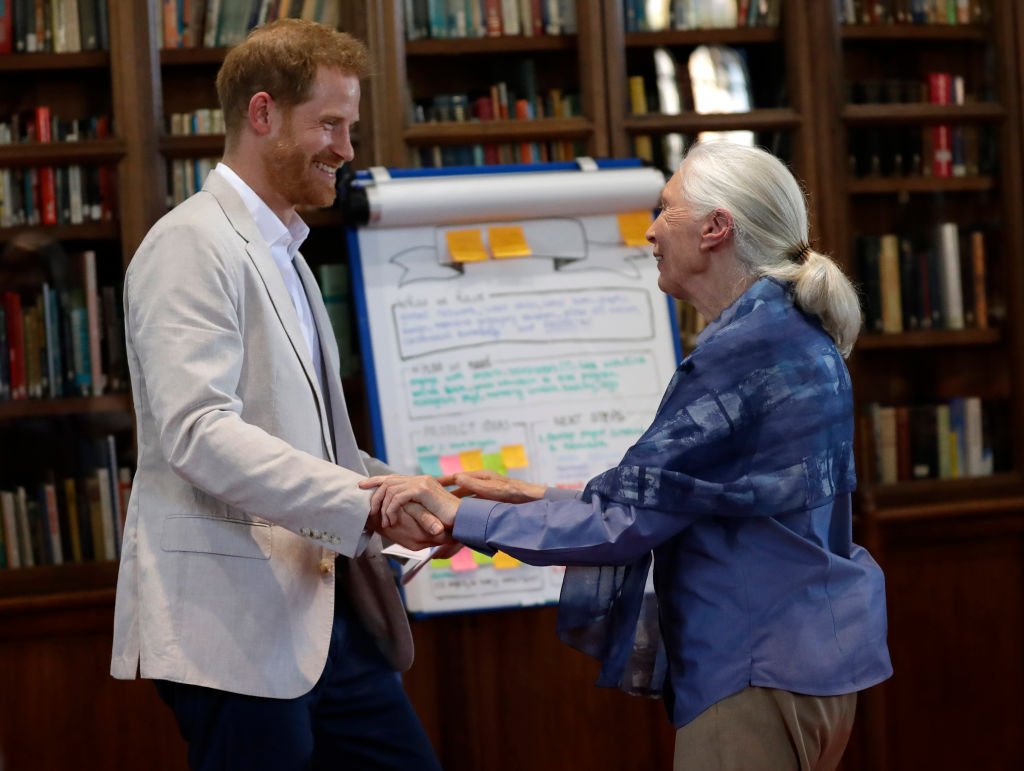 Goodall and Prince Harry's greeting had hearts melting
It's not every day you get to see royalty recreating a typical chimp greeting, but when Goodall asked him if he remembered how to do it, he was up for the task.
As Goodall approached as a female chimp, Prince Harry gave her head a reassuring pat and the two embraced in a warm hug. It's not the typical handshake and formal greeting that most people are used to seeing from the royals, but was endearing to see Harry not even hesitate to participate in the unique gesture.
Business Insider explained that this greeting breaks royal protocol, which is typically a formal handshake.
The video was posted to the Royal Sussex Instagram account with the caption: "A couple of captured moments between The Duke of Sussex and Dr. Jane Goodall at today's event. The pair share an impromptu dance and 'Chimpanzee Greeting' which Jane taught The Duke when they first met. Today's event was full of education, inspiration and fun. Because working hard and playing hard are not mutually exclusive."
Prince Harry praised Goodall
Prince Harry spoke at the meeting, where he praised Goodall for her efforts in conservation, sharing: "I met Jane last year, and my affirmation was probably similar to how you all felt this week when you met her for the first time. That she is a woman of kindness, warmth, immense knowledge and a softness that's needed by mankind just as much as it is chimpkind."
He continued: "I've been admiring her work since I was a kid and it was so wonderful to find that she was even more amazing in person. She even treated me to a chimp welcome which only Jane can do! Well, and chimps!"
Prince Harry draws inspiration from his grandmother
During his speech, Prince Harry shared how his grandmother has provided inspiration in his environmental conservation efforts, noting: "As my grandmother the Queen once said, 'sometimes the world's problems are so big we think we can do little to help.'"
Prince Harry added: "On our own we cannot end wars or wipe out injustice, but the cumulative impact of thousands of small acts of goodness can be bigger than we imagine."
Goodall met Prince Harry and Meghan Markle's baby
Dr. Goodall had visited the Sussexes at Frogmore Cottage and met Markle and Archie last month, with royal correspondent Emily Andrews noting that she had the opportunity to "cuddle" the baby.
The conservationist told reporters about Markle's excited reaction, sharing: "She told me she's followed me all her life. She told me, 'You've been my idol since I was a child. I've hero worshipped you all my life.'"