Here's Why Prince Harry and Meghan Markle's Baby Could Be a Major Problem For the Royal Family
Prince Harry and Meghan Markle are only weeks away from welcoming their first child, and they've been surrounded by excitement ever since they announced the pregnancy. While the royal family and plenty of members of the public seem thrilled about the new baby, he or she might actually cause a major problem for the royals — and it has to do with U.S. citizenship.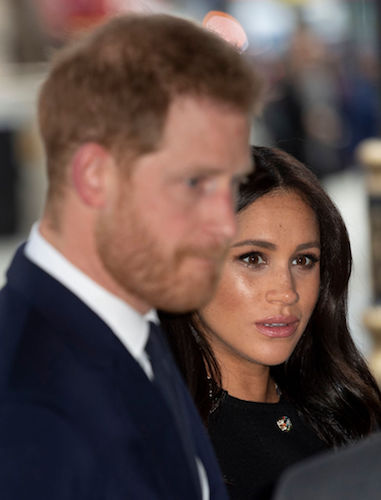 Meghan should be giving birth at the end of this month
Meghan and Harry's relationship has moved pretty quickly. The couple met back in 2016, and they've been inseparable ever since. They got engaged after less than a year and a half of dating, planned a wedding in six months, and were married by May 2018. The two announced last October that they were expecting a new baby this spring. They haven't revealed many details about Baby Sussex, and people are eagerly awaiting the baby's arrival to see if the couple will have a boy or girl.  
Baby Sussex will be a U.S. citizen
Regardless of the baby's gender, one thing is certain: Baby Sussex will be a United States citizen. This is because Meghan is a U.S. citizen, and any baby born to a citizen automatically becomes one as well. For most people around the world, this would be great news; The U.S. is a desirable place that most anyone would be thrilled to have access to. There were rumors that Meghan might give up her citizenship after she married Harry, and people wondered why the duchess would do that — but her citizenship is more important than we thought.  
U.S. citizens must pay U.S. taxes, which poses a major tax issue for the royals
Since Meghan and her baby will both be citizens, this makes them liable to pay U.S. taxes. According to CNN, America works on a citizenship-based tax system, which is uncommon in the rest of the world. This means that both Meghan and her baby will have to pay taxes, which could grant the IRS access to very person, and notoriously private, royal family bank accounts. The IRS would be able to closely examine Meghan and Harry's wealth; Meghan will be required to file a U.S. tax return, report any foreign accounts, and claim any assets worth more than $200,000 — and in that family, there are a lot. Among the list of items to declare would also be Meghan and Harry's newly renovated Frogmore cottage; the renovation reportedly cost in the millions.
It may be very difficult for the royal family to even figure out he value of some of their goods, including a ring gifted to Meghan by the queen, and even a tiara that's been in the family for years. Things could get extremely complicated for the royals if Meghan is required to report any offshore bank accounts. While Meghan can hand over her U.S. citizenship, her baby cannot. Regardless of what Meghan does, Baby Sussex will be required to pay U.S. taxes until he or she is 18.
The royal family has a reported net worth of around $88 billion
The royal family has a lot to be taxed on. They're altogether worth a reported $88 billion, and Meghan and Harry have spent millions of dollars in the last year. If Meghan does want to discard her U.S. citizenship, she'd have to wait until she legally becomes a British citizen, which means Baby Sussex will be born to an American mother regardless. It's unclear what the royal family will do in terms of paying those taxes, but it's likely something that Harry and Meghan knew could be a problem when they started dating.
Check out The Cheat Sheet on Facebook!