How Will Prince Harry and Meghan Markle Celebrate Their First Wedding Anniversary?
Prince Harry and Meghan Markle have had an eventful first year of marriage. Following their royal wedding on May 19, 2018, they hit the ground running attending royal events only days later.
Perhaps the biggest milestone of all, came earlier this month when Markle gave birth to their son, Archie Harrison Mountbatten-Windsor. Ahead, we explore how the new parents, the Duke and Duchess of Sussex, will celebrate their first wedding anniversary.

Will they celebrate with an Instagram post?

We're hoping the Duke and Duchess of Sussex give us a glimpse of a never-before-seen photograph — or two — on their wedding anniversary.

If we had a say in the matter, which we don't, we know exactly what we'd like to see from them on their wedding anniversary.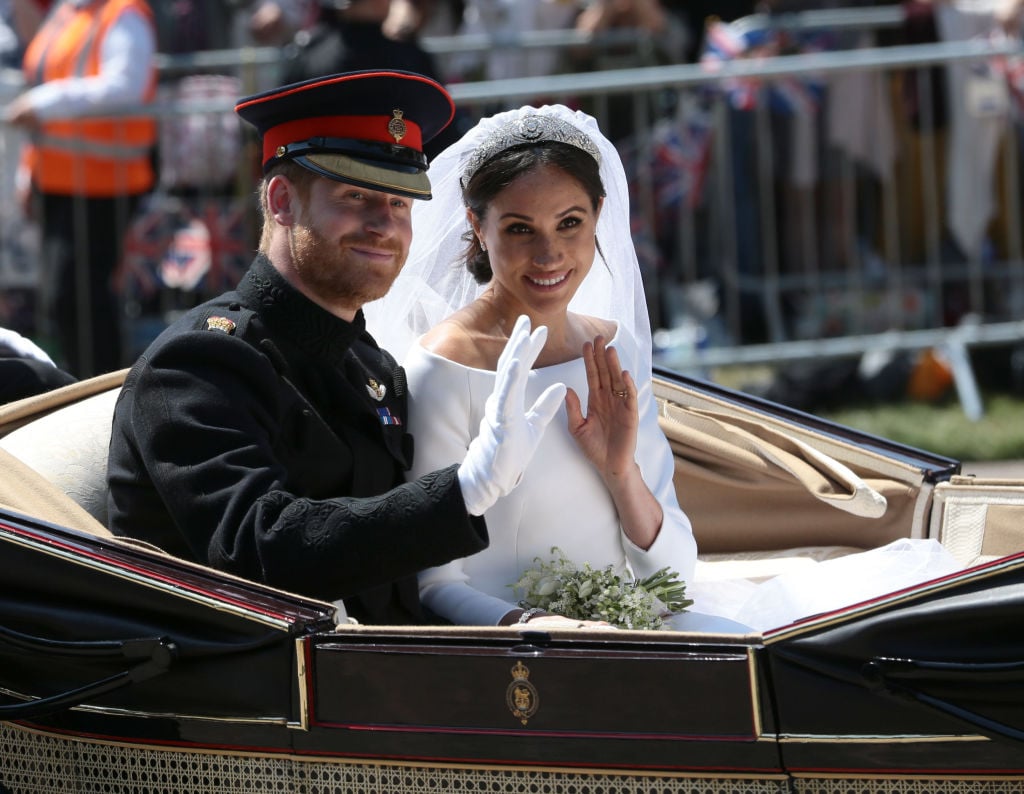 Preferably, we'd like them to share a slideshow of pictures featuring personal snapshots of their first year together as husband and wife. Maybe a snapshot from their honeymoon, one of them cooking dinner together, and of course, a picture of them with baby Archie.

How likely is it that they'll share personal snapshots on Instagram? Not very likely. They enjoy their privacy and even if they did share personal photographs from their private life, they'd still be very careful not to give away too much in the photograph.
For instance, they wouldn't give the world a glimpse inside their living room. If they did, it'd be a close-up shot not revealing too much of their private residence.

Prince William and Kate Middleton celebrated their wedding anniversary on Instagram

Celebrating a wedding anniversary on social media isn't unheard of for the British royal family. Now, it's nearly expected. Prince Harry's older brother, Prince William, celebrated he and Kate Middleton's wedding anniversary on Instagram just last month.

They celebrated eight years of marriage by posting a slideshow of photographs from their 2011 wedding at Westminster Abbey on Instagram.

How will Prince Harry and Meghan Markle celebrate their first wedding anniversary?

We don't exactly how the Duke and Duchess of Sussex will celebrate their first wedding anniversary but given the recent life-changing event that happened in their lives, we're assuming they'll be taking it easy on their wedding anniversary. Meaning, they won't be hosting a massive party at their newly-renovated Frogmore Cottage.

No, they'll likely celebrate privately as a family and spend the day at home with baby Archie. They may have a nice dinner together at home — possibly roast a chicken like they were doing when Prince Harry proposed to Markle in 2017 — or watch a movie together while their newborn sleeps.
Or, maybe they'll take a nap to celebrate their wedding anniversary. It might sound trivial but all new parents are desperate for even 30 minutes of shut-eye.

What may happen is that the couple publishes a celebratory post on their social media accounts with snapshots from their wedding day, as Prince William and Middleton did, and say in the caption that they are celebrating privately.

No matter how Markle and Prince Harry choose to mark the occasion of their first wedding anniversary, we know the couple has lots to celebrate.