Does This Royal Rule Prevent Prince Harry From Joining Meghan Markle in the Delivery Room?
The royal family has a rule for pretty much everything. So, it should come of no surprise that the Mountbatten-Windsors follow protocol for royal pregnancies and deliveries, too — one of which could prevent Prince Harry from joining Meghan Markle in the delivery room upon Baby Sussex's arrival.

Royal family birth rules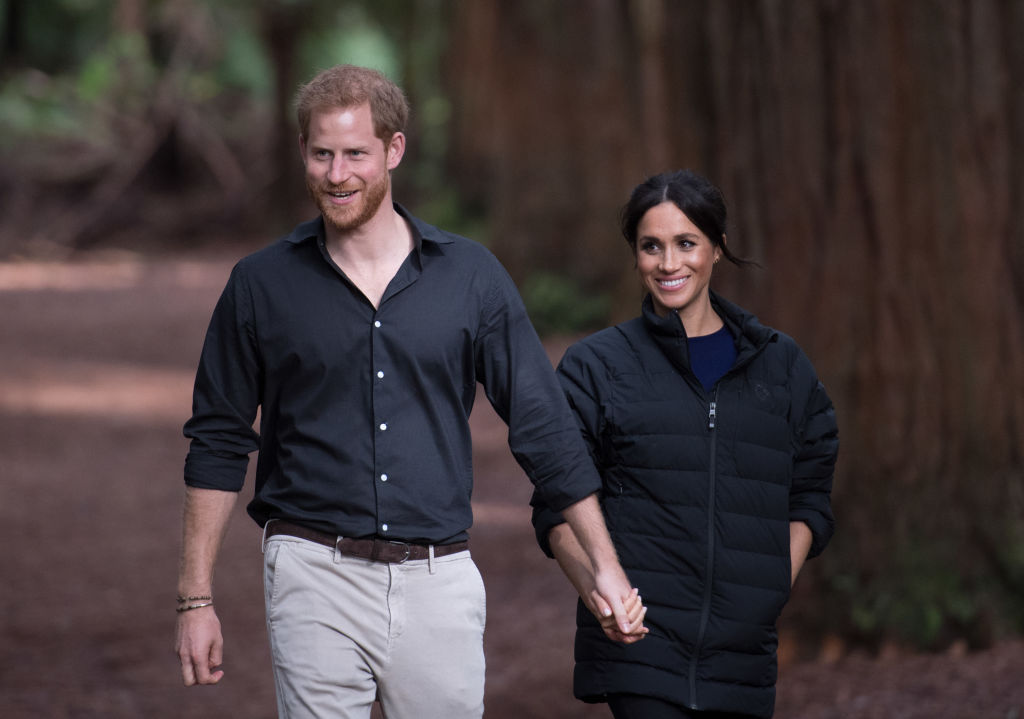 Before Prince Charles and Princess Diana welcomed Prince William into the world, it was uncommon (and against royal protocol) for husbands slash fathers-to-be to join their wives in the delivery room. In fact, Prince Philip was not present during Prince Charles's birth at Buckingham Palace in 1948. Instead, he wandered around Buckingham Palace grounds and even played some squash while awaiting the arrival of his firstborn and future king.

Upon the arrival of Prince William, Prince Charles and Princess Diana decided to do away with the old tradition and Prince Charles became one of the first modern-day royal men to be present for a birth. Since then, other royal men — including Prince William, who was present for all three of Kate Middleton's deliveries — have joined their wives in the labor and delivery room.

Given the new family tradition, Prince Harry will most likely be present for the labor and arrival of his firstborn.

Home births vs. hospital births

In Queen Elizabeth's time, it was also uncommon for royal women to welcome babies at a hospital. Instead, they delivered at home on royal properties. The queen welcomed Prince Charles, Prince Andrew, and Prince Edward at Buckingham Palace and Princess Anne at Clarence House. Princess Diana was the first royal woman to disrupt this tradition and opted for a hospital birth at St. Mary's Hospital.

Meghan Markle is allegedly going old school and considering a home birth. But, should she change her mind (or not be planning this at all), the Duchess of Sussex can give birth at a hospital, thanks to her late mother-in-law and other royal women before her who broke the mold.

Finding out the gender

Another royal birth faux pas? Finding out the gender before delivery. Traditionally, royal couples wait until delivery to find out their baby's gender. However, in true Princess Diana fashion, she found out Prince Harry was having a boy ahead of time — although she kept it a secret from everyone, including Prince Charles. "I knew Harry was going to be a boy because I saw on the scan," she told Andrew Morton in 1991.

Prince William and Kate Middleton stuck to this tradition. However, some suspected that Prince Harry and Meghan Markle would stray from tradition and find out whether they are having a son or daughter ahead of time. But, some traditions are too sacred to be broken.

While attending the Endeavour Fund Awards earlier this month, Meghan Markle said "we don't know" when asked about her baby's gender. "We decided to keep it a secret," she confirmed.

Public introduction

Traditionally, royal babies made their first appearance at their christening. But, Princess Diana, Kate Middleton, and other royal women changed protocol and posed for photos on the steps of the Lindo Wing at St. Mary's Hospital. That said, Prince Harry and Meghan Markle could revert back to old traditions when Baby Sussex arrives.

The Duke and Duchess of Sussex want Baby Sussex to grow up in as normal of an environment as possible, which could mean shielding he or she from the press early on. If Meghan Markle has a home birth, she most likely won't stand outside of Frogmore Cottage with her little one hours after its arrival. However, the mother- and father-to-be could choose to honor the late Princess Diana with a proper photocall on the Lindo Wing steps and maybe even a dress to match one of Princess Diana's infamous post-partum numbers (like Kate Middleton did after Prince George and Prince Louis's arrivals).

Check out The Cheat Sheet on Facebook!