Prince Harry and Meghan Markle Took a Secret Trip to Ibiza With Baby Archie
Prince Harry, Meghan Markle, and baby Archie just took their first family holiday, secretly jetting off to Ibiza to celebrate the duchess' recent birthday. Are they escaping from the media and public's constant scrutiny to have some quality family time? Certainly, there have been no photos captured of the trip or anything posted to social media.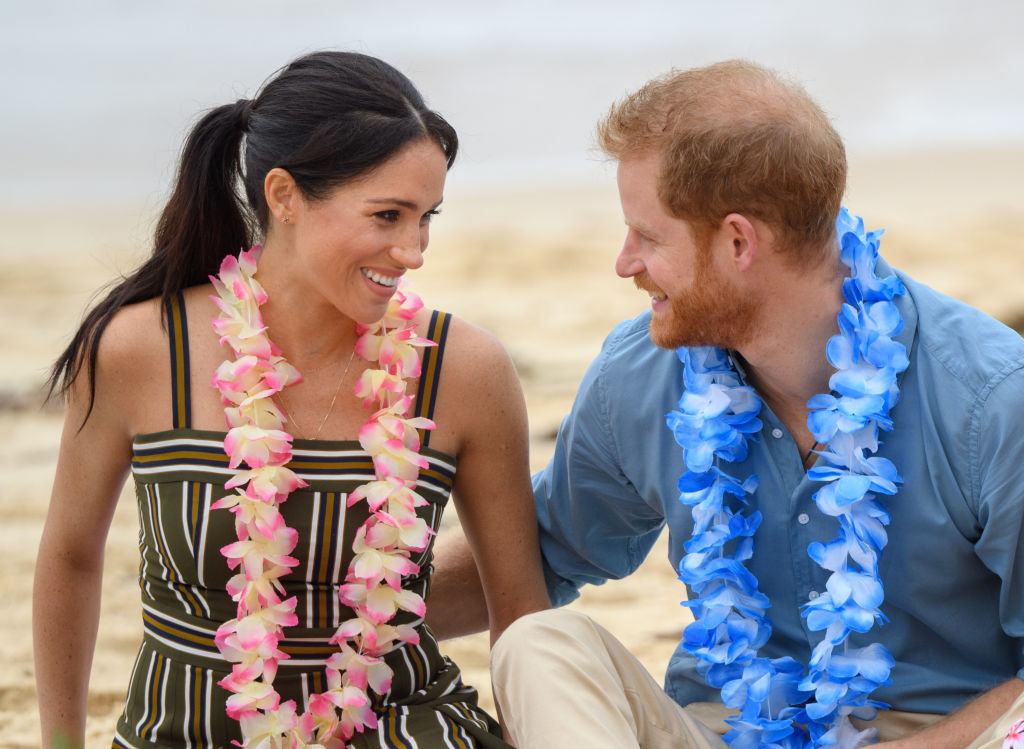 Harry and Markle had five days in paradise
Prince Harry and Markle reportedly were in Ibiza with their 3-month-old son, Archie Harrison, for five days. According to Vanity Fair, Spanish reports noted that the family took a private plane from London to Ibiza on August 6, and returned to London on August 12.
Pretty sneaky!
Of course, being famous members of the royal family makes it nearly impossible to do anything undetected, so how did they go unnoticed?
Harry and Markle reportedly hired five Spanish escorts in addition to their security team to accompany them on the trip.
Why Ibiza?
It's believed that the couple was celebrating Markle's 38th birthday, as they left for the trip two days after her big day.
Meghan had traveled to Ibiza with a group of friends, fashion designer Misha Nonoo and childhood friend Benita Litt, in 2016. Nonoo reportedly was the friend who set Markle and Harry up on a blind date in summer 2016. Litt's daughters, Rylan and Remi Litt, were bridesmaids at the royal wedding.
The Majorca Daily Bulletin reported: "No images have emerged of the Duke and Duchess of Sussex and Archie, who stayed at a villa well away from the cameras. They travelled with security personnel, and it is reported that local security forces were not needed."
Markle's birthday plans revealed
Many royal fans wondered how Markle would celebrate her birthday, as a source told Fabulous Digital that Meghan would avoid partying with Amal and George Clooney, noting, "Frogmore Cottage will host a celebration for Meghan's birthday. The Clooney clan will be in Villa Oleandra on Lake Como and the Sussexes will not want to be seen enjoying more of their lavish hospitality after the PR disaster backlash post the US baby shower."
Cosmopolitan reported earlier this month that Markle was likely keeping things casual, as royal reporter Omid Scobie wrote in Katie Couric's newsletter how Prince Harry would be with her to celebrate.
He shared: "Prince Harry will be back from Google Camp in Sicily, where he gave a speech about the fight against climate change, so they'll be spending Meghan's birthday quietly as a family. The Sussexes have been so busy this year that I can imagine her birthday will simply involve a well-deserved day of rest with a few friends — and, of course, precious moments with Archie."
In 2014, Markle shared her birthday wish on her lifestyle blog, The Tig, writing: "So for my birthday, here's what I would like as a gift: I want you to be kind to yourself. I want you to challenge yourself. I want you to stop gossiping, to try a food that scares you, to buy a coffee for someone just because, to tell someone you love them… and then to tell yourself right back. I want you to find your happiness."