Prince Louis Steals the Spotlight at Trooping the Colour 2019 Debut with Adorable Wave
While royal fans were looking to catch a peek at Meghan Markle in her first engagement since welcoming baby Archie, it was Prince Louis, making his debut at Trooping the Colour that stole the spotlight. Fans couldn't get enough of his adorable face and sweet wave to the planes overhead.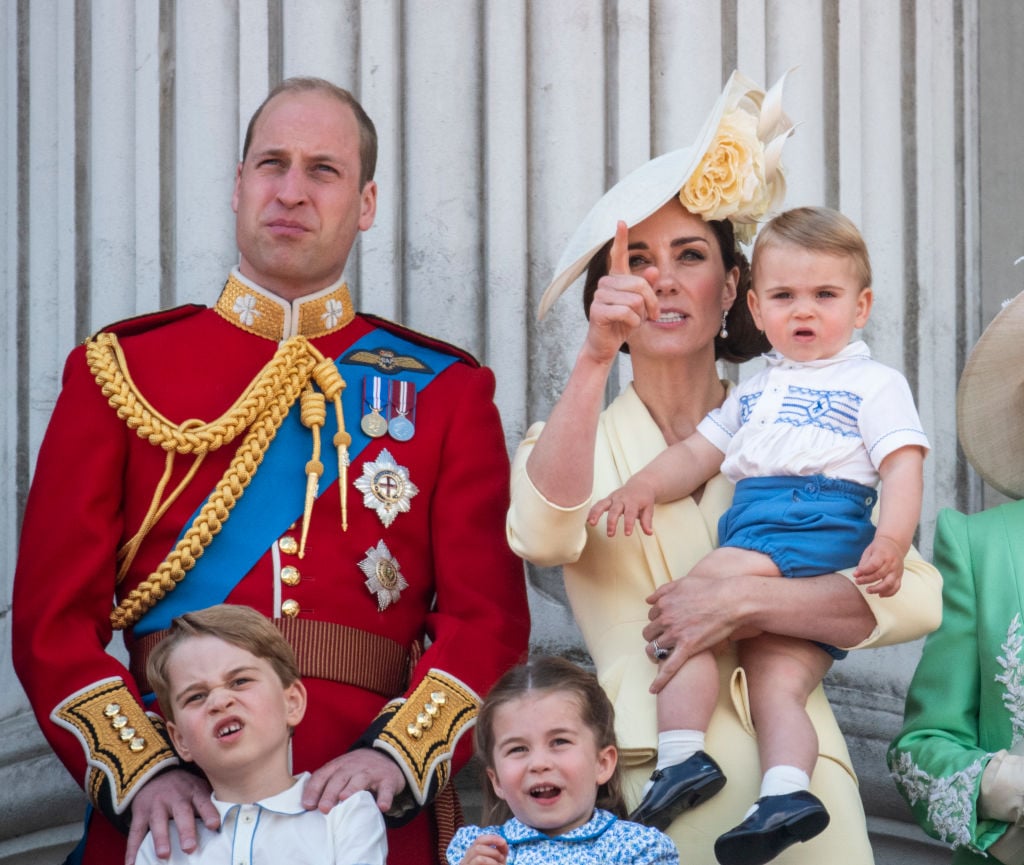 Prince William and Kate Middleton's children watched from a window
Before the royal family took to the balcony to greet their fans, Prince William and Kate Middleton's children, Prince George, Princess Charlotte, and Prince Louis, were seen peering out a window at Buckingham Palace.
Royal watchers were pleased to get a glimpse of the happy children's faces in the palace window. The children were seen waving, with Louis pointing at the crowds one moment and pushing his face against the window at another point.
Prince Louis won fans over
It was already cute overload, but then the children joined the family on the balcony, with Louis making his Trooping the Colour debut — and hearts were melting when he gave a wave.
Prince Louis, who celebrated his first birthday in April, is around the same age that his sister Charlotte made her first Trooping the Colour appearance in 2016. Prince George was nearly 2 when he made his Trooping the Colour debut in 2015.
Louis, who was held by his mother, the Duchess of Cambridge, initially waved as the Royal Air Force's Red Arrows display team flew overhead. Prince William, Duke of Cambridge, also held Louis when he reached out for his father, then he continued to excitedly wave while his parents beamed.
What is Trooping the Colour?
What is Trooping the Colour? The parade and ceremony celebrate the Queen's official birthday, and this year Prince Harry and Meghan Markle shared a carriage ride with Middleton and Camilla, Duchess of Cornwall, while Queen Elizabeth II rode in a separate carriage to the ceremony.
Prince Charles and Prince William rode on horseback during the ceremony.
Queen Elizabeth II inspects the troops, with members of the Welsh Guards, a regiment of Household Division, and Members of the King's Troop Royal Artillery marching. Britain's Red Arrows, the flying display team of the Royal Air Force, are a huge highlight of the event, flying over Buckingham Palace in a grand display.
The family gathers on the balcony, with the Queen standing in the center. Noticeably absent was Markle and Prince Harry's son, Archie, who is too young to attend the event.
The Royal Family Instagram account shared photos and video from the event, explaining the significance of Trooping the Colour: "Today is Her Majesty The Queen's Official Birthday! The Queen's actual birthday is 21 April but is officially celebrated in June with #TroopingtheColour, which has marked the official birthday of the British Sovereign for over 260 years."

The post noted: "It is the 69th time The Queen has attended Trooping the Colour — a great display of military precision, horsemanship and fanfare."