Prince William and Kate Middleton 'Barely Knew' Meghan Markle Before the Royal Wedding, Royal Expert Says
Reports have long alleged that problems between Prince William and Prince Harry first arose around the time the Duke of Sussex proposed to Meghan Markle. Prince William reportedly did not support the engagement, telling his brother that things were moving too quickly.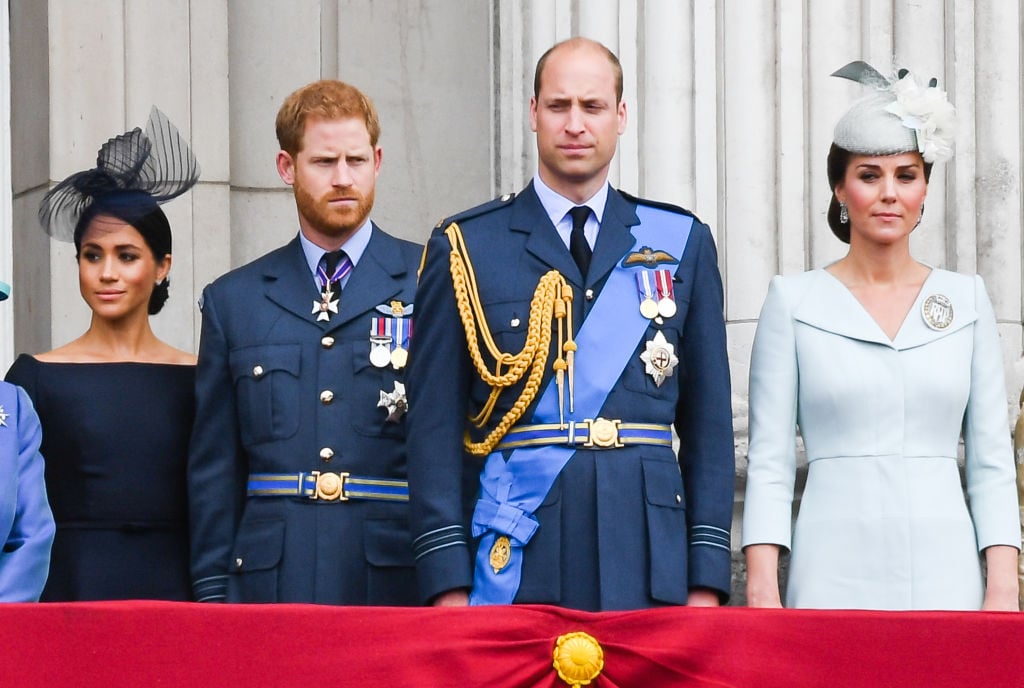 While Prince William has faced criticism for the alleged comments, he reportedly had a good reason for making them. A royal expert said in a new documentary that Prince William and Middleton barely knew Markle — because Prince Harry barely knew her.
More on what the royal expert said
Ingrid Seward, a royal expert, and editor of Majesty Magazine, opened up in the documentary, William & Harry: Princes At War.
Seward claimed that the lightning-quick November 2017 engagement simply shocked the Cambridges. After all, it came just 16 months after Prince Harry and Markle began dating. (Prince William and Middleton dated for about eight years before they tied the knot.) So, Prince William apparently wasn't trying to be mean. He reportedly just wanted to make sure Prince Harry was making the right decision.
"It was all so quick that William and Kate didn't have a moment to get to know Meghan because Harry hardly knew Meghan," Ingrid Seward said in the documentary (via The Sun).
"And of course William and Kate would have quite naturally thought, 'Oh she's been married before, she's older than Harry, I hope she's going to make him happy.' Anyone would think that," Seward continued.
Markle and producer Trevor Engelson were married from 2011 to 2013. They dated for over eight years before they decided to call it quits. Meghan filed for divorce in August of 2013, citing irreconcilable differences.
Prince Harry's reported reaction to his brother was not happy
According to People, Prince William's comments made Prince Harry feel "angry and hurt." The Daily Mail adds those emotions later boiled over, and Prince Harry accused the Cambridges of "not supporting his bride enough" ahead of their May 2018 wedding.
The speech reportedly stunned Prince William and Middleton. In response, the Cambridges reportedly "assured Harry they were happy to offer his wife more support."
Middleton reportedly followed up by bringing the couple flowers, and she and Markle also went on to attend Wimbledon together.
How they're doing now
Reports say that the foursome is doing a lot better now that they live separately. Royal insiders told People in July that the distance is "allowing them more time to be like family." 
"They all know what's at stake, and William and Harry know that their grandmother [Queen Elizabeth] in particular needs them to be on the same page," sources continued.
Archie Harrison Mountbatten-Windsor has helped bring them together, too
Vanity Fair reported in July that the brothers' relationship is "much better" following Archie's arrival. 
Meanwhile, a source told HELLO! Magazine (via The Daily Mail) that things are just as cool between Middleton and Markle.
"Kate was a great source of support to Meghan in the days leading up to Archie's birth. Despite reports of a rift, they are family and have a really lovely friendship. Their relationship has certainly evolved over time and they have become closer since Meghan's wedding," the insider said.
"They talk and text regularly. They have more in common, and Kate has wanted to make sure Meghan has felt welcome into the family," the insider continued.
We're glad to hear it. Let's cross our fingers and hope that things stay this way.