Prince William Just Confused Us Even More About Meghan Markle's Due Date
Meghan Markle and Prince Harry are expecting a new baby any day now, and fans are definitely on their toes about Baby Sussex's arrival. For about a month, people have been checking daily to see if Meghan had her baby. And Prince William, who is away in New Zealand on a quick trip, only made us wonder even more with his response to a question about the couple's baby.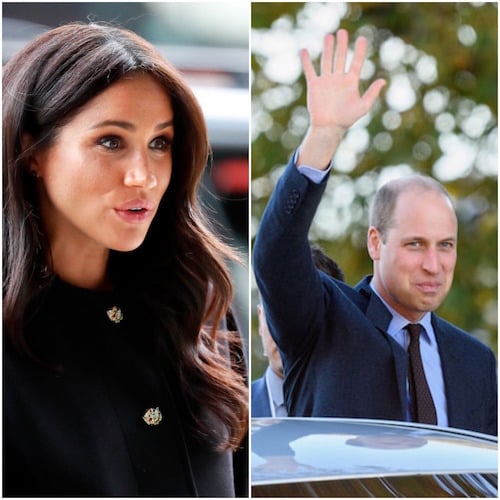 Meghan revealed a few months ago that her baby was due in late April
When Meghan and Harry first announced they were expecting, the palace only said the couple would welcome their baby in the spring of 2019. However, Meghan did let it slip while she and Harry were on an outing that the baby was actually due in late April. The couple has kept almost every other detail under wraps, though. The two have never revealed the gender of the baby and claim they still don't know. They also haven't given any indication of possible baby names, though the public has made their own suggestions. With so little information, people are even more excited about the baby's arrival.
Meghan will not give birth in the Lindo Wing
Ever since Meghan married Harry, she's been hesitant to continue with certain royal traditions. One major tradition Meghan has put her foot down about has been Baby Sussex's birth. For decades, royal women have given birth inside the Lindo Wing at St. Mary's Hospital in London. After the birth, the women and their husbands step outside the hospital for a photo opp with their newest child. However, Meghan doesn't appear to be a fan of all the pomp and circumstance that comes with this tradition, and she and Harry have subsequently decided to keep their birth plans private. According to The Cut, the couple will pose for photos with their baby soon after the arrival and on the grounds of Windsor Castle.
When Prince William was asked about Meghan's baby, he gave absolutely no information
Prince William took a quick trip to new Zealand on behalf of the queen this week, and of course, fans couldn't help but question his knowledge about Baby Sussex's arrival. According to People, Will refused to say anything he knew about the baby's arrival. "Any signs of the royal baby?" one fan asked. "I haven't got my phone on me," Will said. "I have no idea. You guys will find out before I do at this rate." Fans were hoping Will would provide some insight, but he seemed just as unaware of the baby's arrival as fans are, which only added to the confusion about when Meghan is actually due. It's possible Will is hiding what he knows, but either way, he wasn't about to give anything up.
Some suspect Meghan has already had the baby
Meghan and Harry never said exactly when the photo opp would occur in terms of when their baby was born. And some fans of the couple believe Meghan may have already given birth. Since Harry and Meghan have decided to keep everything private, it's entirely possible that Meghan has had the baby, but the two just haven't announced the baby's arrival in order to let Meghan rest and have some alone time with their little one. Either way, the announcement could happen any minute now, but William doesn't seem to be willing to give any information away.
Check out The Cheat Sheet on Facebook!