Kate Middleton Makes Fun of Prince William's Lack of Hair With This Hilarious Nickname
Prince William's hair — or lack of hair, rather — has been the center of many conversations, including ones from within the royal famiy. In fact, his wife, Kate Middleton has a very special nickname inspired by his baldness.

Up ahead, find out Kate Middleton's nickname for Prince William, plus other hilarious royal family monickers.

Prince William's nickname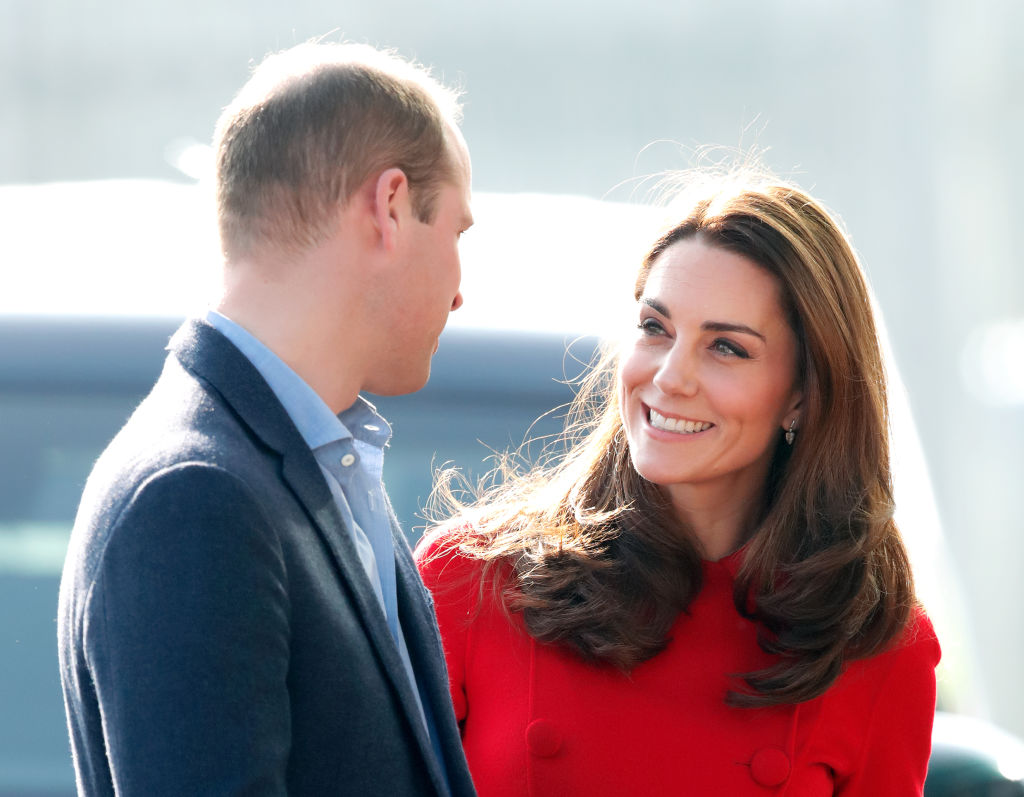 Over the years, Kate Middleton has had quite a few nicknames for her prince charming. When the two were dating, the duchess allegedly called Prince William "Big Willy." But, since then, her go-to monicker for Prince William has more to do with his ever-thinning hair. According to reports, Kate Middleton's nickname for Prince William is now "Prince Baldy."

But, don't worry, Prince William gets her back with a pet name of his own. The Duke of Cambridge allegedly calls his wife "DoD" which stands for the "Duchess of Do-little." Albeit a joke, Kate Middleton might take some offense to his monicker as she takes part in many charitable causes and royal responsibilities.

Royal family nicknames

Prince William and Kate Middleton aren't the only royals with hilarious nicknames. From Queen Elizabeth to Prince Harry, find out what other pet names the royal family goes by behind palace doors, below.

Meghan Markle

Meghan Markle might be new to the royal family, but she already has a very special nickname, given to her by her father-in-law, Prince Charles. Apparently, the future king calls his daughter-in-law "tungsten," after a type of strong metal.

"Prince Charles admires Meghan for her Strength and the backbone she gives Harry, who needs a tungsten-type figure in his life as he can be a bit of a softy," a royal source revealed to Daily Mail. "It's become a term of endearment," they added.

In addition to "tungsten," Meghan Markle's mother calls her "Flower" and Prince Harry often refers to her as "Meg."

Queen Elizabeth

The monarch has a few funny nicknames, starting with what Prince Philip calls her. In addition to Lilibet — the name her father used to call her — Prince Philip allegedly calls Queen Elizabeth "Cabbage." But, nothing quite compares to Prince William's nickname for the queen.

When he was a little boy, Prince William struggled with the word "Granny," so he called Her Majesty "Gary" instead. How sweet (and hysterical) is that?!

Prince George, Princess Charlotte, and other little royals call their great-grandmother "Gan Gan," the same name Prince Charles used for his great-grandmother.

Prince Harry

The Duke of Sussex also has some hilarious nicknames — some of which he's used as an alias before. His friends allegedly call him "Spike," the name he used for his now-defunct private Facebook account.

Prince Charles

Some royal critics refer to Prince Charles as "The Looney Prince." However, his family has much nicer — and funnier — pet names for him. According to reports, the Prince of Wales and his wife, Camilla Parker Bowles call each other Fred and Gladys.

Prince George allegedly calls his grandpa, "Grandpa Wales" after Prince Charles's official royal title.
Check out The Cheat Sheet on Facebook!