Prince William Stole Kate Middleton Away From Her Ex — Then, Kate Invited Him to the Royal Wedding
Kate Middleton and Prince William both had other love interests before their fairytale began. Believe it or not, it wasn't love at first sight for these two, but William realized he wanted to be with Kate before she realized she felt the same way about him.
William had no problem stealing Kate away from her ex — and, interestingly enough, Kate's former flame attended the royal couple's wedding.
Prince William and Kate Middleton were dating other people when they met
When William and Kate were first introduced, they were both seeing other people. The two met while attending college at University of St. Andrews, and they became instant friends. Kate had been spending time with a man named Rupert Finch, though things clearly didn't last. William reportedly started to see Kate in a different light after spotting her walking in a school fashion show. From there, things went from friendly to romantic very quickly.  
William kissed Kate while she was dating another man
During the fashion show, Kate walked in a see-through dress with lingerie underneath. And William supposedly lost it when he saw her. After that, he was determined to win Kate over — and the two being good friends certainly helped.
William and Kate both attended the same party shortly after the fashion show, and William supposedly cornered Kate and kissed her (we're hoping it wasn't as unwanted as it sounds). But Kate was still dating Finch; it's unclear if he ever learned about the kiss. However, once Kate realized she'd won William's heart, things with Finch ended, and things with William began.
Kate invited her ex to the couple's wedding
William and Kate started officially dating in 2002, and they were together for nearly a decade before they were married. In that time, Kate must have patched things up with Finch, because when it came to sending out the wedding invites, he received one, according to Express. We can assume that William and Kate discussed the invite list and that William was fine with Finch's invitation. Middleton reportedly invited another ex, Willem Marx, to the wedding as well.
Finch attended William and Kate's big day, and he invited Kate to his own wedding in 2014. It's unclear if the two are still in touch, but there are certainly no hard feelings.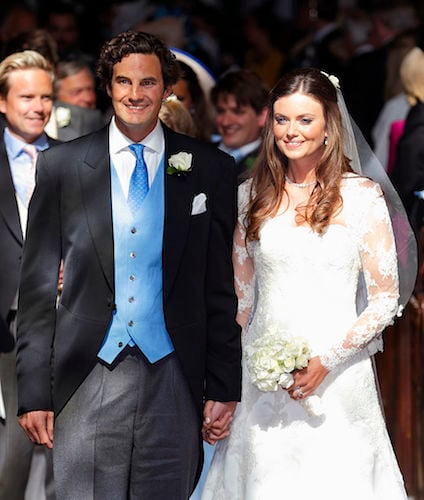 It's not uncommon for royals to remain friendly with their exes
Kate's invitations to her exes don't come as a surprise — it's not uncommon for royals to invite their past love interests to their weddings. William invited Carly Massy-Birch to his wedding; the two briefly dated before he met Kate. Plus, when Prince Harry married Meghan Markle, he invited exes Cressida Bonas and Chelsy Davy to his nuptials.
The royals hardly have bad blood with anyone, and they clearly still value many of their exes. But maybe it's a sign of maturity that they can all get together without any issues, right? Either way, we're just happy to see that William and Kate tied the knot after nine years and had their fairytale ending.