The Real Reason Princess Diana and Queen Elizabeth Had a Rocky Relationship
Princess Diana was adored around the world. Up until the time of her death, she was one of the most well-liked members of the royal family (despite having divorced from Prince Charles a year earlier), and still today, she is remembered by millions — if not billions. Although she was so loved by the public, there was some evidence that she and Queen Elizabeth had a bit of a rocky relationship. Here's why.
The queen originally thought Diana was the perfect fit for Charles
Years later, it's now known that Charles never truly wanted to marry Diana. However, at the time, Queen Elizabeth didn't approve of Charles' relationship with the woman of his dreams, Camilla Parker Bowles, and did not want them to marry. When Charles was away in the Navy, Camilla decided to marry Andrew Parker Bowles, leaving Charles to move on and meet someone new. The royals felt that Lady Diana Spencer, who was several years younger than Charles, would be a good fit because she had a good reputation and came from a well-liked family. Charles and Diana got along well enough, so they eventually married and had two sons.
As the drama of their marriage unfolded, things between Diana and the queen went downhill
Though the public thought Diana and Charles were in love, those on the inside knew they weren't. Eventually, Charles broke his marriage vows and rekindled a relationship with Camilla while he was still married. When Diana learned of the affair, she reportedly went to the queen for some advice. Though the two had had a good relationship for a while, Diana's well-being was greatly declining and it reportedly became a lot for the queen to handle; it put a strain on their relationship.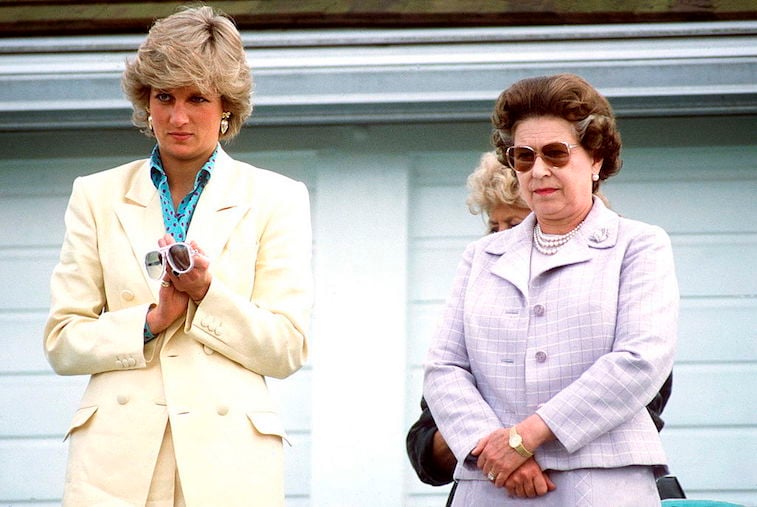 The queen reportedly lost some respect for Diana when it was assumed Diana collaborated on a royal tell-all book
After Charles' affair became public knowledge, things only got worse for the royal family. There were reports that Diana had collaborated on a royal family tell-all book, which supposedly broke the relationship Diana had had with the queen. However, the queen was still very fond of Diana's two sons, Prince William and Prince Harry. Andrew Morton, a royal biographer, revealed in 1997 that the tell-all book about Diana's life as a royal had come directly from Diana — she was the source of information. It had been suspected that she was, but after her death, Morton made it clear.
The queen eventually learned not to meddle in relationships
If there is one thing the queen learned from both the drama between Diana and Charles and her own drama with Diana, it's that preventing true love is never a good option. Had Charles and Camilla's relationship been approved by those around them, they likely would have wed and lived happily ever after. Now, the queen knows better than to keep two people apart. When Prince Harry and Meghan Markle started dating, Meghan was immediately looked at as "unfit" for the throne, since she had already been divorced and didn't come from a prominent family. However, the queen reportedly liked Meghan as soon as she met her — and probably wouldn't have prevented another wedding, even if she didn't.