Priyanka Chopra Reveals How Joe Jonas and Sophie Turner Planned Their Secret Wedding
One of the hottest couples in the world is the newly married pair Joe Jonas and Sophie Turner.
The Game of Thrones actress and the Jonas Brothers frontman just tied the knot in a secret ceremony in Las Vegas, surprising fans and tabloids alike. As it turned out, even though the ceremony was a spur of the moment affair, it also required a little bit of forethought to perfectly pull off.
The couple's sister-in-law, actress Priyanka Chopra, recently gave some details about what made the special night so perfectly unforgettable for everyone involved.
How long have Joe Jonas and Sophie Turner been together?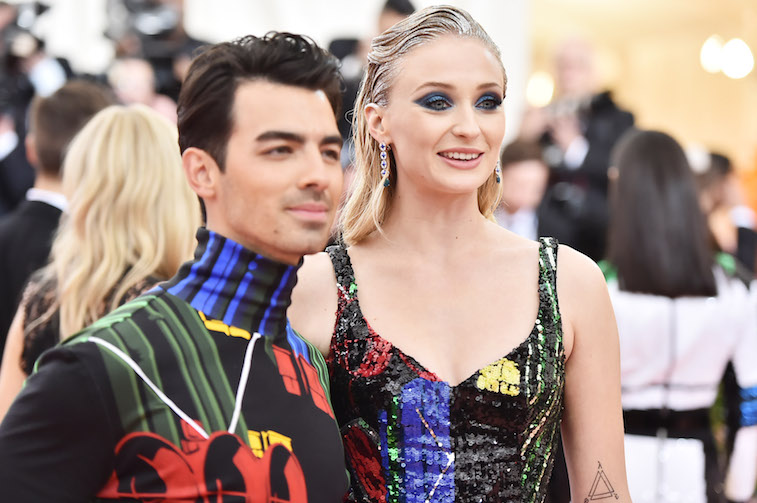 It all started in late 2016, when Joe Jonas, who had previously been linked to stars like Taylor Swift and Demi Lovato, met English actress Sophie Turner.
She was famous from her work in the HBO series Game of Thrones, and a marked departure from Jonas's usual songbird type. The two hit it off right away and were frequently seen out on date nights over the next few months.
They confirmed their status as a couple when they attended a 2017 Golden Globes after party. They took things up a notch when, in October 2017, Turner confirmed via Instagram that they had gotten engaged.
Jonas and Turner, though a private couple, occasionally poke fun at each other via social media, such as when Jonas dressed up as Sansa Stark, Turner's character on Game of Thrones, for Halloween 2018.
Also in late 2018, rumors started circulating that the couple was planning to tie the knot. Although neither Turner or Jonas confirmed the news, it seemed like only a matter of time until the happy couple made things official.
Why did they get married in Las Vegas?
In May 2019, Sophie Turner and Joe Jonas got married in an impromptu ceremony at the famous A Little White Wedding Chapel in Las Vegas, Nevada.
The ceremony was attended by an Elvis impersonator and featured vows that Turner and Jonas had written themselves. Although not many people were on hand for the quick wedding, a few close family members were there, including Priyanka Chopra, who is married to Joe Jonas's brother, Nick Jonas.
Recently, Chopra opened up and revealed intimate details about Turner and Jonas's wedding night.
She confirmed that the idea was first conceived by Joe Jonas and Sophie Turner a week in advance, but that final details were ironed out the night of the 2019 Billboard Music Awards.
She said that while at the awards ceremony, they were passing out invitations to the wedding to random guests. As a result, Jonas and Turner's nuptials included such hot celebrities as Diplo and DJ Khaled.
Chopra also said that the family went straight from the awards ceremony to the secret wedding, driving around in a pink Hummer limo. Priyanka Chopra concluded by stating that the entire night was "epic," and perfectly represented Turner and Jonas as a couple – spontaneous, fun, and exciting.
Will Jonas and Turner have another wedding?
Initially, fans thought that Turner and Jonas would get married in grand style at an intimate Paris location. That will likely still happen. As it turns out, Jonas and Turner really wanted to make their union legal prior to having another, larger wedding for family and friends.
Some reports state that if the couple had chosen to get married in France, their marriage wouldn't be recognized as legal in the United States, so having two separate ceremonies seems to be the most sensible option.
Fans will no doubt stay on high alert for any news about the happily married pair!