'Property Brothers': Here's What Drew Scott Really Thinks of Jonathan Scott's 'New Girl,' Zooey Deschanel
Last year, we saw Drew Scott marry his longtime girlfriend Linda Phan in a romantic Italian ceremony. This year, the other Property Brothers star has a new woman in his life: Jonathan Scott recently started dating actress Zooey Deschanel. But with Drew and Jonathan working so closely, it makes sense that they would need to approve of each other's significant others. So what does Drew think of his brother's new lady?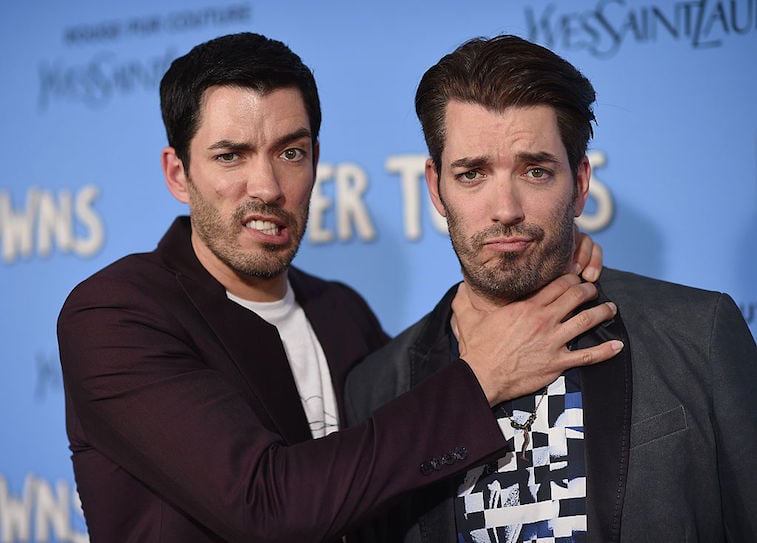 Jonathan and Zooey Deschanel started dating a week after her separation
Sometimes, love strikes when it's least expected. And that appears to be the case for Deschanel, who just recently announced that she and her husband, Jacob Pechenik, had decided to separate. The two released a statement to People saying they are "better off as friends" and that they are committed to their values, business, and children. (The exes share two kids together.) Deschanel then caught heart eyes for Jonathan, and the two have been spending plenty of time together in recent weeks.
Jonathan and Deschanel met on the set of 'Carpool Karaoke'
Nobody could have predicted a Carpool Karaoke set could have led to romance, but here we are. Jonathan and Drew, along with Deschanel and her sister, Emily Deschanel, were all filming together before things turned romantic between the two. Drew Scott posted a photo of the Carpool Karaoke crew back in August 4, before anyone realized there was a spark between Jonathan and Deschanel. "Brothers and sisters everybody sing," the caption read. Now, the post is filled with loving comments from fans showing their support for Jonathan and Deschanel. "Ugh I love [Zooey Deschanel] for you!" one fan wrote. "… This makes my [heart] so happy!" another user commented. 
Drew thinks Deschanel is an 'amazing' person
It's clear that Jonathan is smitten with his new love. The two were seen holding hands in public recently, and a source close to the couple told People they're "having a lot of fun together." But Drew also seems to love Deschanel's company. In an interview with Closer Weekly, the brothers spoke about what it's like working together and how they manage to have personal lives on top of everything else they do. And Drew spoke some kind words about Jonathan's new girlfriend. "[Zooey and Jonathan are] both amazing people," Drew said. "I think it's great… It means I get to have Jon out here to spend more time with us in L.A."
The brothers have already had an adorable double date  
Jonathan hasn't been in a relationship since he dated ex Jacinta Kuznetsov; the two dated for two years but split back in April 2018. Now, though, he and Drew can officially go on double dates again. When asked whether the brothers actually do go on double dates, Drew said, "Of course! We have a lot of the same interests; we have quirky personalities." Right now, Jonathan and Zooey appear to be soaking up everything that is those new-love feelings. When asked about kids, Jonathan said he hopes to eventually find someone to start a family with, though if he doesn't, it wouldn't stop him from having children.