Queen Elizabeth Bestowed Kate Middleton With This Prestigious Honor on Her Wedding Anniversary
There's been so much discussion over who Queen Elizabeth likes better between Meghan Markle and Kate Middleton. Does she appreciate how the Duchess of Cambridge literally exudes class and dignity, seamlessly fitting in with the royal family and their refined style? Or is she more appreciative of the way Meghan Markle is shaking up the monarchy, blazing her own trail and ignoring the rules that don't suit her?
Perhaps we'll never know for sure which woman impresses the Queen more since she's way too restrained to admit it publicly. But we can at least gather clues that prove how much Queen Elizabeth respects Kate Middleton based on one recent honor she bestowed upon the Duchess of Cambridge. Here's what happened.
Queen Elizabeth picked a very special day to show her appreciation for Kate Middleton
Buckingham Palace made the announcement on April 30, 2019, which also happened to be Prince William and Kate Middleton's eighth wedding anniversary. The timing of this was no accident—the Queen did the same for Prince Charles' wife, Camilla, on their wedding anniversary too.
It was on that day that Kate Middleton was named Dame Grand Cross of the Royal Victorian (GCVO) Order, the highest honor the Queen can give to a woman. It's a token of her appreciation for faithful service to the crown and the royal family.
What does the appointment mean for Kate Middleton?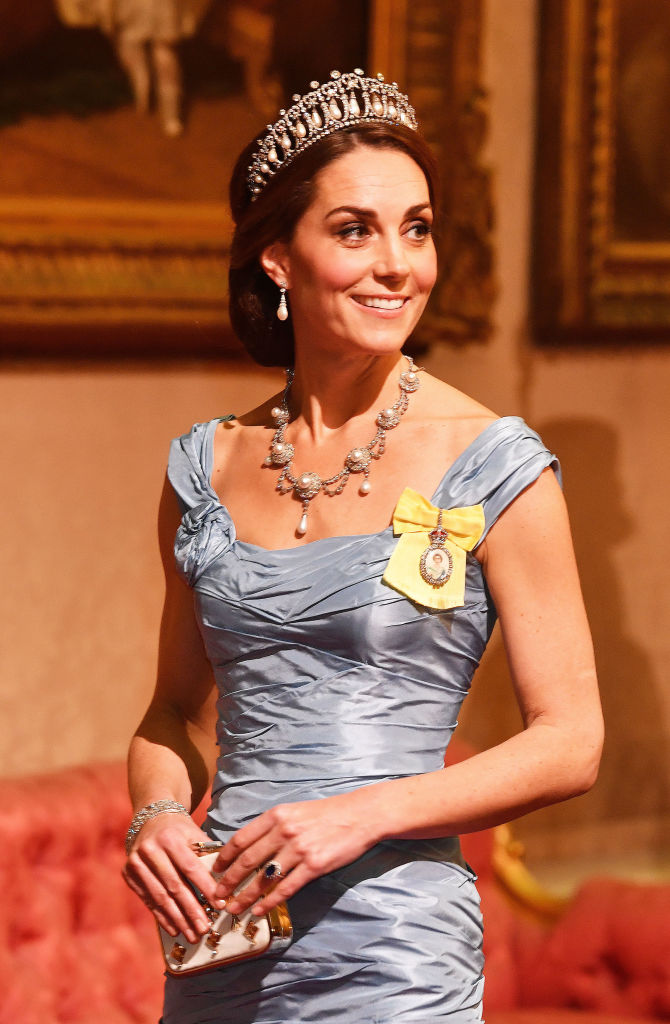 Being named Dame Grand Cross proves once and for all that Queen Elizabeth has a deep fondness for Kate Middleton.
"Queen Victoria founded the Royal Victorian Order for personal services to the Monarch. This the Queen showing her gratitude for the way Kate has conducted herself," Richard Fitzwilliams explained to Vanity Fair.
"It's the Queen's way of acknowledging eight successful years of marriage and also the fact that the Duchess has produced three heirs, thereby securing the lineage of the House of Windsor. She has the beauty, the poise, the dedication and the reliability a Queen Consort needs."
How will this change Kate Middleton's life?
The biggest difference you'll notice with the appointment is Kate Middleton's wardrobe. Becoming a Dame Grand Cross means she'll be able to wear a blue sash and a badge with a Maltese cross surrounded by a blue ring and featuring a Tudor crown.
She'll be showcasing this soon when President Donald Trump visits the royal family in June. "I'm sure the Cambridges will be at the Trump state visit, there will be an enormous amount of publicity and it will be important for the Royal Family in terms of who attends," Fitzwilliams revealed to Vanity Fair.
"As future King and Queen consort it will be essential for William and Kate to be there, and I expect an opportunity for Kate to wear the order."
Will Meghan Markle ever get the same honor?
The reason that the Duchess of Sussex wasn't named a Dame Grand Cross is that she hasn't been around long enough. There's a good chance she'll be given the same respect if she continues to serve the royal family, perform her duties, and conduct herself with integrity and class.
Perhaps on her next wedding anniversary? We'll be watching for it to happen soon enough!