Queen Elizabeth Continues To Break Royal Protocol For Meghan Markle
Queen Elizabeth usually sticks by royal protocol no matter what, but Her Majesty has continuously gone against the rules when it comes to Meghan Markle. Elizabeth has broken royal protocol on several occasions for Markle, who has only been an official part of the royal family for a little over a year. With Queen Elizabeth showing no signs of stopping, here are all the ways in which Elizabeth has gone out of her way to appease the former Suits star.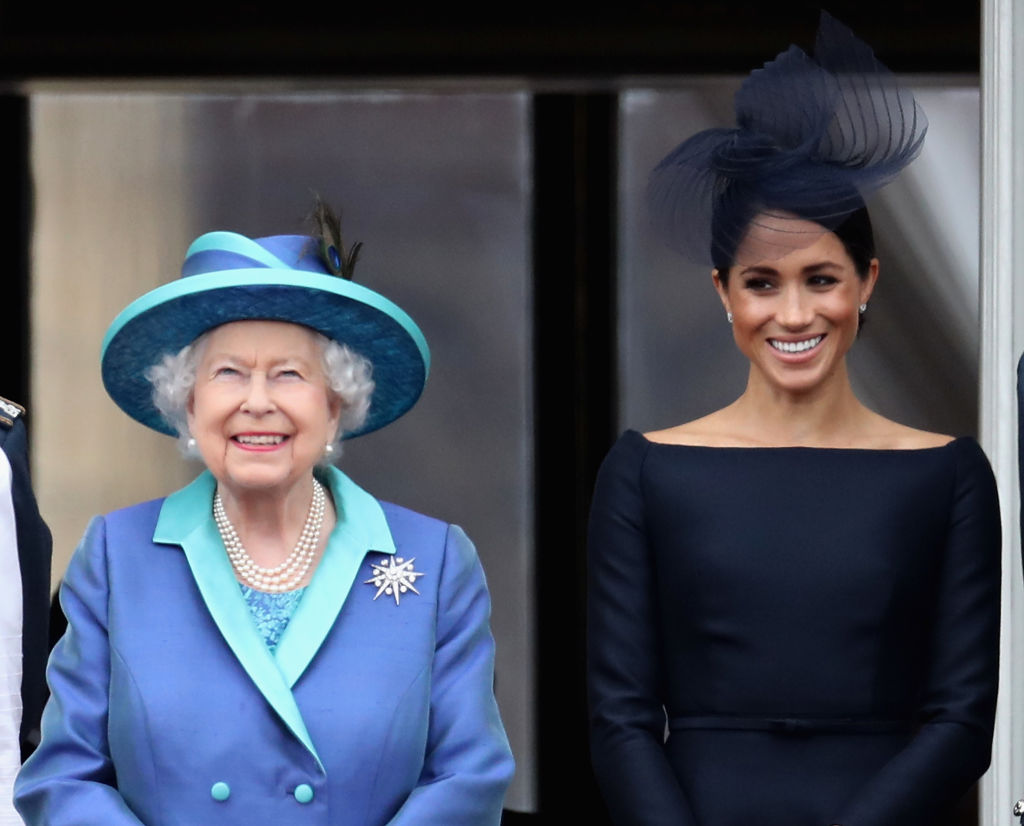 Queen Elizabeth invites Markle to celebrate Christmas
Spending time with Queen Elizabeth during Christmas is normally reserved for special members of the royal family. When Kate Middleton and Prince William were engaged, for example, the future Duchess of Cambridge was not invited to join the family for Christmas. One might think the same would hold true for Markle, but that was not the case.
After Prince Harry proposed to Markle, Queen Elizabeth invited her to Sandringham to celebrate Christmas with the rest of the royal family. The move was unprecedented given how Markle was not a royal yet, and it wasn't the last time Elizabeth would make an exception.
Markle gets a wedding pass
According to Reader's Digest, Elizabeth broke royal protocol on several occasions during Markle and Harry's wedding. For starters, the royal family usually creates a special coat of arms for the family of the person marrying into the monarchy. Given Markle's strained relationship with most of her family, the coat of arms was given to her instead.
Speaking of her family, it is tradition for the father of the bride to give his daughter away at the wedding. But because Meghan Markle's father, Thomas Markle, backed out at the last minute, Prince Charles did the honors.
Meghan Markle and Prince Harry Marry in May
There were other instances during the wedding that broke away from royal protocol. It is against royal tradition to get hitched in May, mostly because it is viewed as bad luck. Princess Margaret, for example, tied the knot in May and her marriage did not stand the test of time.
In regard to divorces, the royal family generally looks down on remarriage. In fact, Princess Margaret was once in love with a divorcee, a move that created a huge scandal within the royal family and ultimately led to the demise of the romance. That stance has softened over the years, which is why Queen Elizabeth gave Markle and Harry her blessing before they exchanged vows.
It is also worth noting that Harry's father, Prince Charles, is currently in his second marriage.
Meghan Markle, Prince Charles, and Prince Philip
In light of Markle's tendency to break royal protocols, inside sources claim that other members of the royal family have mixed feelings about the situation. For starters, Prince Philip probably does not like going against the rules. But because Philip has officially retired, he has lost a lot of influence in the family.
Prince Charles, meanwhile, understands that he is not popular in the UK and will pretty much go with the flow – anything to avoid any more controversies. Prince Edward also has his share of scandals to worry about at the moment, while Princess Anne is probably the most likely to be angry.
The Royal feud
Speaking of being angry, the source claims that Prince William does not like it when Markle breaks the rules. William allegedly had his doubts about Markle since the very beginning, and he believes the former actress should be trying harder to follow the family rules.
This is reportedly one of the reasons why the brothers are not getting along, though nothing official has been confirmed. The feud rumors were seemingly confirmed earlier this year when the brothers announced their plans to split their royal households.
Does Queen Elizabeth favor Meghan Markle?
As far as Elizabeth is concerned, she clearly does not mind bending the rules for Markle. Queen Elizabeth is known to be a little flexible when it comes to certain royal protocols, though there are a few that she never breaks.
It is unclear why Meghan Markle seems to be getting special treatment, but there is a chance it will stop once she gets fully adjusted to life as a royal.