Will Queen Elizabeth Be the First to Meet Prince Harry and Meghan Markle's Baby?
Prince Harry and Meghan Markle's royal baby is due any day now. And we can't wait to find out all the details, including gender, name, and whether or not the royal baby will receive an official title. Additionally, we can't help but wonder who will get to meet the royal-to-be first.

Per the royal family rules, Queen Elizabeth traditionally gets notified of a royal birth first. And, she's even been the first to meet a royal baby. However, every situation — especially as far as Prince Harry and Meghan Markle are concerned — is different.

Will Queen Elizabeth be the first to meet Prince Harry and Meghan Markle's royal baby? Find out, below.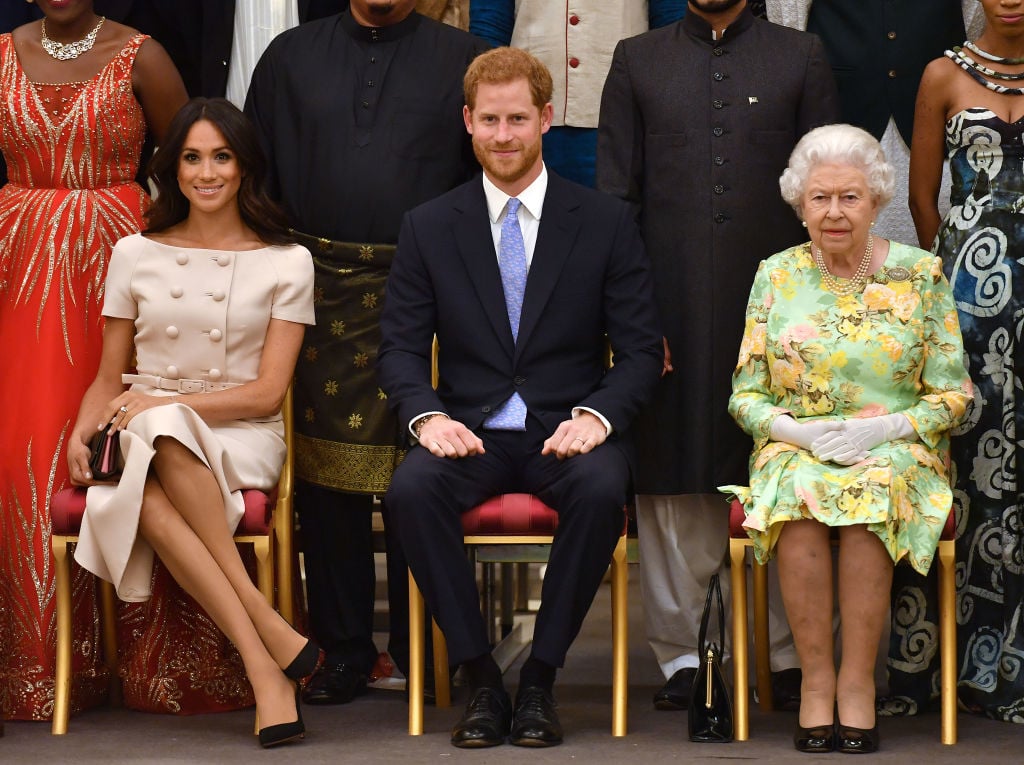 Who meets the royal baby first?

Last week, Kensington Palace announced some details around Meghan Markle's birth plan. And, while it strays from tradition, it wasn't a huge shock.

The Duke and Duchess of Sussex have made it clear that they hope to raise their child in as normal of an environment as possible, starting from birth. According to the palace's statement, their communications team won't announce when Meghan Markle is in labor (like they did with Kate Middleton) and likely won't pose for a photocall on their way home from the hospital. Instead, Prince Harry and Meghan Markle have asked for privacy so that they can spend some time as a new family together before announcing it to the world.

That said, the Duke and Duchess of Sussex will, of course, welcome visitors from within their inner circle (including members of the royal family and possibly even some of Meghan Markle's friends). Who will meet the royal baby first? Chances are, it won't be Queen Elizabeth.

In some situations — such as the birth of her first grandchild, Peter Phillips and the birth of the future king, Prince William — Queen Elizabeth was the first visitor. However, that has changed for her great-grandchildren. When Prince George was born, his maternal grandparents, Michael and Carole Middleton were the first to visit the little royal. And, when Princess Charlotte was born, her big brother George was her first visitor. Prince George and Princess Charlotte also helped welcome their baby brother, Prince Louis into the world, too.

Given their close relationship, it's possible that Meghan Markle will either ask her mother, Doria Ragland to join her and Prince Harry in the delivery room. If she doesn't, Doria Ragland could be the royal baby's first visitor. Additionally, Prince Harry and Meghan Markle have a close relationship with Prince Charles and Camilla Parker Bowles and could invite them to visit their new grandbaby first (or close to it).

Will Meghan Markle ask Doria Ragland to be in the delivery room?

As we mentioned above, Meghan Markle is very close to her mother — so much so that she could ask her mother to be in the room with her during labor and delivery. That said, the Duke and Duchess of Sussex are very private people and might also want to experience their first child's birth more intimately.

When Kate Middleton gave birth to her babies, Prince William accompanied her in the delivery room and the Duke and Duchess of Cambridge waited until after to introduce their bundle of joy to her mother (and father). Prince Harry and Meghan Markle could very well do the same.

Check out The Cheat Sheet on Facebook!