Queen Elizabeth Had No Idea Who Kit Harington Was When She Visited the Set of 'Game of Thrones'
Queen Elizabeth visited the set of 'Game of Thrones,' but that doesn't mean she necessarily watches the show. Kit Harington revealed she didn't even know who that he was on the show.
Kit Harington skyrocketed to fame playing Jon Snow on HBO's hit fantasy drama, Game of Thrones, but there is one member of the royal family who knows nothing about the actor. While visiting the set of Game of Thrones in 2014, Queen Elizabeth reportedly had no idea who Harington was, even after he introduced himself. And that's not the only hilarious thing about her tour of the set.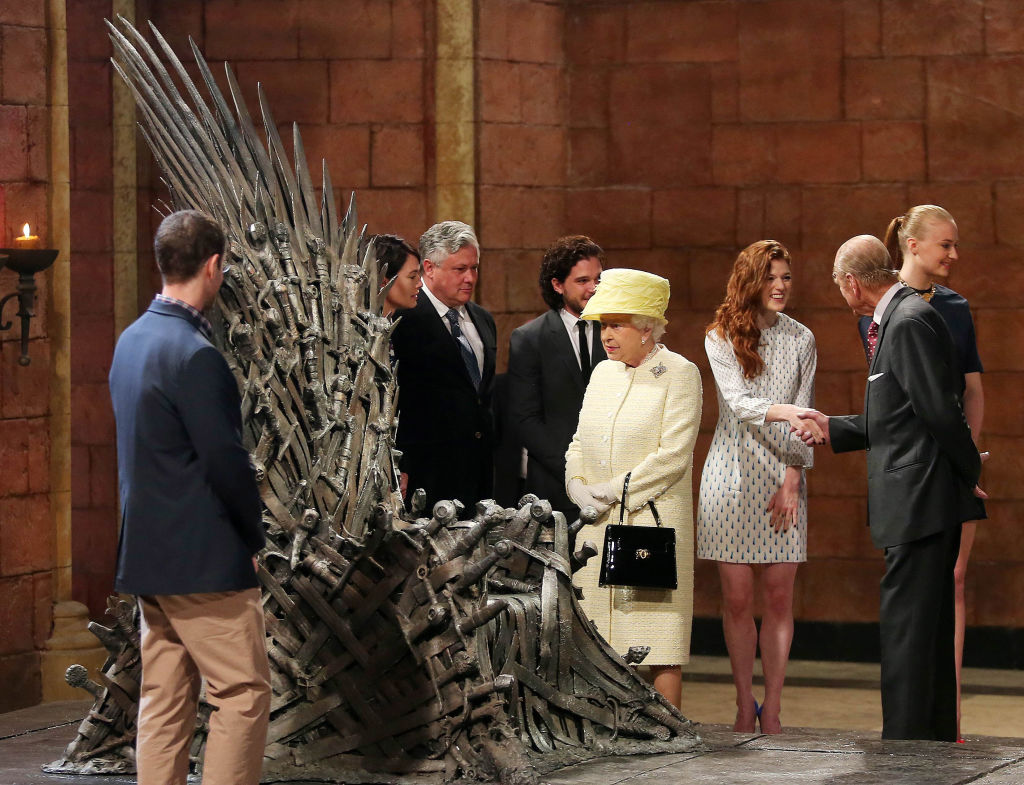 Queen Elizabeth crosses paths with Jon Snow
At the height of the show's popularity in 2014, Queen Elizabeth was given a tour of a Game of Thrones set in Northern Ireland.  Harington was on hand to meet Her Majesty, though their introduction did not go as smoothly as he planned.
During an appearance on The Graham Norton Show, Harington revealed that he met Queen Elizabeth on the set in 2014, but she did not have the slightest idea that he was one of the show's biggest stars.
"She asked me a question and I said 'yes ma'am' and then she moved on," Harington shared, adding that Queen Elizabeth asked, "What do you do on this production?"
Kit Harington's answered sparked laughter in the audience, many of whom were in disbelief that Queen Elizabeth did not recognize Harington.  After he told Queen Elizabeth that he was an actor, she said that was "wonderful" before walking away to the next stop in the tour.
Harington then shared how some Game of Thrones crew members tried to get Queen Elizabeth to sit on the Iron Throne. He claims that she refused to sit on the throne because it did not look comfortable, though there is another perfectly good explanation for why she did not take a seat.
Why didn't Queen Elizabeth sit on the Iron Throne?
According to The Sun, it is against the rules for Queen Elizabeth to sit on any other throne besides the British one. This includes fictional seats of power like the Iron Throne.
"They kept trying to get her to sit down on the [Iron] Throne and we kept getting told the same thing, 'she's not allowed to sit on thrones, fictional or otherwise'," Harington explained.
Harington is not the only Game of Thrones alum who has related this story. Executive producers D.B. Weiss and David Benioff also revealed that Queen Elizabeth refused to sit on the throne of Westeros.
Benioff and Weiss were not aware of this rule and were completely caught off guard when Queen Elizabeth's staffers informed them.
While Queen Elizabeth did not recognize Harington and refused a seat on the Iron Throne, it sounds like she had a fun time visiting the set. But based on what happened, it is probably safe to say that Her Majesty is not a huge fan of the series.
Although Queen Elizabeth probably did not tune in to see how the show ended earlier this year, Prince Harry is reportedly a big fan. In fact, there were rumors that the Duke of Sussex almost landed a part of the show.
Did Prince Harry almost land a spot on 'Game of Thrones'?
Back in 2015, inside sources claimed that HBO executives desperately wanted to give Prince Harry a part on Game of Thrones. One source went as far as saying that the network offered Prince Harry a cameo in season 6, though he could not make up his mind about accepting the offer.
It is unclear why Prince Harry never followed through with the offer, though his busy schedule may have prevented him from being able to film. We also don't know what kind of a role Benioff and Weiss had in mind for Prince Harry. Given his limited schedule, it sounds like it probably would have been a quick cameo.
The insider claims that the producers wanted Prince Harry to appear as a royal prince, but they never nailed down the character. Prince Harry has never confirmed the Game of Thrones rumors. He is, however, a huge fan of the show.
In previous years, Prince Harry reportedly received episodes of the show prior to them airing on HBO — a privilege reserved for a select few.
The only other person who enjoyed this level of access was Barack Obama, who was also a Game of Thrones fan.