Queen Elizabeth Is the 1 Person Oprah Wants to Interview But Hasn't
It is pretty safe to say that Queen Elizabeth II is one of the most famous women in the entire world. However, here on the other side of the pond, we have an equally famous woman, someone who is also a "queen" in her own right.
Everyone is familiar with Oprah Winfrey since she has had her hand in so much over the years. She has dominated the talk show world and as a producer, philanthropist, actress, and media executive, it seems that there is just about nothing that she can't do.
Oprah has had some pretty iconic moments in her career, interviewing some extremely high-profile celebrities.
According to The Oprah Mag, the former talk show host has had some sit-downs with people such as Michelle Obama, Madonna, the Kardashian-Jenner family, Barbara Walters, and many more.
However, there is one person she still wants to meet up with. Let's explore how Queen Elizabeth is the one person Oprah wants to interview but hasn't.
Oprah's most famous interviews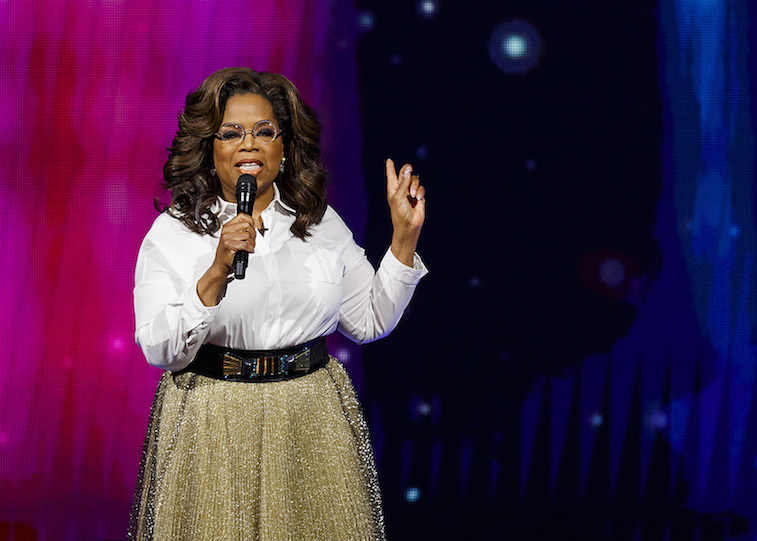 Celebrities have quite a lot of important moments throughout their careers. However, when they find out that Oprah is interested in an interview, it is the ultimate honor.
Who are some of the people that she has sat down with for a question and answer session? Access reports that she had an emotional meeting with Tyler Perry back in 2010, and she also did a famous interview with John Kennedy, Jr.
Over a decade ago, Whitney Houston sat down with Oprah for a two-part interview that fans just loved, and almost 100 million people tuned in to see Michael Jackson have an interview back in 1993.
According to Hollywood Reporter, it was a pretty huge deal when the iconic legend went to the Kardashian-Jenner home for an intense interview session, which she prepared for by binge-watching the family's popular reality show.
As we can see, Oprah has had the privilege of interviewing some of the biggest names in the world, and she doesn't show any signs of slowing down.
Queen Elizabeth and Oprah actually have a lot in common
Queen Elizabeth and Oprah come from completely different worlds – there is no denying that. Her majesty was born into royalty and for her entire life, she has known nothing less than a luxurious life of privilege. Oprah, on the other hand, grew up in an extremely poor family.
According to The Guardian, she was raised in a rural area where poverty affected just about everyone. Fast forward many years later, and she is an excellent example of how hard work and dedication can pay off.
So, what do Oprah and the queen have in common? They both love dogs, for one. In addition to that, they are two of the most well-respected women that the world has ever known. Both the queen and Oprah are generous and believe in giving back to others any way that they can.
The queen is the one person Oprah wants to interview but hasn't
Although it may seem as if Oprah has done it all, there is still one important person missing from those who she would like to interview. Who is that? None other than Queen Elizabeth.
Jaden Jefferson, an 11-year old reporter, recently spoke with Oprah, who revealed that she would like to sit down with the monarch of the royal family. Some of the things that she would bring up in the meeting,
according to Daily Mail, are whether or not the queen watches The Crown on television, and she would also be interested in seeing all of her majesty's lavish crowns.
We hope that one day soon, this interview will actually take place because we would love to see Queen Elizabeth sit down with Oprah in a session that would likely be the most popular one yet.