Does the Queen Like Meghan Markle? Inside Their Relationship
It's no secret that Meghan Markle married into a family much different than her own. Not only is her new family famous, but they are also one of the most prominent families in the world. On the outside looking in, it seems as if the Duchess of Sussex has blended in well with her royal family. But, the transition hasn't exactly been easy on her — especially when it comes to working with her grandmother-in-law, who has high expectations of the new royal. Does the queen like Meghan Markle? We take a closer look at their relationship, ahead.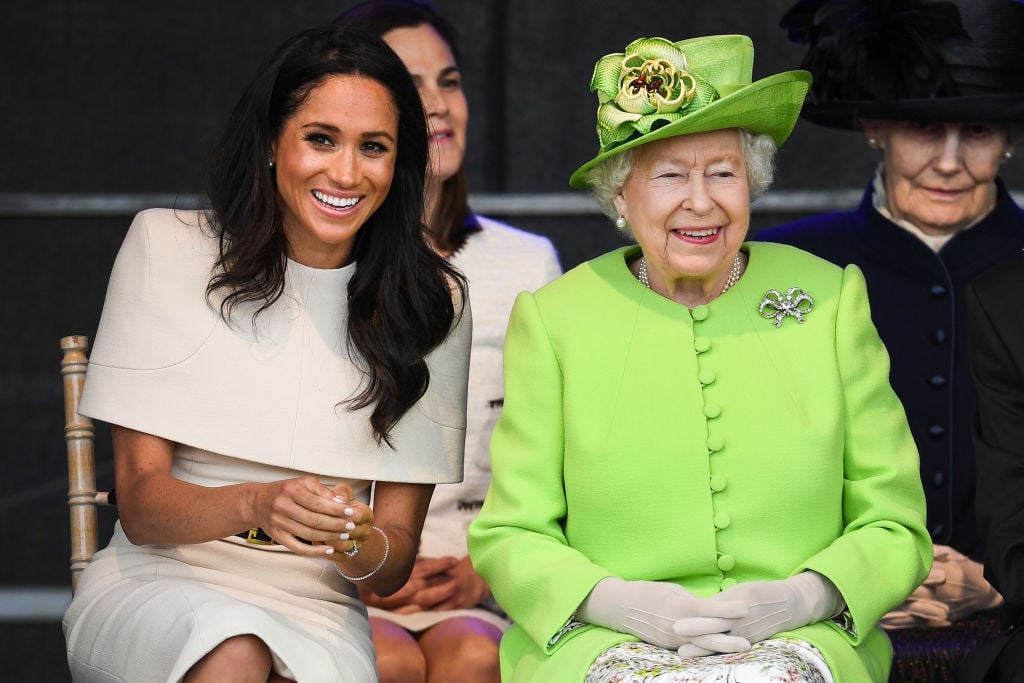 Does the queen like Meghan Markle?
Meghan Markle has seemingly charmed the pants off certain royal family members, including Prince Charles, who she has a significantly close relationship with. But, what is Queen Elizabeth and Meghan Markle's relationship like? Does the queen like Meghan Markle?
Although there have been some hiccups — aka, broken royal rules — along the way, Meghan Markle and Queen Elizabeth apparently get along just fine. Given the fact that Her Majesty allowed Meghan Markle to participate in family events, including meetings and Christmas at Sandringham before her royal wedding (something Kate Middleton did not do), she is quite fond of her new granddaughter-in-law.
Queen Elizabeth and Meghan Markle's relationship
Queen Elizabeth and Meghan Markle's relationship might be great, but there is a lot of complexity to it. We take a closer look at how the two have managed to forge a bond over the last couple of years, plus other aspects of their relationship, ahead.
The queen and Meghan Markle are dog-lovers
One of the earliest things Queen Elizabeth and Meghan Markle likely bonded over was their love of dogs. Like Her Majesty, Meghan Markle loves her fur babies and famously got along with the queen's corgis upon their first meeting. There's no doubt that gave a good first impression.
The queen invited Meghan Markle's mother to tea
In addition to bonding with Meghan Markle over their furry friends, the queen has also made an effort to get to know the duchess's family better. Ahead of the royal wedding, Her Majesty invited Meghan Markle and her mother, Doria Ragland to tea. How nice!
They both love seafood
In the royal family, shellfish is off-limits. However, the queen is big on seafood and a fish fillet is often her lunch or dinner entrée of choice. As a native Californian, Meghan Markle grew up eating seafood — especially sushi — and it's a big part of her diet.
That said, there are a few foodie things they disagree on like garlic — which the queen apparently loathes — and pasta, one of Meghan Markle's favorite foods.
They've attended royal engagements together
Meghan Markle and the queen have crossed paths at many family functions and royal engagements. However, they have also traveled alone together (right after the royal wedding) on behalf of the family business.
The queen lets Meghan Markle be herself
Many believe that Meghan Markle and Princess Diana have a lot in common. But, the biggest difference is how the queen approaches their behavior. When Princess Diana was married to Prince Charles, she felt extremely isolated and an immense amount of pressure from Queen Elizabeth to act a certain way.
Today, Queen Elizabeth lets Meghan Markle get away with breaking the rules. She even allowed Meghan to discuss politically driven topics and make claims about being a feminist. The queen likely learned from her experiences with Princess Diana, which is why she allowed Meghan Markle to be more of herself.
Check out The Cheat Sheet on Facebook!