Queen Elizabeth Put Kate Middleton In A 'Difficult Position' Before She Became The Duchess of Cambridge
Kate Middleton's relationship with Prince William thrust her into the spotlight, and Queen Elizabeth refused to help her adjust to royal life before she became the Duchess of Cambridge.
There is no denying that Kate Middleton knows how to handle herself in public, but the Duchess of Cambridge's relationship with the press wasn't always this easy. Before tying the knot with Prince William, Middleton suffered through years of missteps in front of the cameras. While Middleton was forced to adjust to life under the spotlight, she reportedly got zero help from Queen Elizabeth – a decision that put her in a difficult position on the eve of her engagement.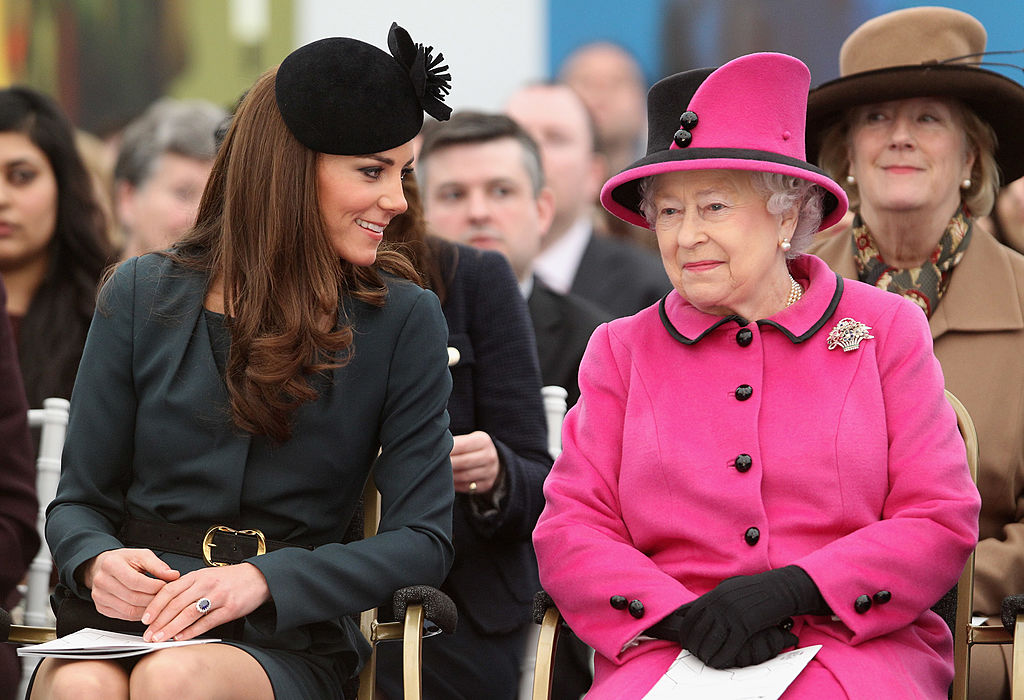 Queen Elizabeth puts Middleton in a difficult spot
Once Middleton and Prince William went public with their romance, the future Duchess of Cambridge was thrust into the spotlight. Being followed by the paparazzi every day was a learning experience for Middleton, who quickly realized that dating a royal was not as glamorous as it seems.
To make matters worse, Queen Elizabeth did not reach out and help guide Middleton in what was unchartered territory. Instead, Middleton was left to navigate the press on her own, which didn't bode well for her.
Although Queen Elizabeth and Kate Middleton now have a great relationship, she also had reservations about Prince William's girlfriend.
According to Express, Her Majesty felt like Middleton needed to have an established career before exchanging vows with her grandson. She did not think a jobless fiancée looked good for the royal family, especially when it came to the future King of England's bride.
Coupled together, these stresses put Middleton in a difficult position before she got engaged to Prince William. But the bad part about it is that Middleton wasn't lounging around and living off the royal family's dime.
Kate Middleton works in secret
Due to how she was constantly in the spotlight, Middleton did not feel the need to tell the world that she had a job when she was dating Prince William.
Middleton was employed by her mom and dad's company, Party Pieces, prior to her engagement. She was also taking classes on technology so that she could figure out how to digitize the company's catalog.
While Middleton settled for a job in the family business, she could have acquired employment wherever she wanted. After all, there were few employers at the time who would have passed on the opportunity to give Middleton a job.
"'She's been offered every job under the sun," a source shared at the time. "Russian oligarchs, fashion designers – everyone wants her. But if she goes out and works, she'll be accused of abusing her connections – or of being used… What can she do?"
The source added that Kate Middleton's career status put her in a tricky position with the royal family. With that in mind, her decision to work for her parents – and keep it quiet – was the best one to make.
Before her position at Party Pieces, Middleton worked for a brief time at Jigsaw, where she specialized in jewelry accessories. During her employed at the chain store, Middleton acted like a normal employee and did her best to minimize unwanted attention.
She even would leave the store through the back entrance to avoid photographers cluttering up the front of the store.
Inside Kate Middleton and Prince William's heartbreaking split
Middleton and Prince William may appear like the perfect couple, but there was a time when their relationship hit a rocky patch.
In 2007, things reached a point where Middleton and Prince William parted ways. At the time, sources claimed that Prince William was having a hard time with commitment and felt like they had lost the fun in their romance.
Luckily, their split only lasted a few months and Prince William quickly concluded that he had made the wrong decision.
The couple would go on to get engaged in 2010 before tying the knot a year later. Their gorgeous ceremony took place inside Westminster Abbey in 2011 and two have been going on strong ever since.
Fast forward eight years later, and the pair now have three children: Prince George, Princess Charlotte, and Prince Louis.
For her part, Queen Elizabeth has not commented on the rumors surrounding her early relationship with Middleton. Fortunately, the two have a great relationship now and there is little doubt that Kate Middleton was the right pick for Prince William.
The Duke and Duchess of Cambridge are currently getting ready for a tour of Pakistan, which will kick off this fall.