Queen Elizabeth Removes Photo of Prince Harry and Meghan Markle Amid Uproar Over Recent Documentary
A framed portrait of Prince Harry and Meghan Markle was taken out of the Audience Room in Buckingham Palace following their controversial documentary. The photo was reportedly in the room for over a year, though it is unclear if Queen Elizabeth ordered its removal. The timing of the decision to get rid of the photo, however, has left royal watchers wondering if there is a major rift growing inside the ranks of the royal family.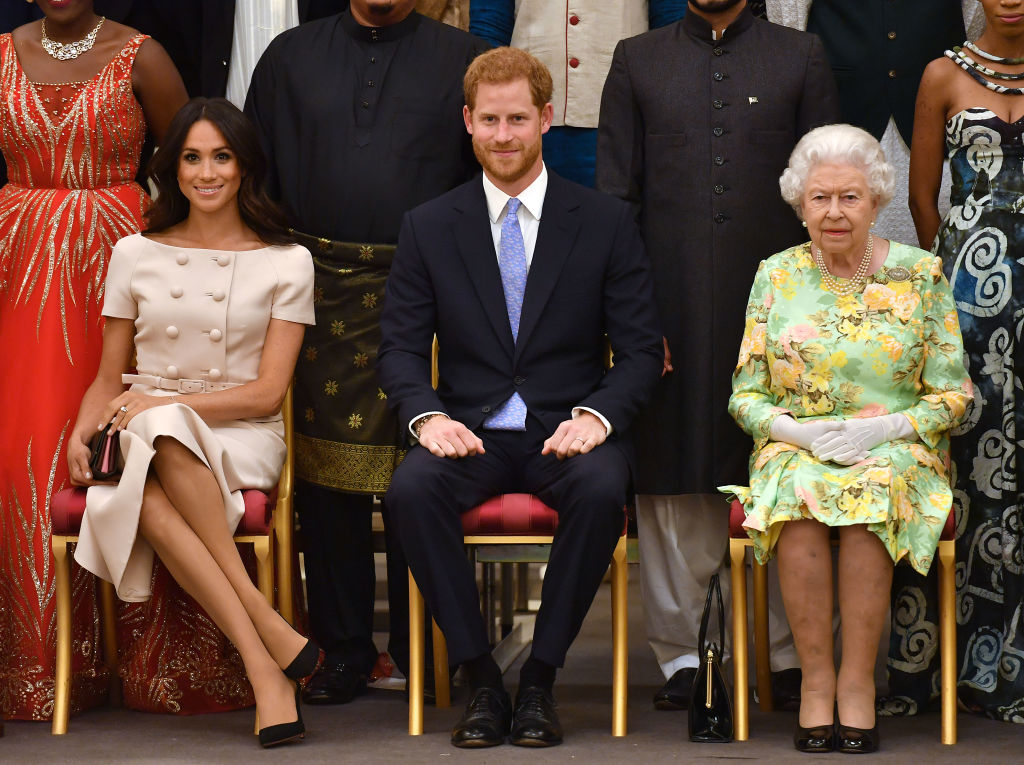 Prince Harry and Markle's photo gets the boot
It is unclear who removed the photo but it definitely was taken out of the room recently. The photo was put in place after Prince Harry and Markle tied the knot in May of 2018.
It was last seen resting on a small table in the Audience Room in July. The photo sat beside two other pictures: one of Prince William and Kate Middleton embracing each other and one of Prince Harry and his older brother in their military uniforms.
This week, however, fans noticed that the photo was missing during a visit between Queen Elizabeth and Kisha Alexander-Grant, the High Commissioner for Grenada.
According to Express, the photo usually sat in front of Prince William and Middleton's picture, but it has now gone inexplicably missing. The last time it was photographed was on July 24 during a meeting between Her Majesty and Boris Johnson.
This, of course, is not the first time a framed portrait has gone missing from the room. The same thing happened to a photo of Princess Anne, and her hubby, Timothy Laurence.
But the timing of the move has sparked speculation that Queen Elizabeth is not happy with what the Duke and Duchess of Sussex shared in a new documentary, titled Harry & Meghan: An African Journey.
Meghan Markle opens up about her struggles
Markle has faced a lot of heat in the press over the past few years and has had trouble adapting to life in the spotlight. In the documentary, Markle opened up about her struggles and admitted that having a newborn in the house has only added to her stress.
The Duchess of Sussex also revealed that most people do not ask how she is coping, which some royal experts believe was a dig at the royal family.
"Well, I guess, and also thank you for asking, but not many people have asked if I'm okay, but it's a very real thing to be faint behind the scenes," she explained.
Prince Harry added that he fears history will repeat itself and will do whatever it takes to protect his family from suffering the same fate as his late mother, Princess Diana.
The documentary comes on the heels of Prince Harry and Markle's tour of South Africa. Towards the end of their trip, Prince Harry announced his lawsuit against several British tabloids for publishing personal letters written by his wife.
Prince Harry issues a scathing statement against the press in the announcement, revealing that Markle has suffered privately at the expense of the tabloids.
Are Prince William and Prince Harry really feuding?
During his interview in the documentary, Prince Harry revealed that he and his brother have experienced some ups and downs over the years, which some royal watchers believe is confirmation that they are feuding.
An inside source, however, claims that the brothers have stayed in touch and that they talked to each other following the documentary.
That said, other sources say that the royal family is worried about Prince Harry and Markle, especially when it comes to their health and safety. Queen Elizabeth, of course, has not commented on the situation, so it is difficult to say what is really happening behind the scenes.
Prince Harry and Markle are currently resuming their royal duties in England before their scheduled trip to Los Angeles next month.
The couple, along with their baby son, Archie Harrison, is expected to visit Markle's mother, Doria Ragland, in the City of Angels before returning home. It is believed that they will stay in America for six weeks, though we still don't know if they plan on scheduling any royal appearances.
Meghan Markle and Prince Harry exchanged vows in May of 2018 and share one child together. The Duke and Duchess of Sussex have not commented on the fallout following their interview.