Queen Elizabeth's Birthday Present To Meghan Markle Reveals Exactly Where She Stands In The Royal Family
Meghan Markle will celebrate her birthday in a few weeks, and Queen Elizabeth already has a present in mind for the former actress. The royals have a history of celebrating birthdays in lavish ways, and the Duchess of Sussex's upcoming milestone is no different. Apart from being a grand gesture in and of itself, Her Majesty's gift to Markle on her 38th birthday will also reveal where she stands within the ranks of the royal family.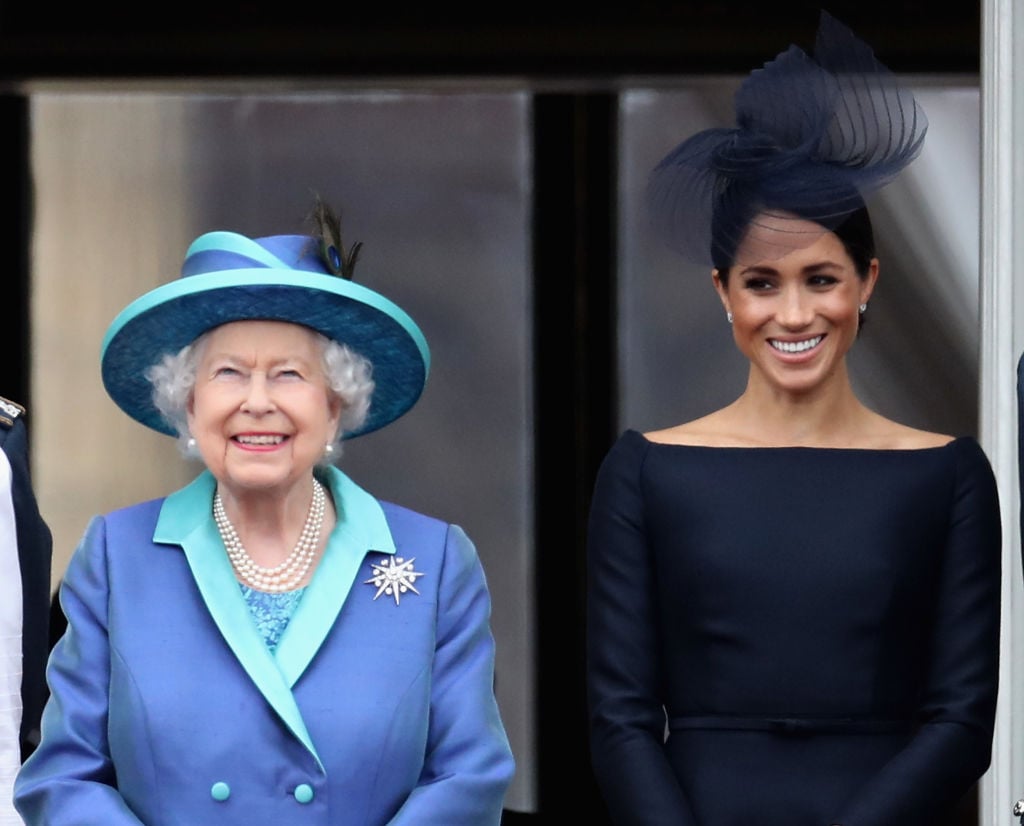 The Queen is making birthday plans for Markle
In honor of Markle's birthday, Queen Elizabeth has invited her to a party at her home in Scotland called the Balmoral Estate. Markle's husband, Prince Harry, and their son, Archie, were obviously included in the invite. The Balmoral Estate is reportedly one of the Queen's favorite places to go, which says a lot about how she views Markle.
"The Queen and Prince Philip adore the couple and, of course, their new great-grandson Archie, and they have invited them to Balmoral for a few days. It is a testament to Meghan that she has been given this invite. It's a huge honor," a source revealed.
According to She Knows, the source noted that the estate is Queen Elizabeth's favorite properties within the royal family's holdings and that inviting someone there is a special deal. This will be the first time Markle has stepped foot inside Balmoral and Archie's first official trip as part of the royal family.
As part of the trip, Markle and her family will enjoy a tea session with Queen Elizabeth as well as a cake. Markle and Harry will also be boarded in their wing on the property, which should give them plenty of privacy with the little one.
Elizabeth's birthday present could change Markle's public image
Getting invited to spend a few days with Queen Elizabeth in Scotland is apparently a huge deal within the royal family. Sources say that the invite is a clear signal that Markle is close to Her Majesty and part of the inner circle.
The special invitation could also affect how the British people view Markle. The former Suits star has faced plenty of criticism over the past two years and could use a bump in the media.
As if outside pressures were not enough, sources recently claimed that certain members of the royal family warned Harry about rushing into a marriage with the American actress. A month ago, reports surfaced that Prince Philip had advised Harry not to marry someone from Hollywood.
Considering how Queen Elizabeth has invited Markle to celebrate her birthday in her favorite estate, it is pretty clear that the Duchess of Sussex has made a good impression with members of the royal family.
Speaking of Phillip, sources say that he will also be present for the birthday festivities. One insider claims that Phillip could not be happier about celebrating the milestone and absolutely adores his new grandson.
Harry and Markle plan another trip
Apart from their scheduled meeting in Scotland, Harry and Markle are planning a big trip to Africa. The couple announced the exciting news on social media and even confirmed that baby Archie will be coming along with them.
The Africa trip will be Archie's first public engagement as a member of the royal family. The threesome are planning a tour of the country, with stops in Botswana, Angola, and Malawi.
Harry and Markle told their followers that they are excited to meet everyone when they reach Africa and are looking forward to bringing attention to all of the hard work that goes on at a local level. It is unclear how long the pair are planning on staying abroad.
Prince Harry is fully expected to work with his Sentebale charity while visiting Malawi, which he set up back in 2006 with Lesotho's Prince Seeiso. The charity works with the youth of Malawi to raise awareness about HIV.
The topic is something that was very dear to Harry's late mother, Princess Diana. As royal watchers will recall, Diana was a huge advocate for AIDS back when it was not a topic people openly talked about.
Markle has only made a few public appearances since giving birth to Archie in May. This includes a brief photo op on social media shortly after the delivery. She also made an appearance at the recent Trooping the Colour event, which was held in honor of Queen Elizabeth's 98th birthday.