Queen Letizia: Inside Her Rocky Royal Life
Queen Letizia of Spain is pretty well-beloved among her people. A style icon and a mother of two, she is known for her glamorous looks and her extensive travel and work. However, a recent incident involving her mother-in-law, Queen Sofia, has ripped through Spain, focusing all eyes on the royal family. All of the drama has prompted everyone to look back into Queen Letizia's life and her rocky journey to the throne.
An unlikely match and a commoner, the queen of Spain has had a fairly interesting past.
A girl boss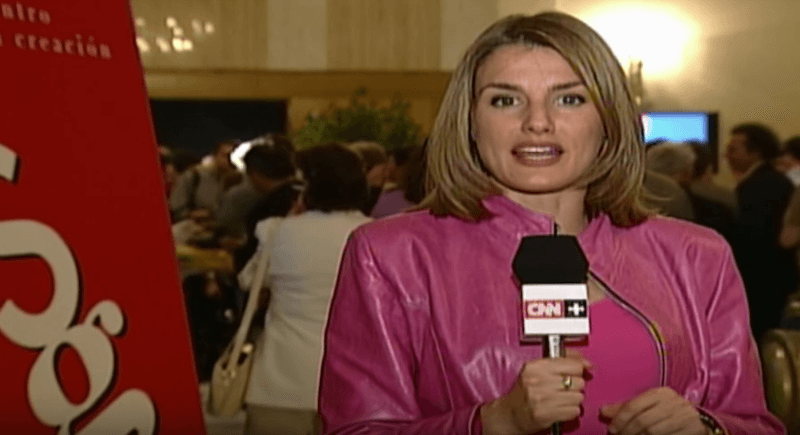 Queen Letizia might be a commoner, but that doesn't mean she isn't a boss. Well before she captured King Felipe's heart, she was a well-known journalist and news anchor. The queen grew up in a middle-class family and earned her B.A. in journalism at the Complutense University of Madrid, as well as a master's degree at the Institute for Studies in Audiovisual Journalism.
The queen has reported on everything from the 2000 U.S. presidential elections, a live broadcast on Ground Zero just after the September 11th terrorist attacks, and even the war in Iraq.
Next: A previously married woman
A divorcee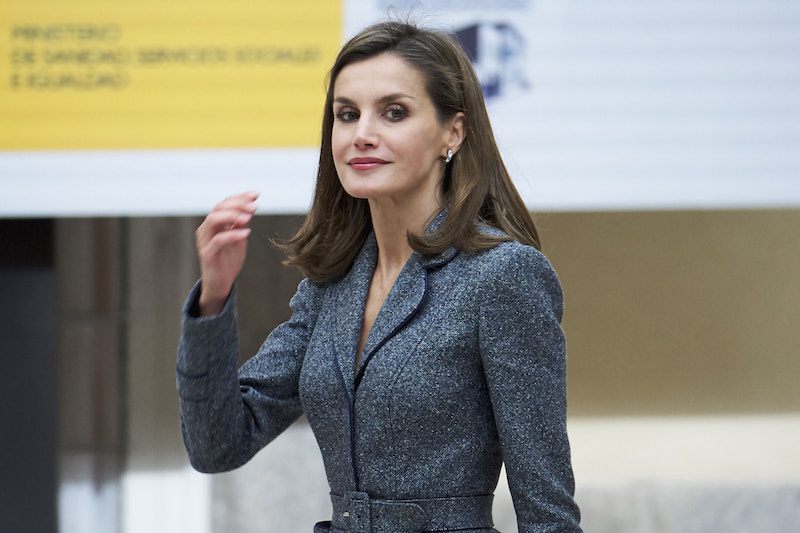 Like Meghan Markle, Queen Letizia has been married before. In 1998, she married her long-time love, Alonso Guerrero Perez, a high school teacher, who was nine years her senior.
The duo had known each other since the queen was just 16. The duo was married in a civil ceremony and divorced after just one year of marriage.
Next: A shocking engagment 
The queen from nowhere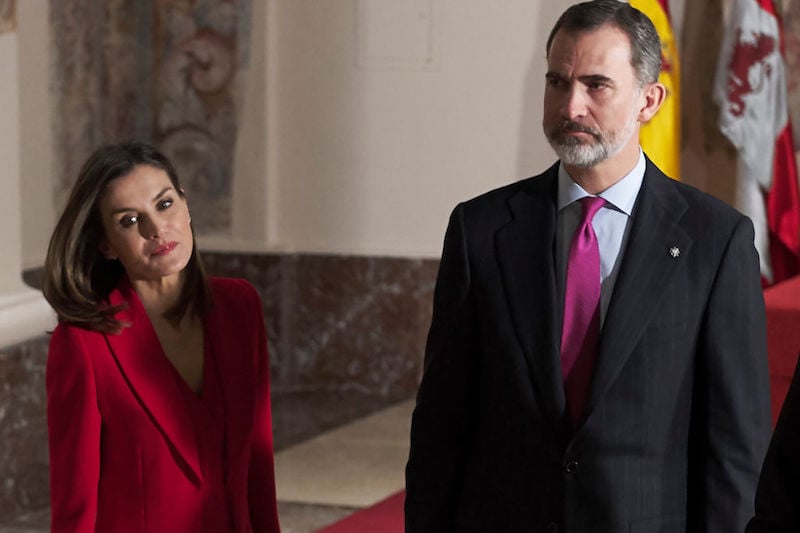 Queen Letizia met King Felipe in 2002, and the duo announced their engagement in 2003. The announcement shocked the nation, which didn't even know the then-prince was seeing anyone. The couple married on May 22, 2004, in a lavish ceremony at Madrid's Almudena Cathedral. They had permission to wed in a Catholic church because the queen and her first husband had only had a civil ceremony.
In 2015, a book entitled The Court of Felipe VI was published. It alleged that King Juan Carlos, King Felipe's father, "never liked the arrival of a journalist in a place that had traditionally been an opaque haven from the fourth estate."
Next: A very scandalous rumor 
Whispers and rumors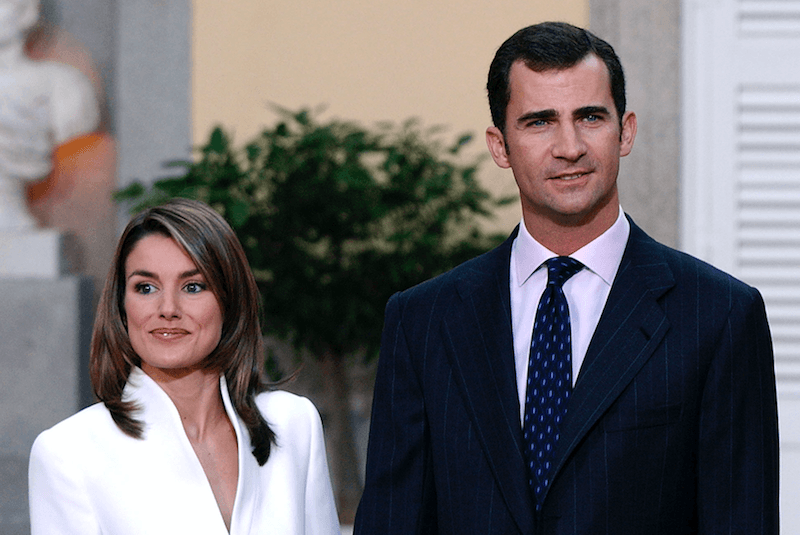 When news broke in 2003 that the very eligible Prince of Spain had found his princess, people began digging into Queen Letizia's life. Not only did her divorce raise several eyebrows, but there were also rumors that she'd had a secret abortion, which horrified the Catholic country.
Next: All about a nose
Plastic surgery woes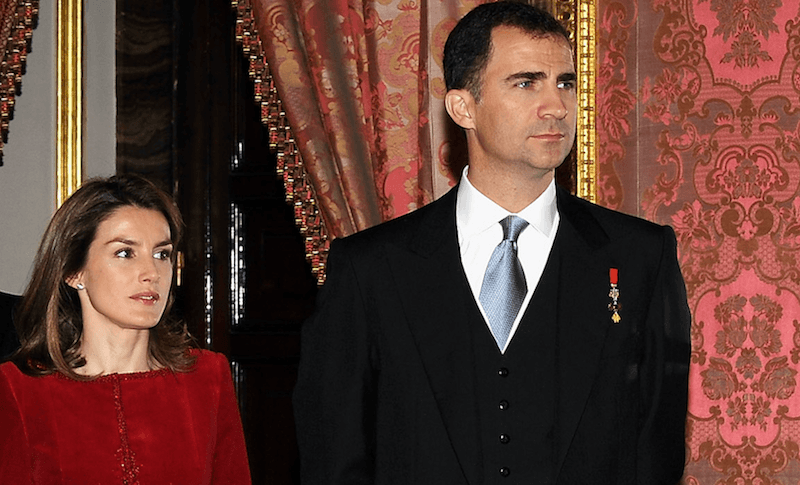 Though the queen has won over the public, especially after the births of her daughters, Princess Leonor and Princess Sofia, in the beginning, it was pretty touch and go. Despite her focus on children's rights, culture, and education, the former journalist faced continuous criticism for not smiling in photos.
Also in 2008, there was major controversy when she had surgery on her nose. Though the Spanish monarch issued a statement saying Queen Letizia had a deviated septum that needed fixing, many folks pointed out that her nose looked a bit more dainty post-opp.
Next: A royal showdown
The incident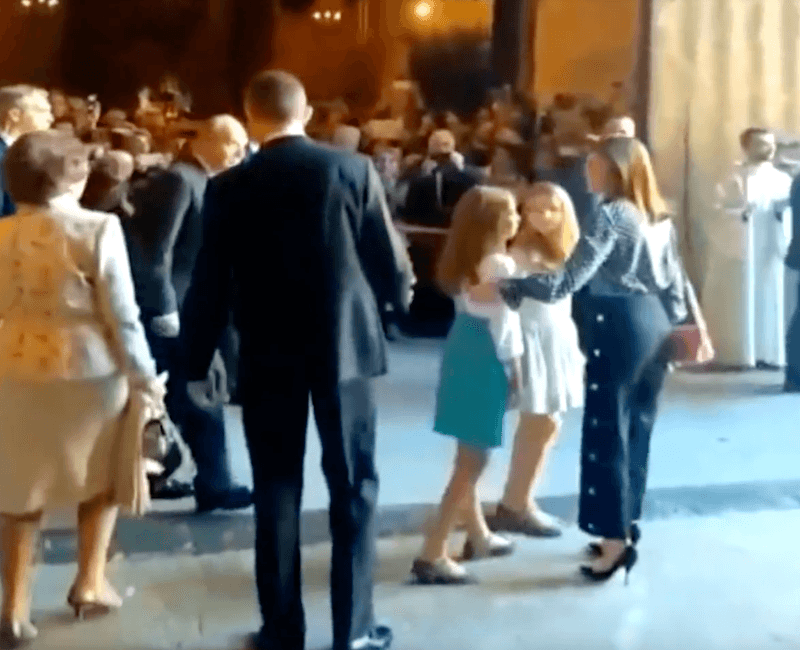 Everything seemed fairly calm among the Spanish royals until an incident over the Easter holiday in 2018. In a clip that rocked the world, Queen Sofia can be seen posing with her granddaughters at Easter Mass. In a cringe-worthy moment, Queen Letizia is seen trying to prevent her mother-in-law from taking the photo with her daughters.
While Queen Letizia tries to block the camera and separate her daughters from her mother-in-law, Princess Leonor shoves her grandmother's arm off her shoulder and wipes away a kiss Queen Sofia placed on her forehead. It was pretty uncomfortable to watch.
Shortly after the clips went viral, a spokesperson for Queen Letizia released a statement saying, "She is very committed to taking care of her daughters, with the protection of their image, she worries who takes photos of them, she worries where they come from, who approaches them."
Next: Some major family drama 
Tension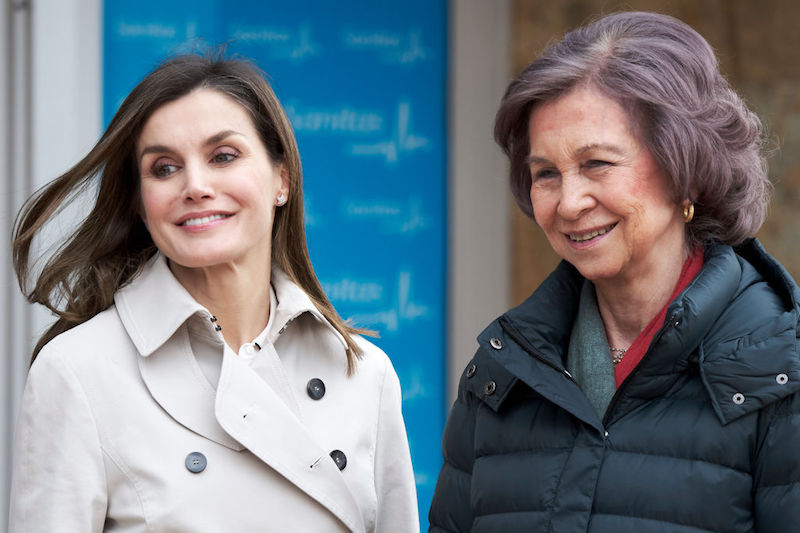 Though this is the first public incident that suggests something is amiss between Queen Letizia and Queen Sofia, rumor has it that they've been feuding for years. An insider told The Observer:
The tension began when Queen Letizia gave birth and wanted to mark her territory as the dominant royal, despite sharing a title with her mother-in-law. Others think the arguments are a regular occurrence since King Felipe was at the ready to do damage control and Queen Sofia was angered so quickly.
Since then both women have embarked on a PR tour to smooth things over, but their forced smiles and staged poses aren't really helping things.
Follow Aramide on Twitter @midnightrami.
Check out The Cheat Sheet on Facebook!