Meet the Queens on the Upcoming Season of 'RuPaul's Drag Race UK'
Gentlemen, start your engines. The latest season of RuPaul's Drag Race is practically here. This time, RuPaul is taking her reality competition series overseas. Available on WOW Presents Plus, this season features ten, fierce local queens from the United Kingdom and fans are already freaking out about them. Here's a list of all the contestants from RuPaul's Drag Race UK.
Vinegar Strokes
This drag performer is 35-years-old from London and is the self-proclaimed "heart" of the competition. She's a comedy queen who is pretty confident about her lip-syncing skills. During an interview with BBC, she said, "drag is the new black. When I say drag is the new black I mean drag is everything you want it to be."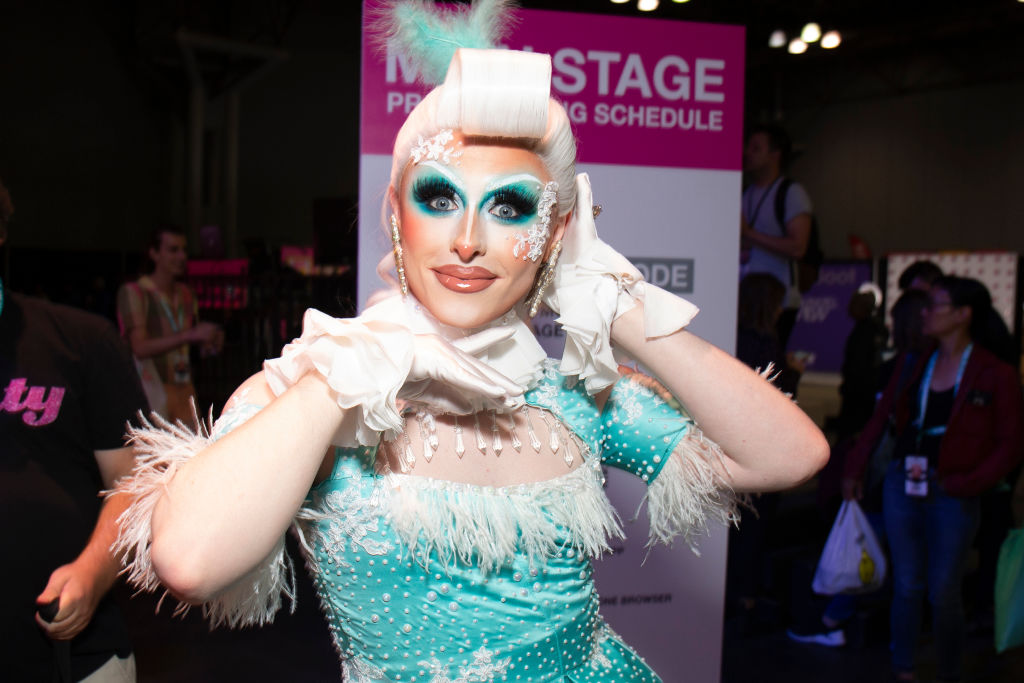 Blu Hydrangea
Belfast queen Blu Hydrangea is known for her makeup skills, her creativity, and, you guessed it, blue outfits. During her interview, the contestant explained that she got her drag name, Blu Hydrangea, after hearing a story about her blue hydrangea bush growing out of a rusty nail in her garden.
Divina De Campo
Fans of British television know Divina De Campo from a few other shows, including The Voice UK, All Together Now (as one of the show's 100 judges), MTV's A-Z of Drag and Big Brother's Bit on the Side. She's from West Yorkshire, she's a little campy, but mostly really talented.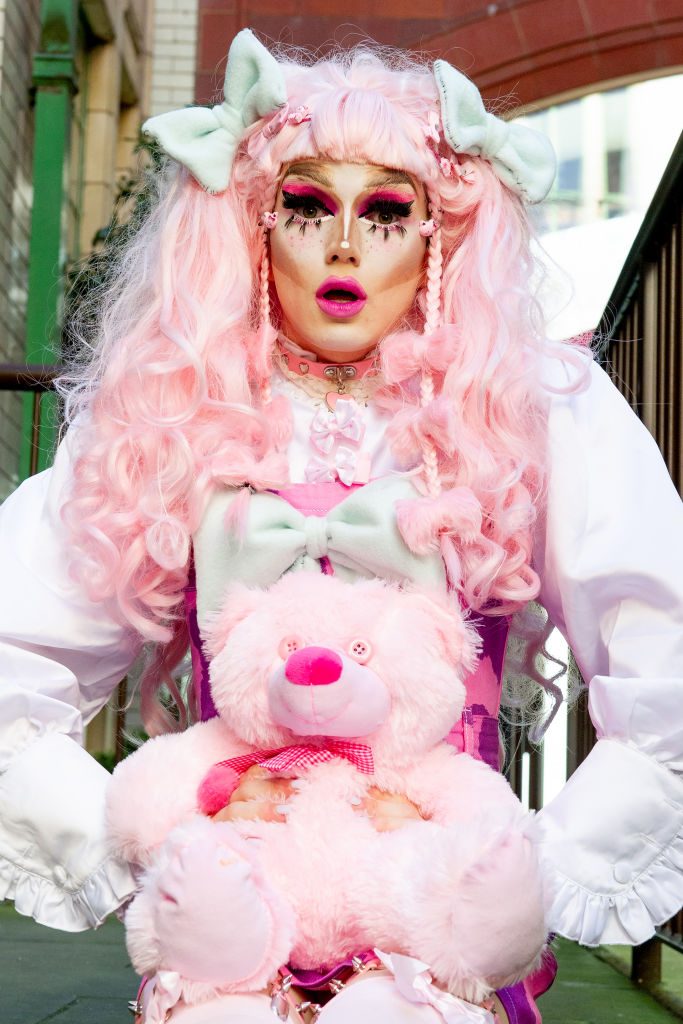 Scaredy Kat
She's already being called the voice of a scared generation. Scaredy Kat is the youngest contestant ever to be on Drag Race, at 19-years-old during filming. This drag performer is bisexual and first got into drag from her girlfriend, who performs under the stage name "Pussy Cat."
Cheryl Hole
This 25-year-old drag performer is from Essex. According to Radio Times, Cheryl Hole is self-described as the "dancing diva of Essex" and the "Gemma Collins of drag." Her drag name is reportedly based on the X-Factor and Girls Aloud star, Cheryl.
Baga Chipz
Inspired by old-school cabaret, Baga Chipz is 29-years-old from London. Although she doesn't describe herself as an Instagram queen, Baga Chipz is ready for the competition. According to Paper, she "previously starred in a reality TV show called Drag Queens of London, so she's definitely no stranger to the camera."
Gothy Kendoll
If you love a queens who is a little bit dark and artistic, Gothy Kendoll might be your favorite. "I'm inspired by Grace Jones, Annie Lennox, people in the '80s who were redefining what gender is and what gender can be," she said during an interview with BBC. "Also fast fashion; other drag queens across the world; I find inspiration from everywhere."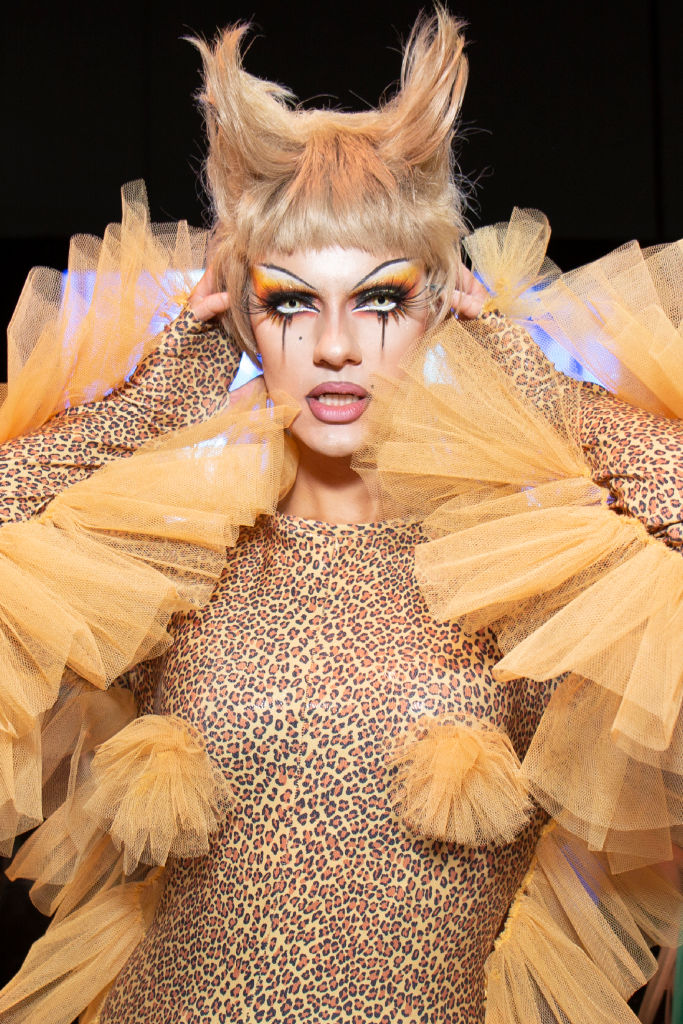 Crystal
This drag performer is from London and goes by her first name, Crystal. During her interview, Crystal said, "I'm not afraid to look a bit ugly, messy, and scary – it's not about being pretty all the time. I hope I will surprise viewers and show them that drag isn't just one thing or isn't just looking like a woman. Maybe drag can be about messing with gender and playing with the lines and the boundaries."
Sum Ting Wong
She is here and ready to take back "your problematic jokes." Sum Ting Wong is from Reading and celebrates her Asian culture through her drag persona. During her interview, she said, "I'm here because I'm a drag queen not because I'm Asian. Asian is who I am but does not define who I am. I want to show you that I'm a queen like anyone else."
The Vivienne
This performer is from Liverpool and is a mix of old school and new school drag. During her interview, she said, ""I am The Vivienne, I'm 27 years old and I'm from the gorgeous town of Liverpool. I'm an engaged lady and I live for my fiancé. And I'm here to win the crown of the first ever RuPaul's Drag Race UK, so bring it on!"
RuPaul's Drag Race UK premieres on Oct. 3, 2019.