'Queer Eye' Grooming Expert, Jonathan Van Ness, Makes History as Cosmopolitan UK's First Non-Female Cover Star in 35 Years
We can't believe it, honey. For the first time in over 35 years, a non-female celebrity is the focus of Cosmopolitan UK's issue. This magazine features Jonathan Van Ness as their cover star, the grooming expert from Netflix's Emmy award-winning original series, Queer Eye. Here's what we know about this Fab Five member and the massive win for the LGBTQ+ community.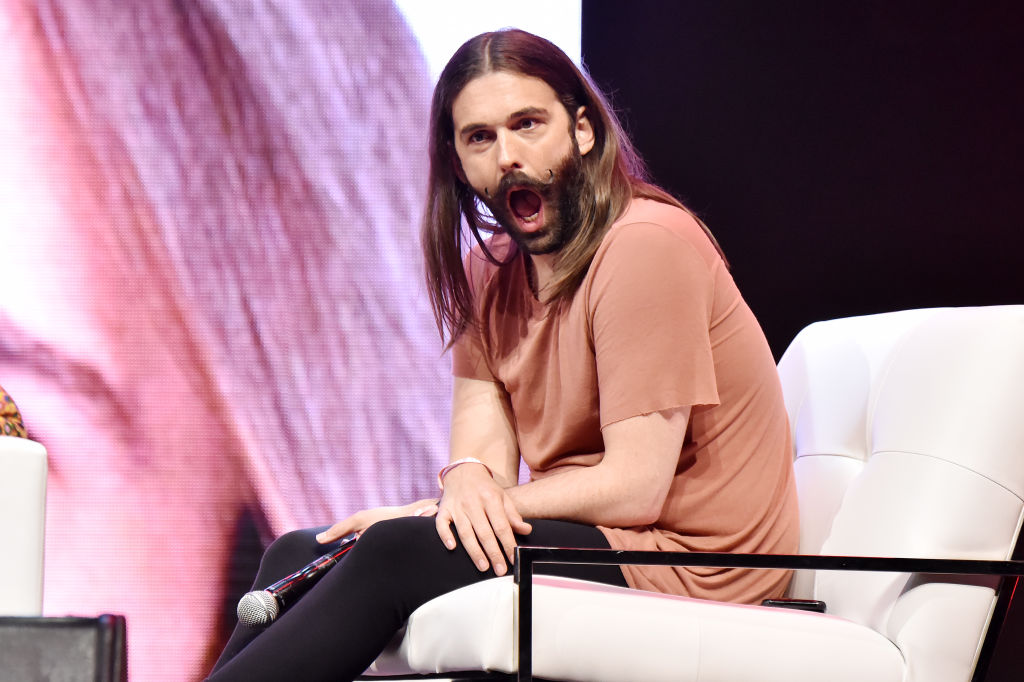 Jonathan Van Ness is the bubbly, fun-loving grooming and beauty expert on Netflix's 'Queer Eye'
It's not always a strugs to func moment for this gymnastics enthusiast. Jonathan Van Ness first crept into the public eye with his podcast Gay of Thrones, where he reacted to HBO's award-winning series. However, what Jonathan Van Ness is probably best known for is his work with the Netflix original series, Queer Eye.
In this reality series, Jonathan Van Ness, along with four other members of the LGBTQ+ community, "make better" local heroes. Together, they spread messages of self-love and positivity, while advocating for LGBTQ+ equality.
Recently, Jonathan Van Ness became Cosmopolitan UK's first non-female cover star in over 35 years
Sometimes, he's known as JVN. Other times he's known as the host of the podcast Getting Curious. Now, Jonathan Van Ness has another title to add to his biography: the first non-female cover star of Cosmopolitan UK in over 35 years. The Queer Eye cast member shared the news with his Twitter followers, along with a picture of the cover.
"First non-female cover star in 35 years .. thanks for having me," Van Ness wrote on Twitter. "@CosmopolitanUK showing more variations of beauty for young LGBTQ+ people. YAS QUEEN."
Non-female cover stars appear in Cosmopolitan UK in the past. According to MSN, "the UK edition of the iconic magazine featured One Direction on its December 2012 cover nearly eight years ago as the first all-male cover stars. But Van Ness is the first solo, non-female-identifying [celebrity] to grace the front page in the publication's history."
This isn't the first time Jonathan Van Ness broke gender boundaries in the beauty community
Earlier this year, Jonathan Van Ness became the first non-female partner for the nail polish brand Essie. The celebrity then came out as non-binary during an interview with Out Magazine, though he still uses "he/him" pronouns.
"Like, some days I feel like a man, but then other days I feel like a woman," he said. "I think my energies are really all over the place. Any opportunity I have to break down stereotypes of the binary, I am down for it, I'm here for it."
With his recently released novel, Over the Top: A Raw Journey to Self-Love, the Fab Five member detailed his experience with drug addiction, sex addiction, and living with HIV. Aside from that, fans can learn more about Van Ness from his Twitter account and from episodes of Netflix's Queer Eye.
Queer Eye, including the recently released mini-season Queer Eye: We're in Japan, is available for streaming on Netflix. Jonathan Van Ness' book, Over the Top: A Raw Journey to Self-Love, is available at Amazon, Barnes & Noble, and most major book retailers.