R. Kelly Hit With New Sex Crime Charges in Minnesota
As expected, more charges are being leveled against R. Kelly and the bad times just keep rolling for the embattled R&B star. Last week, he was arraigned in New York for the federal charges against him and remains in federal custody. Today, a county prosecutor in Minnesota announced new charges.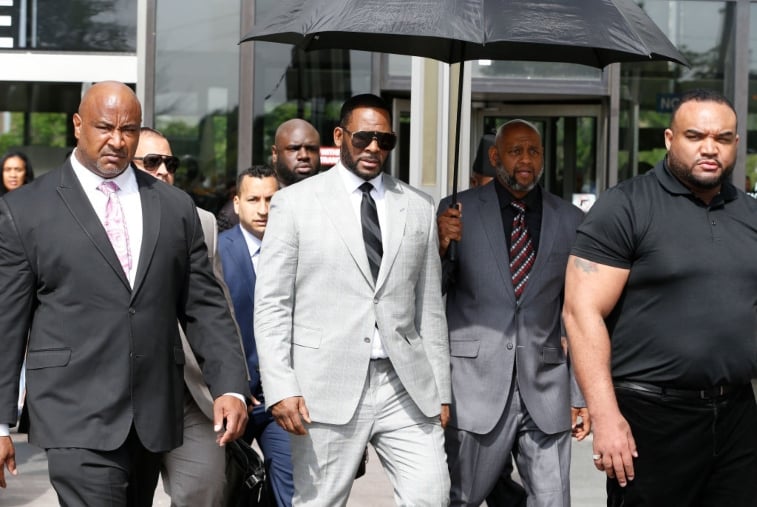 What the new charges are and what they mean
According to NPR, this time, Kelly is in trouble for soliciting prostitution from a minor. Hennepin County attorney Mike Freeman filed a formal complaint alleging that Kelly hired a young girl to engage in a sex act in July 2001. The charges, which can be read here, state that the victim approached Kelly while he was signing autographs at a Minneapolis shopping mall.
When he handed her the autograph, she was also given a phone number, which turned out to be the number for a hotel room. The victim met Kelly at the hotel suite and when they were alone, he offered to pay her $200 to undress and perform a dance. Both parties were naked and had sexual contact. She was 17 at the time.
Kelly is now facing state charges in Minnesota for engaging in prostitution with a minor and for intentionally hiring a minor to engage in sexual contact.
NPR reports that Freeman acknowledged that Kelly may never go to trial for the Minnesota case because the federal cases will be tried first, and more than likely, those two cases will overlap. But because police investigated the crime-which was reported in January of this year-he wanted to ensure that the victim's voice was heard. He stated:
"In my view, too many prosecutors are ignoring victims. This office doesn't … It doesn't disturb me whatsoever that it may not go to trial, as long as he spends time for the crimes he's committed elsewhere — but I can't be sure of that unless I'm at the table. And by charging this case, we are at the table."
Where things stand for R. Kelly right now
Kelly is currently facing state and federal charges in Illinois for sexual abuse and federal offenses in New York. The 52-year-old singer and some of his associates are accused of taking girls and young women across state lines to engage in illicit sex acts. According to the filings, the incidents happened in New York, Connecticut, California, and Illinois.
Additional charges include child pornography, racketeering, and obstruction. Kelly has pleaded not guilty to all counts. The allegations go all the way back to the 1990s and were brought back into the public's consciousness due to the docuseries, Surviving R. Kelly.
Recently, Kelly's attorneys have referred to his accusers as "disgruntled groupies" who wanted to hang around the singer, and some of them may now have "groupie remorse."
According to the Chicago Tribune, the victim in the Minnesota case reported her ordeal through an Illinois tip line provided by Cook County prosecutor Kim Foxx. Accusers were encouraged to come forward. The article noted that Kelly's attorney, Steven Greenberg, has called the new charges "absurd."