R. Kelly: What Are the Charges and How Much Time is He Facing?
After years of allegations, various court cases, and a damning documentary, R. Kelly has been charged with federal crimes in New York and Illinois. This comes after 10 state charges were filed against him in Illinois back in February for aggravated criminal sexual abuse and additional state charges in May and June. With these new charges, it just adds on to the legal troubles for the R&B singer.
According to NPR, 52-year-old Kelly was arrested Thursday night while walking his dog outside of his Chicago home. He is expected to be arraigned in Illinois and New York next week.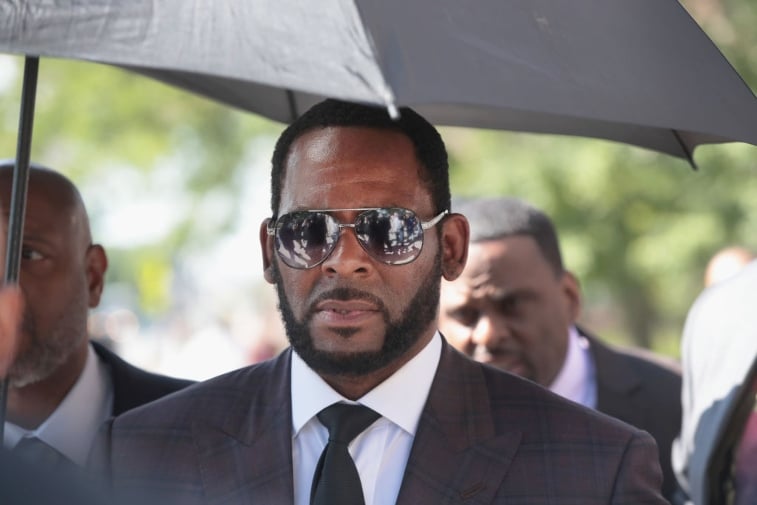 An explanation of the charges against Kelly
The indictments stemming from Kelly's arrest in February 2019 involved four females, three of whom were under the age of 17 when the crimes occurred between 1998 and 2010. In one of those cases, prosecutors obtained a video of Kelly having sex with a 14-year-old girl. The Associated Press reported that in the other three cases, law enforcement was able to retrieve DNA evidence from the victims. In May, Cook County added 11 more counts against Kelly stemming from his involvement with one of these victims.
The latest federal charges have been leveled against Kelly and members of his team. According to the official statement released by the US Attorney's Office in Illinois, Kelly was arrested for child pornography and obstruction.
"Kelly is charged with one count of conspiracy to receive child pornography, two counts of receiving child pornography, four counts of producing child pornography, five counts of enticement of a minor to engage in criminal sexual activity, and one count of conspiracy to obstruct justice."
The obstruction charges revolve around victim and witness intimidation and concealing evidence, such as video tapes. Two of Kelly's former employees, Derrel McDavid and Milton Brown, are also facing federal charges in connection with the indictments. Kelly will be arraigned on Tuesday, July 16. In the Illinois cases, Kelly is accused of victimizing five females. The statement read that he:
"… Engaged in sex acts with the victims while they were all under the age of 18, and he created numerous explicit videos with four of them, the indictment states. The charges allege that Kelly and McDavid in 2001 began paying an acquaintance hundreds of thousands of dollars to collect the videos for the purpose of concealing and covering up their existence. When the acquaintance later planned to hold a news conference to publicly announce that he recovered the videos, Kelly, McDavid and others paid him approximately $170,000 in exchange for agreeing to cancel the event, the indictment states."
The Washington Post reports that federal prosecutors in New York are indicting the singer on five counts. Kellly, whose full name is Robert Sylvester Kelly, is accused of—along with his associates—using concerts to recruit girls to engage in illicit sexual acts. The formal statement issued by the New York US Attorney's office asserts that Kelly carried on his exploits in New York, Connecticut, California, and Illinois.
The New York federal charges are for racketeering, kidnapping, forced labor, sexual exploitation of children, and violations of the Mann Act, which addresses human trafficking. Kelly and members of his entourage are accused of recruiting and coercing women and girls into illicit sexual relationships with him and arranging for transportation and lodging of the victims, sometimes across state lines. Further, prosecutors state:
"Kelly issued rules that many of his sexual partners were required to follow, including that the women and girls were to call him "Daddy"; they were not permitted to leave their rooms to eat or visit the bathroom without receiving his permission; they were required to wear baggy clothing when not accompanying Kelly to an event; and they were directed to keep their heads down and not look at other men."
Additional victims are encouraged to contact the federal district attorney's office in their state, as it's believed Kelly committed crimes throughout the country.
Potential punishment for the singer
The production of child pornography charges carries a mandatory minimum of 10 years and up to 20, while receiving child pornography and conspiring to receive it have a minimum of five-year sentence. The maximum sentence for obstruction is five years.
If convicted of the racketeering and Mann Act coercion/enticement charges, Kelly faces up to 20 years in prison. Separately, Mann Act charges related to transporting the women and girls carry up to 10 years imprisonment.
After the Surviving R. Kelly documentary aired on Lifetime, it renewed interest in the allegations against Kelly that were rumored or known throughout the entertainment industry. Authorities in several states opened investigations into the singer, resulting in this bevy of charges. Meanwhile, the families of some of these women still await news on their whereabouts.