R. Kelly's Former Live-In Girlfriend, Joycelyn Savage, Speaks out Against the Singer; But Where Is Azriel Clary?
R. Kelly has been under tense scrutiny since the release of the Lifetime docu-series, Surviving R. Kelly. The six-part docuseries chronicled the testimonials of the self-imposed "pied piper of R&B's" years of predatory behavior and abuse of underage girls. Kelly has since been dropped from his label, performances have been canceled and he's been indicted on multiple charges of sex abuse which he's currently awaiting trial for in an Illinois prison. The singer's two-live in girlfriends, Joycelyn Savage and Azriel Clary, have publically supported the singer throughout the entire ordeal. But Savage has recently had a change of heart and is now adding to the claims against her former beau, alleging that she too was a victim of his abuse and manipulation. While Savage is speaking out, many are wondering, where is Azriel Clary?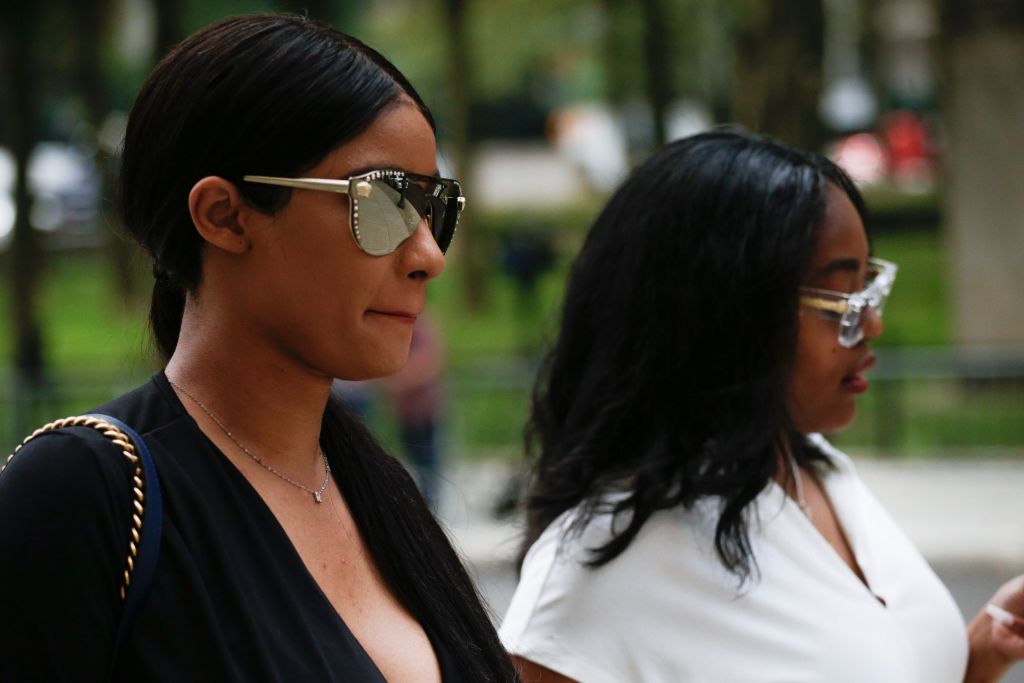 Joycelyn Savage says she's a victim of R. Kelly's abuse despite denying such in the past
Savage and Clary spoke in an exclusive interview with CBS This Morning's Gayle King in March 2019. Both defended Kelly regarding the charges brought against him for sexual abuse. Furthermore, they denied their parents claims that they were trapped inside of Kelly's "sex cult" and claimed their parents continued to speak to the media in an attempt to blackmail the singer into a hefty payday.
During the interview, Savage told King, "Our parents are basically out here just to get money and scam because they didn't agree on what happened with music, or whatever it could be and they're just very upset." Both Clary and Savage have stood by Kelly during his court trials.
It appears Savage is ready to tell her truth about what really occurred during her relationship with Kelly. She is now confirming her parents' theory, as well as the experiences of the dozens of Kelly's accusers, that she was manipulated and abused by the singer during their time together.
Savage says she met Kelly at the age of 19 and he promised her that he'd make her dreams of becoming a singer a reality. According to Savage, Kelly said that she had the potential to become the next Aaliyah, whom he mentored before their professional relationship was cut short after he allegedly impregnated and married the singer when she was just 15 – he was 27.
Savage says she moved in with Kelly and they began a relationship, which turned violent not too long after they began living together.
"Robert started giving me commands, and making sure I call him by certain names," she said first Patreon post on the paid Instagram page. "Like 'Master' or 'Daddy' which I didn't really care for at the time. It started getting worse by day by day, he would raise his voice at me if I didn't call him by those two names. If Robert called me I would have to reply with 'Yes, daddy' or 'Please daddy' he was so controlling."
Savage says that Kelly held her musical ambitions over her head while demanding certain things from the young girl. Corroborating many of his other victims' stories, she says that Kelly dictated when she ate, showered and where she went. If she showed any opposition, Savage says that Kelly would become irate and threaten to end her musical dreams. Though she worked on much music with the star, she says the music has never been released.
Savage will continue to release her story through the Instagram feature over the next few weeks.
Where is R. Kelly's other live-in girlfriend, Azriel Clary?
The world hasn't heard from Clary since her joint sit down with Savage. With the exception of a few snap chat videos and sightings form Chicago paparazzi, Clary has been MIA.
The last time Clary publicly spoke was in a video she and Savage released negating tabloid rumors that the two were in hiding following Kelly's arrest.
Clary's family has been trying to free their daughter from the alleged control and abuse of Kelly for several years and have vowed to not stop speaking out until their daughter is home. They claimed the singer preyed on their talented daughter's vulnerability following a suicide attempt when she was just 17. In the past, Clary has insisted that she's with Kelly on her own merit; but, sightings of her have been less and less since his arrest.
According to YouTube Vlogger, Tasha K, Clary has been silent lately because unlike before, she's now in communication with her family and has been planning her exit strategy from Kelly's camp. Tasha says that Clary began saving the money that Kelly sent for her and Savage and stashed it for her escape. Tasha also alleged that Clary ceased all communication with both Savage and Kelly and did not return to the home they shared at the Trump Towers on Chicago.
The video released by Tasha revealed that Clary was Kelly's favorite out of his two girlfriends and the singer has tried and failed to keep her under his control since his arrest. With the newfound freedom since Kelly's been locked away, Tasha says that Clary's family has finally gotten ahold of their daughter and has worked diligently outside of the tabloids to get her back home.
It appears that the Clary family's strategy worked as Tasha reported in a recent video that Azriel is back home with her family in her hometown of Florida. The nail in the coffin is an alleged recorded jail conversation between Savage and Kelly in which Savage is said to be crying to Kelly over the phone explaining that Clary has indeed left.
With Kelly's two former girlfriends turning on him, he just may finally get the justice that many believe he deserves.