When Did Ross and Rachel Break up on 'Friends'? Inside Their Relationship
Friends wouldn't be the same without Rachel Green and Ross Geller's relationship. The on-again, off-again romance is one of the key plot lines throughout the series and takes fans on a roller coaster of emotions with the characters. But, one of the most heartbreaking moments on the show is when the two call it quits. When did Ross and Rachel break up? We share a rundown of their relationship — including when they split and why — ahead.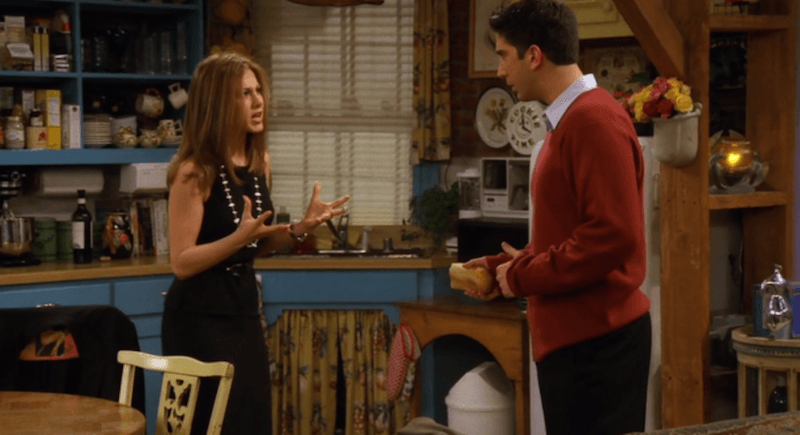 When did Ross and Rachel break up?
Ross and Rachel's relationship came to an end in episode 15 of season three, "The One Where Ross and Rachel Take A Break." Contrary to what the title suggests, the two end up actually breaking up. Here's how it all went down:
On the night of their anniversary, Rachel had to work late, so Ross showed up to her office with a picnic dinner. Rachel was too busy with work to pay attention to Ross (let alone, sit down and eat) and got upset with his persistence. She then asked him to leave so she could focus on her work. Later that evening, Rachels goes home and expects Ross will apologize to her — but, Ross thought she would apologize to him. That turned into a big fight and Ross brought up her co-worker, Mark (who Ross was incredibly jealous of). Rachel got even more upset and says they should "take a break … a break from us." Ross didn't say a word and left.
Following their blowout, Ross went to the bar to meet Joey and Chandler. Meanwhile, Mark called Rachel and insisted on coming over to console her. Ross then called Rachel to talk, but heard Mark's voice on the other line and assumed she had already moved on. He hung up the phone and went back to his friends at the bar. Around the same time, Chloe — a woman he knew from the copy shop — tried to cheer him up by drinking and dancing with him. The two ended up hitting it off and going home together.
The breakup
The next morning, Ross listened to his answering machine to discover Rachel had called him and didn't want things to end. In her message, she said she would be over in the morning before work to talk to him — at around the same time that he was listening to the message. Ross panicked and tried to hide Chloe (who was still in his apartment) when Rachel knocked on the door. The two worked things out, but it didn't last long. Later in the day, Rachel found out about Ross and Chloe and ended things officially.
Rachel Green and Ross Geller's relationship
Rachel Green and Ross Geller's relationship goes way back. And while they didn't technically date for long, the two share a unique plotline on the show. From their on-again, off-again relationship to how they ended up having a baby together, we take a closer look at some pivotal moments in Ross and Rachel's relationship, ahead.
They met in high school
Monica and Rachel were best friends in high school, therefore Rachel met her older brother Ross when she was just a teenager. The two weren't that close growing up, but Ross revealed in the series that he had a major crush on her when they were young.
Ross almost took Rachel to prom
One of the sweetest Rachel and Ross moments was when the friends were gathered around Monica's TV set, watching an old high school prom video. In the home movie, Rachel's date almost stood her up. Unbeknownst to her, Ross goes upstairs, puts on a suit, and prepares to step in as her prom date. But, when he made it down the stairs, Chip had shown up and Rachel headed to the prom.
Rachel, who had no idea that all happened, was in awe of the home video. She walked over to Ross and kissed him.
They have a baby together
Ross and Rachel's relationship is on and off throughout the entire series. But, after a romantic night together in season 7, things reach a whole new level after Rachel discovers she is pregnant with Ross's baby. The two don't rekindle their relationship (at least during the pregnancy), but they move in together and co-parent their daughter, Emma.
Rachel got off the plane
Another monumental moment in Friends? When Rachel got off the plane. After landing a big job in Paris, France, Rachel planned to move there with her daughter. But, at the same time, she and Ross rediscovered their feelings for each other. Rachel ultimately realized she can't leave New York City and Ross. So, she got off the plane and showed up at Ross's front door.
They are each other's lobsters
In Friends, Phoebe explains that Ross and Rachel are each other's lobsters and we couldn't agree more. The analogy comes from a fact that, in the wild, lobsters mate for life.
Check out The Cheat Sheet on Facebook!