Ramona Singer from 'RHONY' Ditched Dorinda Medley at a Gala. Bad Etiquette or No Big Deal?
Ramona Singer from The Real Housewives of New York City may have lost her halo after a move she made during the Angel Ball. Dorinda Medley says in a confessional interview that Singer invited her to the Angel Ball but then promptly ditched her for "bigger, brighter, faster, richer."
Bravo's cameras caught the event, showing Medley check in and get her table: number 62. While Medley searches for table 62, Singer is heard talking to the gala's organizer off-camera and confirming that she too is seated at table 62.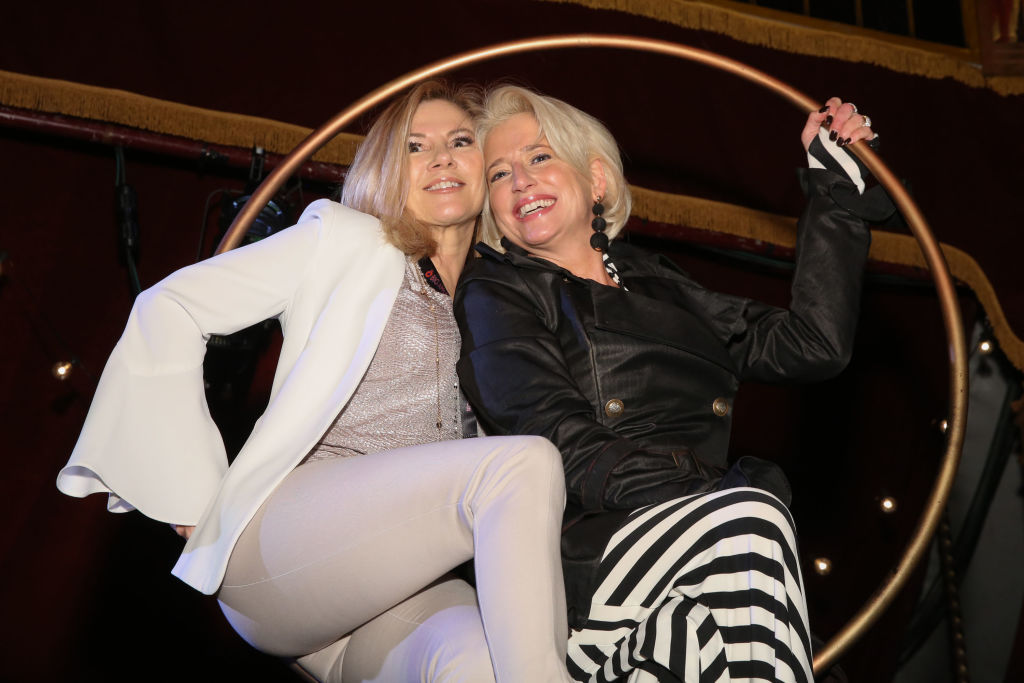 But Singer pulls a 180 when she runs into a friend from Mykonos. Singer slyly comments about sitting next to her and "shocker," they are both seated at table 61. Meanwhile, Medley looks on throwing a wry smile Singer's way. Singer basically ditched Medley at the event, even though Medley essentially was her plus one. Was she being all uncool?
Medley was not happy (and let Singer know)
Even Page Six knew Singer was table hopping and busted her in a lie. "I was very happy to support the Angel Ball and I thought Dorinda was sitting with me, but somehow . . . They have so many people going," Singer explained. "She was upset. I had no control of it and I said I was sorry. We didn't buy a table. We bought individual tickets. They didn't put it together. We're great now — we're fine!"
Even though Singer's comment sounded like she never knew she was seated next to Medley, off camera audio caught her confirming she was seated with Medley. "You need to say you're sorry you ditched me for a better table," Medley exclaimed on the show.
When Medley confronted Singer during a get-together, Singer acted like she had no idea, blaming the mixup on being confused. Singer even got a little physical during the exchange but eventually piped down when Medley told her to back off.
Singer is still trying to defend herself
She goes further to try to deflect blame on herself. "I don't know why Dorinda is accusing me as a liar," Singer says in a confessional interview. She concluded that the organizers threw her under the bus to appease Medley. "It gets the cream off their face. Gets the egg off their face," she tries again. Huh?
Singer still isn't happy with how she's being portrayed. "I really thought it was 61 .. shows me how my mind isn't always working," she joked on Twitter when a fan asked what happened.
When pressed again, Singer tweeted that she was just confused. "Who the f …. knows I messed up." Medley didn't say much but shared a clip of what went down on Twitter.
Was Singer being 'all uncool' switching seats?
Singer kept insisting that she and Medley purchased separate tickets and were seated at different tables. But since cameras caught Singer and organizers confirming they were indeed at the same table, was it really a faux pas that Singer table hopped?
If they were attending a wedding it certainly would have been a problem. "Guests should never alter seating arrangements or switch assigned seats at a wedding reception, but it's perfectly acceptable to mingle at different tables after dinner," according to The Knot.
The same rule applies at other formal events. According to Good Manners and Etiquette guests should sit where they assigned. "There is no changing your place cards if you do not like your seat, guests must sit where they are assigned to sit." So apparently, yes it was pretty uncool.
Check out The Cheat Sheet on Facebook!