'Re-Animator' Turns 30: How Does the Cult Classic Hold Up?
Thirty years ago — on October 18, 1985 — film audiences were treated to a scrappy little horror-comedy called H.P. Lovecraft's Re-Animator. With over 25 gallons of fake blood used in the production, the film's campy violence and exploding appendages made it an instant cult classic. Though its North American box-office was a modest $2 million during its four-week run, the critical response was overwhelmingly positive, citing the gore-fest's tongue-in-cheek direction and Jeffrey Combs's gonzo performance as "Re-Animator" Herbert West as strokes of genius.
Based very loosely on a series of short stories written by early 1900s horror auteur H.P. Lovecraft, the movie's protagonist is the affable, unbearably caucasian Dan (played by Bruce Abbot). Dan is a prominent and thriving medical student at Miskatonic University: He's a star student, he's dating the dean's daughter Megan, and his famous professor Dr. Carl Hill has taken a vested interest in his success. Shortly after eccentric new student Herbert West transfers to Miskatonic, however, Dan and his girlfriend find themselves tangled up in West's bizarre experiments on the reanimation of dead tissue. Before long, Dan and West are battling reanimated corpses while the nefarious Dr. Hill tries to steal both West's scientific breakthrough and Dan's fiancée Megan.
I re-watched Re-Animator in honor of the anniversary, and I can attest that it is still a surprisingly successful endeavor. In many ways, it's a film that should not work, at least not in any way that would actually render it a legitimately good movie. It's tasteless, offensive, schlocky, and the acting is beyond painful, at times; yet it's such a fun and titillating ride that it's legitimately pretty damn great, and it's not that difficult to overlook its shortcomings.
…Some of them, anyway. After all, it's been 30 years, and this ever-evolving society of ours might think a little differently about this movie today. Since we're so much smarter today than those dumb dumb-dumbs from the '80s, I say it's time to look back on this classic with our super enlightened sensibilities and put it through the shredder! What holds up, what's a little weird in hindsight, and what parts are completely atrocious to a modern eye?
Without further ado, let's remember Re-Animator!
What holds up?
1. The "horror-comedy" of it all
"Horror-comedy" is a genre that rarely rises above its own limitations. It's an implicitly silly form, and for every Shaun of the Dead there's a million Scary Movie's. The worst entries in this genre are marked by a fundamental disrespect for the intelligence of its audience, actors, and pretty much everyone involved at every level of the film. Re-Animator, for all of its stereotypes and camp, almost never makes this mistake. It's not as overtly meta as something like Scream — which narrates its employment of horror tropes as they're happening — and that's actually why it works. It walks the line between satire and stupidity, all the while assuming that the viewer will "get the joke." It's incredibly successful in this regard; in fact, in that sense, it's one of the smartest, most trusting horror films in recent memory.
2. Jeffrey Combs (a.k.a. Herbert West)
There's no other way to put it: This movie would not have worked without Jeffrey Combs. His portrayal of Herbert West as an intense, obsessive, slightly effeminate nerd is compelling, campy, and hilarious. He elevates the entire film in the process; if Combs made this movie today — in a time where horror films are taken slightly more seriously than yesteryear — he could have easily garnered a Golden Globe nod.
3. The climax
"I have a plan." "So do I…" AND THEN ALL THE  REANIMATED CORPSES BURST FROM THEIR BODYBAGS AND ATTACK EVERYONE AND HORROR COMEDY AWESOMENESS ENSUES OH MY GOD NERD ZOMBIE LOVE!!!
4. The practical effects
There was a time in horror where if you wanted a character's face to explode, special effects teams had to use a combination of fake blood, rudimentary robotics, and latex to make it happen. This movie takes those ingredients to a new level of brilliance, and most of the latex work stands up to this day, even in their absurdity. As far as horror effects go, I don't know that anything will ever beat the stumbling, re-animated Dr. Hill carrying around his own head after West chops it off with a shovel.  
What's a little weird in hindsight?
1. "Doctor-acting"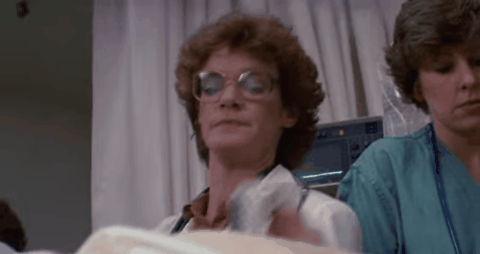 If you were making a movie set entirely in a medical school, you would probably want to cast actors who could, to some degree, act like doctors. Instead, the actors playing doctors in this film seem to have had no interest whatsoever in seeming like actual doctors; in fact, I would go so far as to say that none of the actors in this film had ever seen, met, or been to any doctor in their entire lives (how bad was the health care system in the '80s, exactly?).
2. Dan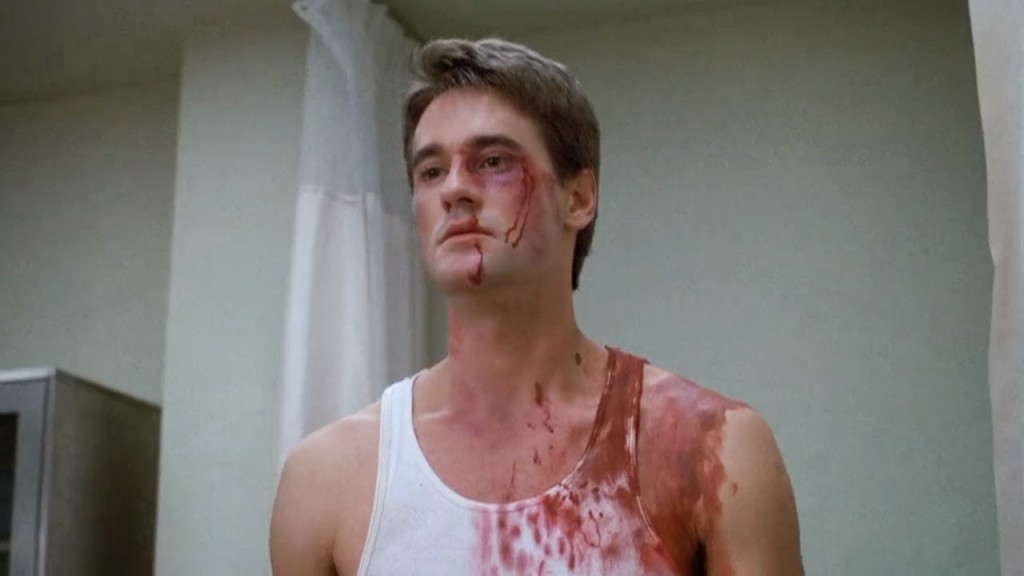 I found myself separating Dan's various annoying qualities into separate bullet-points until I realized that they all add up to one over-arching takeaway: Dan is the worst. His character's not so bad that it renders the movie unwatchable, but holy hell is he an idiot. First of all, he's a terrible doctor. He tries to save no less than three patients throughout the movie with his absurd attempts at chest palpitations and every single one of them dies. Even worse, he literally never listens to a single word Megan says. She finds his dead cat in Herbert West's freezer, and instead of saying, "Good sleuthing, Megan. Let's get this clearly unstable psychopath to the authorities, ASAP!," he's like, "Shut up, Megan! Let the men figure things out!" How he is able to survive the whole movie is completely beyond my realm of understanding.
3. "Miskatonic"
Incidentally it was H.P. Lovecraft who created the fictional name for the university in 1922. I'm sure the word read well in the 1920s, and it makes sense that the screenwriters would want to include that Lovecraft-ian detail intact for the film, but they say it a lot. Even worse, it's usually being screamed by a self-important doctor in an uber-dramatic scene, only calling attention to what a ridiculous sounding name it is.
4. Dr. Carl Hill's sexual proclivities.
Somewhere toward the beginning of act two, it becomes clear that the prominent Dr. Carl Hill has a big old-man boner for Dan's hot, young girlfriend Megan. It's not a bad plot device, but it's definitely strange how aggressively he hits on her in front of both her boyfriend Dan and her father Dean Halsey. It doesn't help anything that he looks like a pervy John Kerry.
What's atrocious to the modern eye?
1. Pervy John Kerry's toupee
Poor David Gale, the actor who played Dr. Carl Hill, had to shave his head for filming and don the creepy, ridiculous toupee that takes up half the screen any time his character is in a scene. The reason allegedly was that the special effects team couldn't afford to recreate his real hair on the dummy versions of his character, but that's not enough to justify the ridiculous mop they landed on.
2. The gender dynamic between Megan and literally every other man in the movie
You don't even have to be a hyper-sensitive, over-analytical Internet blogger to watch this movie and think, "Damn, that's some misogyny." Remember when I said Dan ignores every word that comes out of Megan's mouth? Well, that includes two separate instances where Megan is flat-out telling him to stop physically assaulting her (dude, no means NO). Furthermore, she is completely defined by her relationships to the men in her life: She wants to marry Dan so she can support him in his medical career, but she can't because her dad won't approve until he's a doctor. In fact, numerous plot-advancing moments are predicated on Megan acting out of naiveté, over-emotion, or flat-out stupidity (stop trying to connect with your zombie father, Megan! HE DOESN'T REMEMBER YOU). Eighty minutes of overt sexism make the now-iconic zombie rape scene at the end incredibly difficult to stomach.
3. Racial representation
There's three people of color in this movie, and only one of them has actual lines. Two of them are the orderlies employed by Dr. Hill who are there only to manhandle an insane patient, and the other is an inept security guard who spends his time reading Boudoir Magazine instead of keeping unauthorized people out of the morgue. I understand that it was the '80s and the dialogue about representation in media was nowhere near what it is today, but come on. Hard pass on this nonsense.
Overall, Re-Animator is well worth revisiting. There's a lot of sly brilliance at play in the script, direction, and performances that absolutely stand up. It's impossible to ignore, however, the onslaught of insipid characters, misogyny, and racial insensitivity that characterize whole portions of the film. Just try to focus on the funny zombies.
Follow James Tison on Twitter @doioweyoumoney
More from Entertainment Cheat Sheet:
Want more great content like this? Sign up here to receive the best of Cheat Sheet delivered daily. No spam; just tailored content straight to your inbox.