'Real Housewife of Atlanta' Star Kandi Burruss Reunites with Group Xscape for New Album
It looks like Xscape fans are getting what they wished for! After 25 years, the group, including RHOA star Kandi Burruss, is back in the studio to record a full album. Fans are excited yet shocked at the revelation as Burruss previously committed to only performing old music with her bandmates.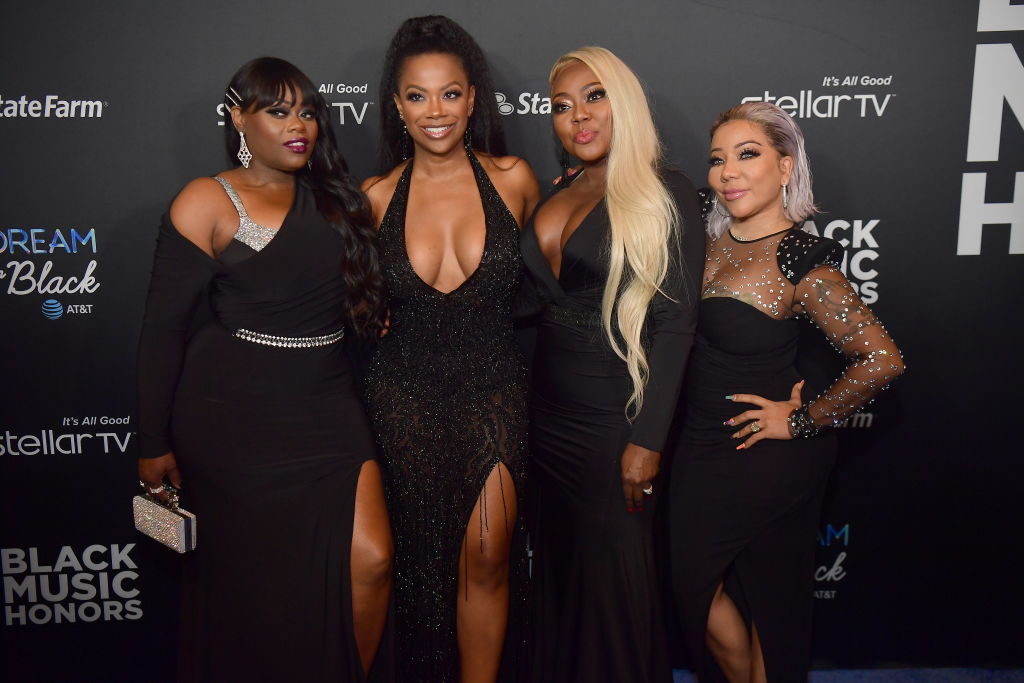 All four original members of the platinum-selling quartet, Tameka "Tiny" Harris, sisters Tamika and LaTocha Scott, and Kandi Burruss have joined forces to give fans new tracks. The recording process is said to have already begun, and sessions are apparently going well.
The last studio album they recorded, Traces of My Lipstick, had several hits but Burruss has been vocal that the recording process during the album proved difficult due to serious infighting. The group disbanded, and Burruss did not speak with the Scott sisters for years before they reunited in 2017. Burruss went on to have a successful songwriting and reality television career.
Xscape Reunites for US Tour
The group surprised everyone when they announced they were coming back together for The Great Xscape Tour. Earlier that year, they teased at the possibility of a reunion when they performed at the BET Awards and on the main stage during The Essence Music Festival. Up until their official announcement, they remained mum about whether or not a tour was in the works.
They would be joined by singers Monica and Tamar Braxton for a "girl power" themed show. With 22 cities, the show would be jammed packed with 90's throwback R&B hits. Concert-goers could also purchase VIP packages to meet their favorite acts in an intimate meet and greet with photo opportunities.
"You asked for it," the group said in an official statement to Rap-Up. "We had so much fun with y'all this summer that we decided to bring the party to cities across the U.S. We decided to do something very special and have our good friends Monica and Tamar Braxton join us! We are beyond excited to have them out with us for the ultimate girls night out show! This is the tour we've always wanted to do and we can't wait to see you there!"
Kandi Burruss vows to never record with Xscape again
Despite touring with the group in 2017 to sold-out arenas over the country, Burruss was not open to the idea of adding to their already successful catalog. During an interview with The Breakfast Club, Burruss explained that she did not want to tamper with their legacy:
"To me, it's like, back in the day, we sold multi-platinum records and it's not the same as it was then. You get what I'm saying? Now, it's a totally different way that people are selling records and I don't know if it will ever be back the same way as it once was as far as having multi-Platinum hits. So in my mind, I feel like, why tarnish that? You on top, why put out a record that might be like, eh?"

The Breakfast Club
The remaining three members released new music without her under the name 'Xscap3' with Burruss cheering them on from the sidelines. All members continued to perform together at different award shows and festivals.
Kandi Burruss says new Xscape album in the works
Burruss is finally on board for this new album but it took much convincing. Her mother, Mama Joyce, was the first to spill the beans about the groups' reunion. She couldn't contain her excitement after the group accepted their award at the 2019 Black Music Honors.
Stunned by Mama Joyce's premature revelation, Burruss and Harris confirmed the project during an interview after the award show. "Obviously she put us on the spot," Burruss said. She put it out there, my group members are here … we gon' make it happen … we gon' figure it out."
Harris added: "Yeah, when everybody schedules get together, we gon' get in that studio."
Hopefully, we get a finished product in 2020!