'Real Housewives of Beverly Hills': Did Kyle Richards Get Plastic Surgery?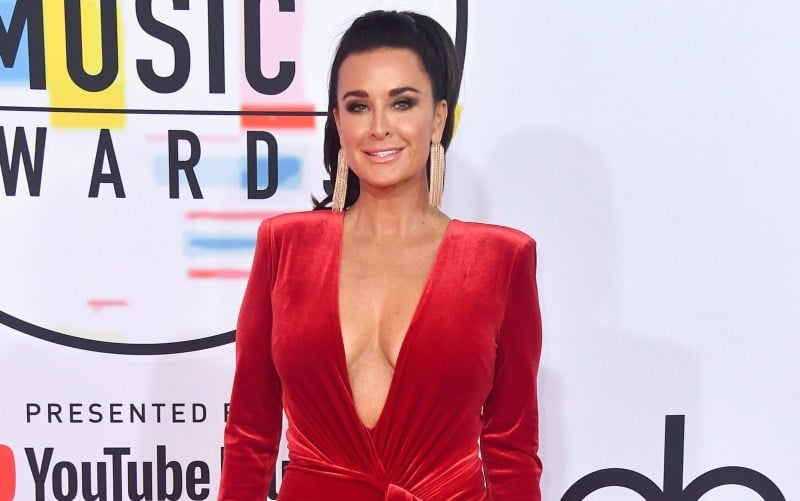 It's no secret that sometimes housewives get work done in between seasons. They have the money to do it and they want to look good for the camera. But, of course, it's usually a gamble since there's no guarantee what they'll look like in the end. Some people look different and that's why Real Housewives of Beverly Hills fans think Kyle Richards might have gotten plastic surgery. But did she? Here is everything you need to know.
Kyle Richards denied getting plastic surgery recently but said she does lasers and PRP
Kyle Richards posted a cute photo with her husband, Mauricio Umansky and their daughter Portia on Instagram. But fans thought something was a little different with the reality star's face, according to The Daily Dish. One fan wrote "Tell us what you did please, mini face lift? Fillers?" Richards replied, "lasers and PRP on my face. Google."
PRP is otherwise known as Platelet-rich plasma. The treatment gets plasma from your blood, isolates it, then injects it into damaged tissues to stimulate the growth of new cells, according to Health Line. It's not exactly proven to be effective but it has become popular with celebrities.
Kim Kardashian most noticeably took a picture with blood all over her face from this treatment. After that, it was nicknamed the "vampire facial." Kyle Richards did reveal that she did get work done in the past and the one other thing she does to stay looking young.
Richards did say she got her nose done in 2006 and gets Botox
Another fan wrote "Some serious plastic surgery right there! It looks good though" under the housewive's Instagram photo. The reality star replied "I have not done plastic surgery. I did my nose in 2006 and I get Botox. That is it. There are things you can do to look younger that require surgery. Lasers are key."
This isn't the first time she talked about getting her nose done. "My nose bothered me for a long time," she told Us Weekly. "The surgery made me feel better." She's not alone. Her sister, Kim Richards also went in for rhinoplasty on Season 3 of Real Housewives of Beverly Hills. Kyle Richards also revealed that she got liposuction on the show.
"After having four kids, no matter what exercise I did, the love handles wouldn't go away," Kyle Richards explained on Secrets Revealed. "I wanted to wear jeans and a tucked in shirt and not feel self-conscious." She added, "I'm very happy with the results.
So the reality star didn't get any new work done on her face but is getting Botox and PRP. She also revealed that she got a nose job and liposuction in the past. Either way, the reality star looks great and ready for Season 9 of Real Housewives of Beverly Hills.
Read more: Do 'The Real Housewives of Beverly Hills' Get Into a Supreme Court Smackdown?
Check out The Cheat Sheet on Facebook!