'Real Housewives of Dallas' Season 4 Episode 1: Of Friends and Frenemies Recap
Real Housewives of Dallas Season 4 Episode 1 picked up with the women three months after the reunion. D'Andra Simmons and LeeAnne Locken still haven't spoken after Simmons told several people that Locken's fiance, Rich, was cheating on her.
Additionally, Simmons finally owns the family company, but it's in worse shape than she thought. Finally, Stepanie Hollman hosted a "friendervention" for Simmons and Locken to get the two ladies to become cordial with each other again. How did it go? Keep reading to find out.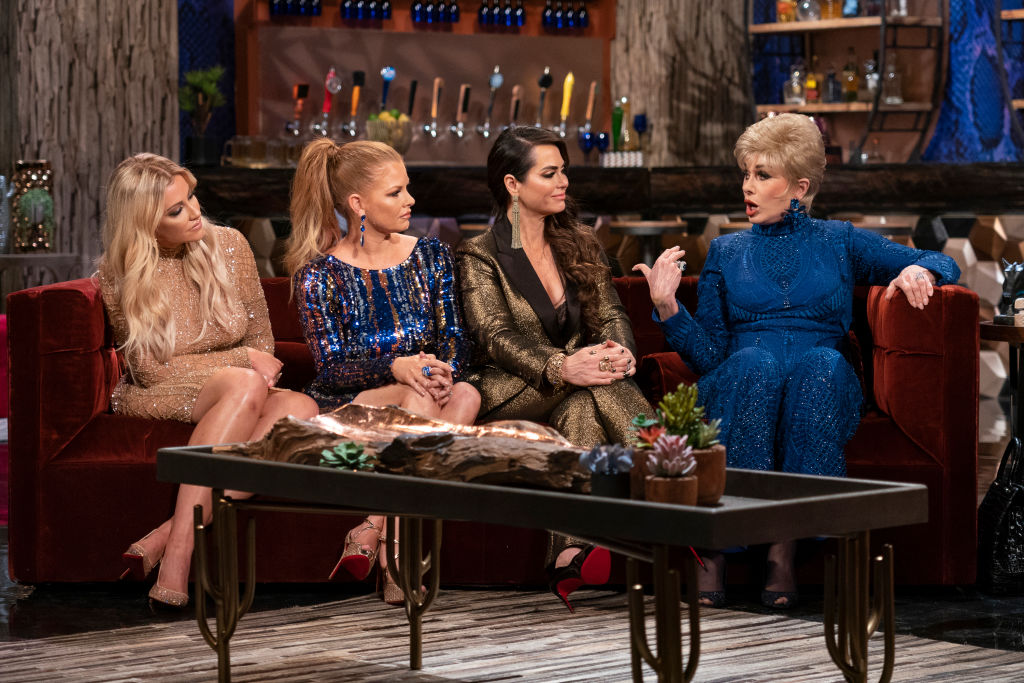 Kary Brittingham introduction
As the newest housewife to join the franchise, Kary Brittingham introduced herself and her family. She married a man named Eduardo ten years ago, and together they have one daughter, 12-year-old Isabella.
The Mexican native also has three children with her ex-husband, including 18-year-old Olivia. The Brittinghams described their five-bedroom (six, counting the sex room) house as modern and open. She also made it clear that she disagreed with Locken's gay cheating accusations against Mark.
LeeAnne Locken and her upcoming wedding
'RHOD' Season 4 Episode 1 caught up with recently blonded Locken as she met with her wedding planner to go over decor and floral arrangements for her upcoming wedding to Rich. At the time, the wedding was still eight weeks away, and she planned on having a traditional wedding with about 300 people in attendance, one of those not being Simmons.
D'Andra Simmons struggles with the family business
Simmons finally came into ownership of her family's business after begging her mother to sign the company over to her. However, the business was in worse shape than she thought after they began losing money when they stopped airing Christian infomercials.
Not only did she find out that she needs nearly $60,000 to save the business, but realized Mama Dee told the accountant not to inform Simmons of the company's finances. Convinced that her mother purposefully set her up to fail, she got upset but then remembered she had to play nice because Mama Dee controls her trust fund.
When they visited her father's grave, Simmons took the opportunity to ask her mother for money or access to the trust so she could save her business. The two engaged in a cat-and-mouse game where neither really came out and said what they wanted, but Mama Dee did say she didn't want her to daughter to be afraid to talk to her.
Brandi Redmond and her daughter's attitude
'RHOD' Season 4 Episode 1 checked in with Brandi Redmond as she dealt with her pre-teen girls and newly adopted one-year-old adorable son, Bruin. Her sassy 10-year-old, Brooklyn, has begun talking back to her and always has a come back for everything Redmond says.
Kameron Westcott headed out of town
As Westcott packed for her Spring Break vacation, Stephanie Hollman called her and invited her to the "friendervention" she's having for Simmons and Locken. Westcott had to decline but immediately called Locken to warn her.
Stephanie Hollman hosts a 'friendervention'
Redmond joined to offer insight because she and Hollman had a falling out as well but are now friends again. Locken and Simmons' friendship extends eight years, and Simmons is willing to fight for that. However, Locken feels extremely hurt by the new business owner.
Simmons brought up a situation where Locken's fiance, Rich, sent Simmons' husband, Jeremy, messages claiming he was having an affair with a woman named Jessica. She also mentioned that Locken accused Deuber's husband, Mark, of cheating with men. Finally, Simmons told Locken it hurt her when she openly discussed Simmons' finances with several people.
However, Locken refused to see her comments and Simmons' cheating accusations as equal because she said she felt bad it, whereas she thinks Simmons doesn't. Redmond pointed out that the two both wronged each other, so they should be talking about how to move past that in their friendship.
Simmons asked Locken if they could remember the old times and move forward, but Locken admitted she'll need more time. Will the two ladies become friends again? Keep watching Real Housewives of Dallas Wednesdays at 9 p.m. EST on Bravo to find out.